Champions & #1 contenders
TENSION SHOWDOWN 2019 IS NOW LIVE
Wed Nov 20, 2019 11:17 am by Old_Man_Tai
Comments: 0
Looking for new matches.
Thu Nov 14, 2019 5:19 pm by Zero
Comments: 0
Looking for matches
Mon Nov 11, 2019 2:54 pm by dragonswill
Hello again it is I dragonswill again im currently looking for more matches if anyone would like to fight my girls i would gladly talk matches with you.
http://afwrpg.forumotion.com/t11174-dragons-girls#293901
here's my roster please don't be worry i am okay with loses for some of my characters but some you need to convince me on why you want them to lose. the ones that are okay for loses are Del Lizzy AI Hoshi and Misaka please Message me on pm or Dm me on discord Kevin#5221.
thank you …
[
Full reading
]
Comments: 0

Name: Reira Kirishima
Sex: Female
Age: 32
Eyes: Green
Hair: Hair
Height: 5"7'
Weight: 142 lbs
Nationality: Japanese
Alignment: Heel
Entrance music:
"The Anarchist" by Rush
Wrestling Information
Strategy: Reira tends to have little patience, often going full out on her opponents and attacking head on. Between growing up watching Puroresu "Strong Style" entertainment wrestling matches, and the training she went through in her failed attempt to become a member of the JSDF, she has developed a stiff, hard hitting, physical style, mixing in basic judo throws with more techincal wrestling slams, throwing in several fists, elbows, and knees where she may. As a result of this style, she tends to defend less, though she isn't without the ability to counter, she has been known to be willing to take a few hits in order to land some of her own.
Style: power grabbler/power striker
Type: Heavy striker mixed with power throws/slams
Preferred Attacks: Judo throws, heavy slams and throws, heavy strikes
Preferred Matches: Any except hentai
Endurance:****
Strength:****
Speed:***
Defense:**
Technique:***
Favored moves: STO, various judo and pro wrestling throws and slams
Finishing moves:
"End of Bitches": A Lifting Swinging Reverse STO
Characteristics
Visual Appearance: see pic
Physical Appearance: see pic
Personality:
Reira is often compared to a ticking time bomb, but that's not accurate. Time bombs are set, after all. They're predictable. They can be diffused. These things cannot be said of Reira.
There are two categories of people - those Reira tolerates, and those she does not tolerate. If you're in the former category, she'll treat you with, at best, neutral disinterest. She doesn't go out of her way to start arguments or cause heat. She doesn't look for reasons to be mad, but once they find her, the explosion can be quite epic. She can be extremely aggressive, it takes little to set her off, and once you arouse her ire, she will hold a grudge against you until her dying day. She's like trying to navigate a minefield. Possible, even easy if you have the map and known what spots to avoid. Difficult and dangerous if you're going in blind. Something will explode.
Past/History: Reira's life had promise, and to a casual observer, it would probably seem like she was destined for great things. While that might still be true, things aren't looking good, so far.
Her father was in the Japanese Self Defense Force, and he was set on her joining up, too, hoping to start a fine family traditon. It either didn't occur to him that Reira might not want to do this, or he just didn't care. More likely the latter.
Whatever the case, Reira grew up doing quite a few things she absolutely hated, which turned her into something of a fiery bitch. The JSDF had little interest in hiring fiery bitches, so she was rejected, much to her father's disappointment. Reira, however, gave not a single shit.
Reira figured the Wrestle Angels might be interested in a fiery bitch with ample combat training, and she was right...sort of. They hired her, but never gave her the limelight she felt she deserved. She was too old, they said. Not cute enough, they said. Too violent. Too raw.
Actually, they said none of this verbatim, but they implied it heavily, pushing cut singing idols while Reira was given the low cards and the dark matches, kept in the shadows and barely recognized. This turned her from being a fiery bitch into an extremely resentful one.
When Wrestle Angels died and the AFW sorted what it could out of the ashes, Reira went looking for a job, hoping she would finally get the recognition she deserved. And they did hire her...as security staff. It paid better than Wrestle Angels did, ironically enough, and she was given ample chance to break up fights and vent her frustrations out on the wrestlers, getting far more physical than most of her fellow guards were prepared to. She drew Melissa Sellers attention this way, and prompted her to do some digging and see her Angels career. Sensing a diamond in the rough, Melissa decided to bring Reira into the Tension brand...
Wrestling Attire: Same as pic
Fun Facts:
It's rumored that the Tension star Reira beat down, impressing Melissa Sellers in the first place, was former Tension star and Entropy Champion, Tai Kamiya, though it has not been proven.
AFW Information
Record: 4-2
Wins: 5
Reira Kirishima wins a No. 1 Contenders Battle Royale
Reira Kirishima defeats John Mitchell via Pinfall (Becomes Tension World Champion)
Reira Kirishima defeats Domino via Pinfall (Retains Tension World Title)
Reira Kirishima defeats Kozue Kaburagi via Pinfall (Retains Tension World Title)
Reira Kirishima defeats Killer King and Clyde Gastin (C) via Pinfall (Lone Star Stunner) (Becomes New Tension World Champion)
Losses: 4
Reira Kirishima and Emi defeated by Julia and Domino via Pinfall
Clyde Gastin defeated Reira Kirishima via Pinfall (Stunner) (Reira loses Tension World Title)
Killer King defeated Reira Kirishima via DQ
Dave Blake defeated Reira Kirishima via Pinfall (Mind Eraser DDT)
Draws: 1
Reira Kirishima vs Julia ended in a no contest
Championships/Accomplishments:
Two Time, and Current Tension World Champion (2 Successful Defenses)
Friends:
Allies:
Rivals:
Enemies:
Crushes:
1. Reira joins Tension in a
No. 1 Contenders Battle Royal!
(WIN)
2.
Reira meets some bitches her boss wants her to team with
3.
Reira takes on John Mitchell for the Tension World Title! (WIN)
4.
Reira says some words, which turns into a singles match (Draw), which turns into a tag match! (Loss)
5.
After a long break, Reira returns to Tension, and gets a couple challengers for her title
6.
Reira Kirishima defends the Tension World Title against Ninjette! (WIN)
7. Reira gets another
challenge from Clyde and accepts!
8.
Reira Kirishima defends the Tension World Title against Clyde Gastin! (LOSS)
9.
Reira returns after losing her belt, to make an open challenge!
10.
Killer King has accepted Reira's challenge! Reira vs King! (Loss via DQ)
11.
An annoyed and angry Reira accepts someone elses open challenge!
12.
Reira Kirishima vs Dave Blake!
LOSS
13.
Reira comes back, and calls out Clyde Gastin, demanding that he give her a title shot...only for another to make the same claim...
14.
Showdown III: Tension World Title Match: Reira Kirishima vs Killer King vs Clyde Gastin (c)
WIN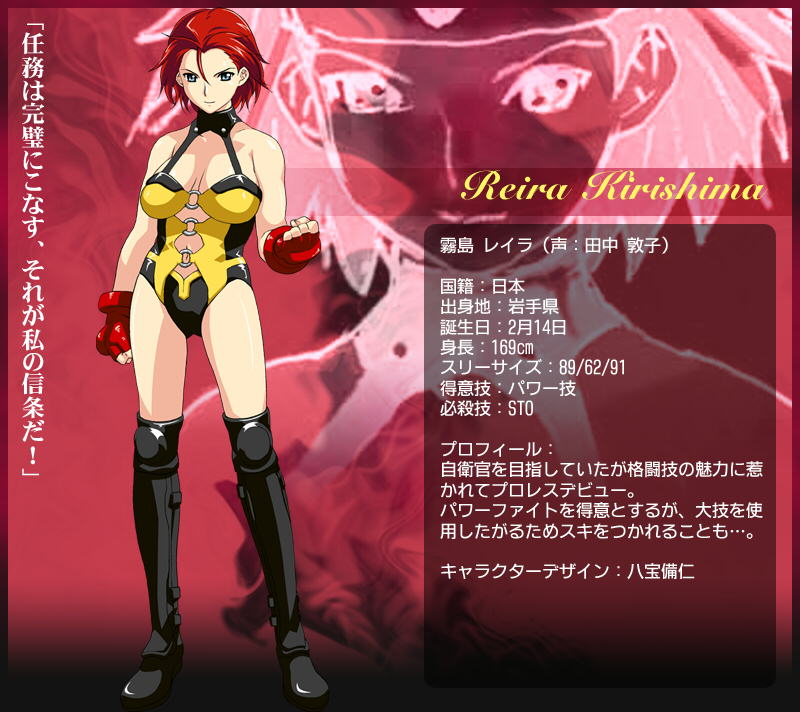 Old_Man_Tai




Posts

: 8158


Join date

: 2008-04-28


Age

: 29




---
Permissions in this forum:
You
cannot
reply to topics in this forum