Champions & #1 contenders
Afw or discord matches
Mon Oct 14, 2019 12:10 am by wrestleryu
Hi there guys. I'm mostly seeking female opponents for mixed wrestling matches to be played here or discord. I'd play my boys as either uppity jobbers or switches, depending on scenario settings and personal likings ;p
Since I'm being quite active on discord recently, here's my discord for those who may like to add me:
Ryū#5296
Comments: 0
Powering down for a few Cycles...
Thu Oct 03, 2019 4:40 am by Tarantulust
Hello one and all.
First, I would like to apologize for the delays on my threads. I have been pretty silent over the past few weeks on this site, and I haven't been posting as much as I regularly do. I have been trying to keep up, and post something everyday, but at this point, I'm calling it.
My job is winding down, which oddly enough means my workload is at an all time high. Megatron is making me work overtime, and with the past three weeks being some odd …
[
Full reading
]
Comments: 6
Unexpected shit has come
Wed Oct 02, 2019 9:07 am by skip-stop
In the words of Zoltan Chivay, "Long to tell, life is shit"
Therefore, I will be brief. A few days ago, something happened and therefore, from today and for an indefinite period, I greatly slow down in the publication of posts. I will continue to write posts as quickly as possible for my ppv thread because it is ppv. But I have to slow down in all other topics. I will try to keep up the pace, but I will definitely be slower than before this day. I could start writing posts of 4-5 lines, but …
[
Full reading
]
Comments: 1

Name:
Alena Sukova
Age:
25
Gender:
Female
Eyes
brown
Hair
black
Height
6'1"
Weight
You dare asking? *glares*
Nationality
Slovakia
Bust size:
 large enough
" title="Wink" />
image: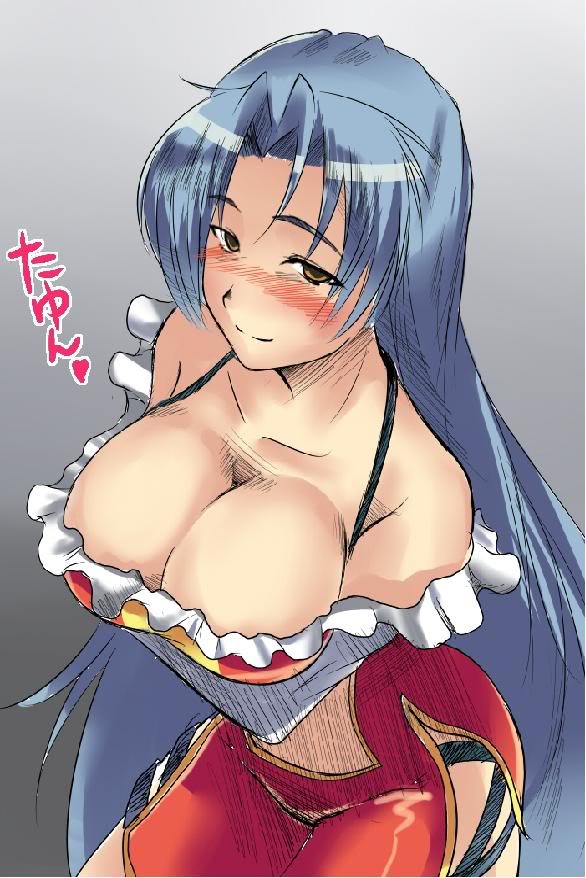 Favoured moves:
Vicious strikes aimed at weakening the opponent and open the path to a finishing submission.
Finishing move: Slumberland:
On a grounded/weakened opponent - Alena sits onto their legs and pciks them up into a long breast smother, making full use of her strong arms to keep them tight within her plentiful bosom until they pass out.
Hentai Finisher: All mine:
Alena grapples a standing opponent into an octopus hold, tiring them until they are forced down to the mats. With the opponent exhausted and unable to escape from her entanglement, she coldly proceeds to jerk them off into hentai submission.
Personality:
Very proud of her gorgeous curvy body, Alena loves to workout hard, so she's also strong and athletic:  Turned on at the idea of  dominating her opponents, she won't bother using any means to gain the advantage, from flirting to using illegal maneuvres.
Story
Alena is a fitness model and an escort specialized in submission-wrestling sessions... some would say a big bad bitch. Being on vacation for a while, she is willing to keep her overpowering skills trained, so she decided to join in Sex Wars:  Besides, she could not miss the chance to fulfill her lust for domination over some handsome unwilling guys, and being payed for doing it too!
Attire
:  Everything that allows her to flaunt her bountiful breasts (like in the pic)
Last edited by wrestleryu on Sun Nov 19, 2017 6:17 pm; edited 20 times in total

wrestleryu




Posts

: 10569


Join date

: 2008-05-07



My first attempt to a female character: I hope she is not too bad... LOL.
Last edited by wrestleryu on Mon Feb 20, 2017 4:40 pm; edited 1 time in total

wrestleryu




Posts

: 10569


Join date

: 2008-05-07



She looks hot, do you think my character and her can have a match?

wardog




Posts

: 7


Join date

: 2009-12-26




---
Permissions in this forum:
You
cannot
reply to topics in this forum