Champions & #1 contenders
Afw or discord matches
Mon Oct 14, 2019 12:10 am by wrestleryu
Hi there guys. I'm mostly seeking female opponents for mixed wrestling matches to be played here or discord. I'd play my boys as either uppity jobbers or switches, depending on scenario settings and personal likings ;p
Since I'm being quite active on discord recently, here's my discord for those who may like to add me:
Ryū#5296
Comments: 0
Powering down for a few Cycles...
Thu Oct 03, 2019 4:40 am by Tarantulust
Hello one and all.
First, I would like to apologize for the delays on my threads. I have been pretty silent over the past few weeks on this site, and I haven't been posting as much as I regularly do. I have been trying to keep up, and post something everyday, but at this point, I'm calling it.
My job is winding down, which oddly enough means my workload is at an all time high. Megatron is making me work overtime, and with the past three weeks being some odd …
[
Full reading
]
Comments: 6
Unexpected shit has come
Wed Oct 02, 2019 9:07 am by skip-stop
In the words of Zoltan Chivay, "Long to tell, life is shit"
Therefore, I will be brief. A few days ago, something happened and therefore, from today and for an indefinite period, I greatly slow down in the publication of posts. I will continue to write posts as quickly as possible for my ppv thread because it is ppv. But I have to slow down in all other topics. I will try to keep up the pace, but I will definitely be slower than before this day. I could start writing posts of 4-5 lines, but …
[
Full reading
]
Comments: 1

Name
: Unknown
Wrestling name
: Okami
Genre
: Male
Age:
20(ish)
Height
: 5' 8"
Weight
: 150
Eyes
: Ice blue (left eye) and gold (right eye)
Hair
: Icy silver
Nation
: Japan (Okinawa)
Theme:
Born to be wild (Hinder version)
www.youtube.com/watch?v=SqgM240GoU4
Wrestling style and moves
: street fight with some basic grappling moves.
Taunt: Naughty Naughty
- forces opponents body over his knee for a playful/humbling spanking.
Finisher: Wild Slayer
- Clothesline attack empowered by jumping from the turnbuckle or taking a boost from the ropes, aimed at crushing opponents down for the count.
Hentai: Wolf Bite
- Hot reverse bearhug that will allow Okami to lovebite his opponent's neck while grinding their hips from behind, aiming at a humiliation or hentai submission.
Appearance:
https://imgur.com/a/sp4Kl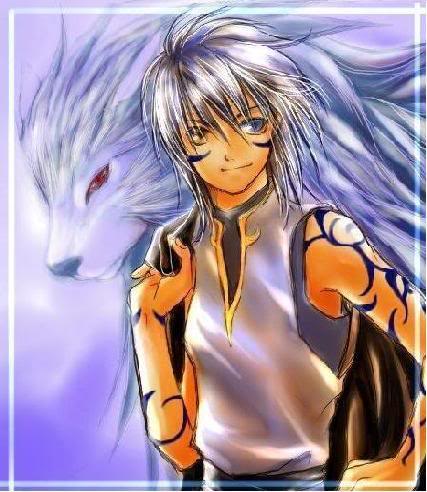 Personality
:
Okami's personality can be described in 2 words: instinctive, ingenuous:  he can be go berserk during a tough fight, but most of the times he's nice... and gullible, which will turn at his disadvantage in mixed matches. Sensuous attacks/distractions are a big point of weakness in his fighting style: he would like his female opponents to stick with "normal wrestling"... but it rarely happens when they realize the advantages they can have against a boy like Okami, easily flustrated and embarassed... and uncomfortable at the idea of using brawler style moves against a girl.... Okami's fighting prowess is matter of factly reduced to just average against a female opponent who knows how to use her femininity to sway a guy off his game.
Story
:
Okami grew up all alone in a forest in Okinawa as a wild little boy (maybe the lost son of some of those legendary Japanese soldiers who kept believing for years that the II World War was not finished). Escaped from an orphanage at the (supposed) age of 7, he lived as a street kid until he was taken under the wing of a Yakuza clan. They "completed his instruction" making him into a fighter toi throw into illegal underground matches. As soon as he got the age to decide what was right and what was not, Okami ran from his criminal "adpotive family", aiming at a "normal life". Not being skilled in anything in particular except for fighting, he decided to make it his job, and one day he bumped into this new wrestling business called Tension. The pay was good and it looked like some beautiful girls were going to be part of the show too. No more brutal underground fights, and a number of lovely girls as collegues??? Okami didn't have to think twice to sign the contract. What he didn't know was that this wrestling show is a bit... different. Mixed wrestling matches with plenty of embarassingly erotic stipulations anda mischievous vixens were ahead of Okami, and soon he would realize that his previous fighting experiences against bad, ugly guys had not prepared him for... this!
Attire
:  naked torso with tribal tattoos, wrestling pants or jeans shorts.
Fun facts:
The guys who found him in Okinawa thought that Okami (which is Japanese word for "wolf") would be a good name for a kid who had been found in a forest. And so the name stayed during his underground fighting period. Because of his peculiar hair, he was sometimes called the Silver Wolf or the Snow Wolf, just to make his presentation more theathrical. Okami hated it, but somehow it remained sticked to his wrestling persona when he joined AFW. So in the end, Okami is also known as "the wolfboy" by many Tension fans, regardless of his will.

wrestleryu




Posts

: 10569


Join date

: 2008-05-07




---
Permissions in this forum:
You
cannot
reply to topics in this forum