Champions & #1 contenders
Need Debut matches/Simply looking for more
Tue Sep 08, 2020 11:19 pm by Void Effect
Comments: 11
Poll regarding the possibility of Mods booking PPV matches.
Sat Oct 24, 2020 1:43 am by Old_Man_Tai
So, basically, was wondering all of your thoughts regarding the possiblity of mods booking ppv matches.
The thought was, since people often seem to have trouble finding partners for ppv matches until the last minute or so, what if the mod team was to step in and, well in advance of the show, book the show ourselves, and try to put together the best matches we can, including title defenses, no.1 contender matches, and so on and so forth?
While I doubt our more popular members need such a …
[
Full reading
]
Comments: 7
General Avalanche Reminder
Fri Oct 23, 2020 9:21 pm by Old_Man_Tai
General Reminder: Friction PPV Avalanche goes live on December 1st: So if you need to do any promos or build up for your Avalanche matches, you should be focusing on that now. You are allowed to do such things over Discord and then post them after if it helps get them done faster so matches have proper build up.
Also, if you are looking to get on the ppv, and have a partner and match set up, (or can do so quickly), contact me to let me know what match you are doing on the show.
If you have …
[
Full reading
]
Comments: 0
Page 1 of 4 • 1, 2, 3, 4
Non-standard match Match
Victory By KO, Hentai, or Submission
Sofia wasn't in the best of moods as she's been on a bad roll as of late, losing her past few matches in humiliating fashions especially by the hands of Tsubame Gozen in Tsubame's debut match. Losing to a newcomer in her first match and losing it after suffering consecutive orgasms and had her begging the ref girl to stop her did not do wonders on to the proud British girl's pride as she sought to bounce back with her next match, another hentai match but this one would test her ability to wrestle in a non-standard match as she and her opponent had to fight until one of them submitted, orgasm or knockout as she stood in front of a mirror to look at her very revealing swimsuit.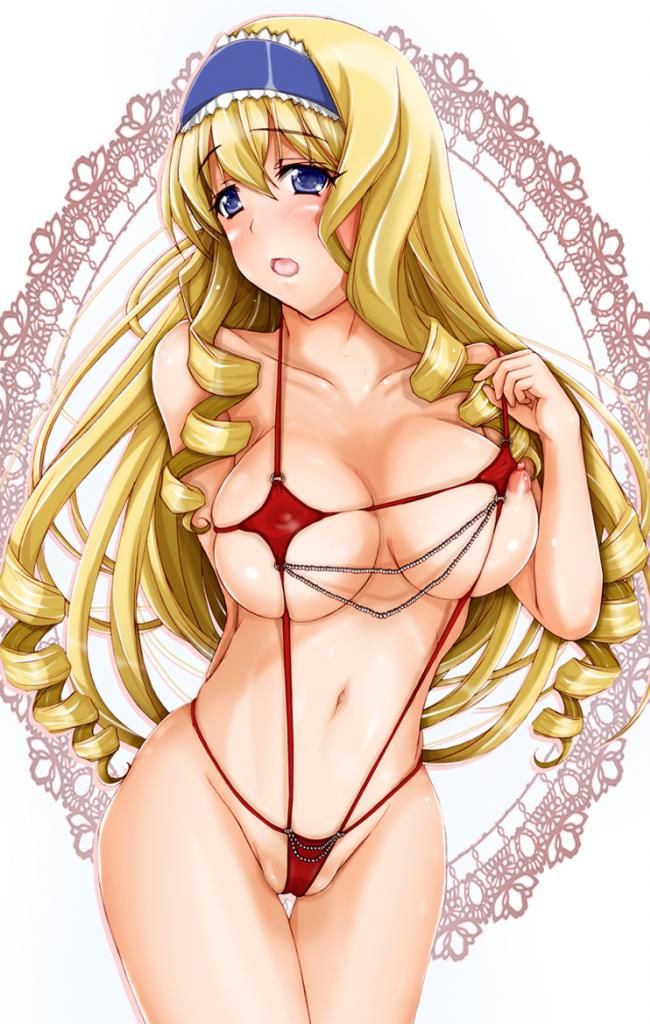 This match had both girls requested to wear the most skimpy swimsuits they could think of and this was fit the description as it clung to Sofia's body tightly. With a blush on her face but determined to set her record straight, she would start walking towards the ramp upon hearing her music as she appeared on stage. Being embarrassed because of what she was wearing was not possible after wrestling nude in front of the ravenous crowds as Sofia knew that her swimsuit was coming off regardless as she walked to the ring, walking up the stairs and going through the middle and top rope as she posed for the crowd and awaited for her opponent to arrive, no matter who her opponent was Sofia was determined to win and get herself on a winning track.
Last edited by 1079 on Wed May 28, 2014 6:03 am; edited 1 time in total

OmegaVan0




Posts

: 9707


Join date

: 2010-07-05


Age

: 29


Location

: New Mexico



The lights dimmed but only for a minute. That was all that was needed for long streams of bright green to pierce the dark and briefly illuminate a luxurious and shrouded form. Her dresses coattails billowed behind her and a long shawl, almost like a parachute, hung back behind her upper torso, almost like a parachute. She had come onto the walkway so vigorously and quickly it almost seemed rushed. The crowd was unsure but the style was impeccable; modern Chinese film score pumping in the background and veiled in silky blue, this woman had style and that was causing many to already start leaning in her favour.

All of the clothes however disappeared as she took to their stage, sliding like a snake over the top ropes. She flashed her long and smooth legs, before the robes flew off in a flurry of ghost-like dances. Multiple robes and her white shawl flew off in random directions, dancing thorugh the air before settlng outside the ring. Standing before Sofia now though was a masterpiece of a woman, just a bit taller than her but far more matured, curvaceous, and most certainly older. Her bodily charms were smoothed and shaped by both time and experience, but this close to Jiayi Qiao, Sofia would be able to make out the muscle that hid behind that smooth and welcoming softness, like predatory creatures lurking just beneath the water's suface.

She was clad in a bright red bikini set; a thong and a mixture between a bandeau bikini top and an x-shaped one. It was relatively simple but the way it hugged against her form seemed to accent her curves, not quite struggling against her clear and visible bodily prowess but complimenting it. So did her calm and oddly peaceful look, albeit one that almost seemed like it would curl into a sneer any minute. The two circles in her hair that formed an eight seemed particularly idiosyncratic and definitely added to her exotic Chinese charm.

However, as the referee moved to signal the announcers to ring the bell, Jiayi moved from her corner to the centre. She pointed two fingers at Sofia then they split; one for each breast. She waited for her to acknowledge and if she did, she would point back to her own, putting on a small but jackal-like smile. She did not say out loud she wanted a breast-off but some of the more perceptive audience members coud tell something was going on. If Sofia accepted, she'd let her make the first move against her quite puffy breasts.

LunarOcean




Posts

: 904


Join date

: 2014-04-08



Sofia watched as her opponent made her entrance in grander fashion than her generic entrance, already putting Sofia in a sour mood as she watched her opponent walk to the ring in her glamorous robes before she would remove them all and reveal another revealing swimsuit as per ring attire requirements as Sofia got a better look at her opponent up close and personal. She could easily tell that the woman was older than her, more curvier than her, and definitely more experienced than her as she could tell from the subtle muscles she had on her.

Now Sofia was curious as she's never fought against another woman who was much older than her, she's always fought against girls around her age, give or take a year or two. Excitement of the unknown of what to happen lurked in side of Sofia, but also caution as she looked at her opponent's face seeing that peaceful look on her face which something about it seemed wrong. Keeping on her toes as she stayed in her corner, wearing her completely revealing swimsuit, Sofia heard the bell as she headed to the center of the ring as her elder did the same.

Nearing the center, Sofia was on guard as she saw Jiayi point at her and then her breasts as Sofia quickly looked down and then up and saw her point to her own breasts, throwing down the challenge to start the match off with breast to breast action. Sofia looked at the opposing chest and saw that it was quite big, but not enough for her to feel ashamed of her magnificent breasts as she let out a smile, walking towards Jiayi with her hands on her hips and chest puffed out as she walked just mere inches before the two breasts would touch.

The was silence between the two as Sofia stared at Jiayi, trying to size up the elder woman as she would throw the first punch in the match as she would twist her body to the left and whip to the right to slap their breasts together for a fierce beginning.

OmegaVan0




Posts

: 9707


Join date

: 2010-07-05


Age

: 29


Location

: New Mexico



Sofia was already very wary of her and Jiayi smiled inside. She was a beautiful young thing, quiet and now brooding perhaps in jealous at her entrance. She held back her smile and her words, deciding to play up her exotic mystique; if Sofia wished to hear her voice, she'd have to make her scream. As Sofia closed in, Jiayi's hands would hang by her sides. Her fingers clenched and unclenched, at odds with her surprisingly relaxed body language. If her eyelids lowered a little bit, she would even appeare bored.

She did not return Sofia's smile, watching Sofia trot towards her in that way a woman would trot when she wanted to own the ring. It was gaudy and blunt, fitting for this young girl. She looked like the sort who was still making a name for herself, self-confident and used to being in control. Yet the way she advertised her voluptuous beauty Jiayi found lacking in a certain artistry. She was quite tempted to mock her for implying insecurity and a need to prove herself before an older specimen. All she did was slowly wiggle her chest left and right, keeping the same serene expression.

There was a momentary pause as Sofia stood right in front of her, her respectable breasts being the least youthful part of her body. There was little of the girlish perk she associated with younger opponents, already starting to mold out against her chest and hang with gravity's lovely grip. When she pressed them against Jiayi's chest, it was a light press but she could feel she was well developed. Thick and firm, but not dense; her own bent in a little as she was docked, accepting the younger's touch.

Yet Sofia had made a mistake. She waited too long and when she twisted to the left, Jiayi acted.

Rather than meeting her slap, the bigger woman moved and how fast she did. While she did not have the build one would think of a speedster, in short bursts she could strike as fast a viper. She swerved around Sofia, around her horizontal tit-swipe, in a blur of blue and pale yellow skin. If she was successful, her arms would shoot up from under her shoulders and get her into a simple headlock. Jiayi would jerk back if she was successful, unbalancing Sofia in the process.

LunarOcean




Posts

: 904


Join date

: 2014-04-08



Sofia fell for Jiayi's bait and left herself wide open as the mature woman spun around Sofia as she went to swing her chest, causing the British girl to stumble as Jiayi caught Sofia in a headlock from behind. Sofia was taken aback by the sudden move, expecting Jiayi to go head to head with her breasts in their supposed breast-off as the British girl's hands shot up around the arm that held her head. "Ugh! Crafty!" Sofia let out as she struggled in Jiayi's grasp, trying to free herself from her predicament that came from her eagerness to try and match Jiayi's experience with her young aggressiveness, however it did not turn out the way she hoped.

While struggling in Jiayi's grasp, trying to free herself from the older woman's grasp, Sofia felt her jerk back and caused the British girl to stumble with her. However she was not intent to allow her opponent to take such an advantage over her as she would wrap her arms around Jiayi's body. Although she wanted to go for a slam, Sofia wasn't sure if the headlock would put her in harms way as well as she would attempt another tactic as she would try to drop down to a knee and end her staggering and as she fell she would try to perform a snapmare to try and force Jiayi to roll over her, hoping that it would allow her to break free of the headlock and secure a rear bearhug.
Last edited by 1079 on Tue Jun 03, 2014 9:23 am; edited 1 time in total

OmegaVan0




Posts

: 9707


Join date

: 2010-07-05


Age

: 29


Location

: New Mexico



"Did you expect any less of a woman of my standing~?" she spoke, sounding annoyed. It was deliberate and she made sure to speak a little ouder so the audience knew she was being the arrogant heel type. She was enjoying the struggling girl who seemed helpless as a puppy. Anytime she tried to balance heself, Jiayi would jerk back but curve her approach as to stray with the ropes. She wnated to get a lot out of this hold and the cute struggles of the younger woman.

When Sofia dropped down, now Jiayi was caught off guard as her grip nearly slipped. The next ting she knew frustrated hands had grabbed her head and thrown her over her head, slamming her hard onto her waist and lower back. It was enough to stun her but this girl was smarter than she thought. Before she could elbow her in the belly, two arms had wrapped around her lower body, trapping her in a rear bearhug.

"Huh!" The air was forced from her belly but Jiayi flexed. She wasn't a muscular beast and while her body looked smooth and curvy, there was strength beneath it. She raised her arms and flexed, letting Sofia know she wasn't facing a 'softy' as they were called back in A.P. "Bold, very bold. Girl, you believe you can squeeze me into submission?"

Jiayi was taunting her but she was a smart one. She wanted to play into the girl's aggression and her possible insecurities; youngbloods often liked to prove themselves to older ladies. Now, she was giving her the opportunity, daring her to keep squeezing her as she raised her arms and flexed.

LunarOcean




Posts

: 904


Join date

: 2014-04-08



Sofia managed to flip Jiayi overhead and got in her rear bearhug without much resistance as she was grateful as elbows to the stomach is not an activity that she enjoys much. Sofia smiled as she got the older woman out of her control with her sleeper, Sofia now looked to show the older woman that she wasn't going to be limp and hapless in her arms as she squeezed around Jiayi's stomach, feeling her toned muscles which was nothing too large but enough to struggle against. However she realized that Jiayi was doing nothing else to fight back besides flexing her stomach muscles as she soon found out why.

Hearing her opponent, Sofia knew at that point Jiayi was not worrying about Sofia's wrestling ability as it made her squeeze harder. "Oh hardly, I don't intend to beat you with just a bearhug. Only lesser girls fall to this, and you're not that type of girl are you?" Sofia let out as she knew what angle Jiayi was playing at, mind games to set her off into a fury and make a mistake. Those kinds of traps lose their effectiveness when they are seen, thought Sofia as she wouldn't allow herself to fall again to Jiayi's tactics, or so she told herself.

Wanting to prove Jiayi wrong, but knowing that attempting to transition into a more painful yet complex hold could compromise her control, Sofia decided that there were other parts of the body she could work on in the mean time as she would slide her arms up to wrap around the armpits of Jiayi and lock her hands behind her head, trying to lock in a full nelson before falling backwards to attempt a body scissors, keeping the pressure on the older woman's stomach, but mostly to attempt to stretch her out and rank up the tension of her hold.

OmegaVan0




Posts

: 9707


Join date

: 2010-07-05


Age

: 29


Location

: New Mexico



"My, aren't you a sharp blonde?" She'd more or less given her an opening and while Sofia hadn't fallen for the trick, she did sound a bit iffed. Not enough to become irrational and start making poor decisions but it could be a start. As Sofia took her to the mat, Jiayi clasped her hands together at her head and tensed, flexing to resist her head being pushed forward. She had to give it to Sofia, she was a tough one. Those legs of her's were determined to flatten the abs the Chinese woman displayed so proudly earlier on and if she kept this up, she likely would.

"Afraid to face me eye to eye? I'd have thought the youth of this league would be a little more spirited..." She sighed, masking the pain and discomfort with over a decade's worth of theatrical experience. Those thighs were the deadliest weapons right now but Jiayi wasn't going to let it be so easy. Slowly, she would move about, leaning back and rubbing against the breasts of Sofia. In particular, she would attempt to cause them to be pushed upwards and rubbed on their undersides. This wasn't the ideal position for arousal but she wasn't aiming on making her hot and bothered exactly.

Distracted was good enough and if it worked, Jiayi's legs would attempt to hook around Sofia's left. Rather than pulling however, they'd lock over her ankle and attempt to twist it in its socked. She might have been an older and fairly tall woman, but she had an eye for finesse.

LunarOcean




Posts

: 904


Join date

: 2014-04-08



Sofia fell back with the full nelson as she stretched out Jiayi's body while pushing with her legs locked around the elder woman's waist, hoping to lock them on her hips to aid in the stretching. Although Jiayi was resisting, Sofia pressed on as she figured that this hold was going to take the toll on Jiayi's body regardless if she resisted and maybe even put more stress on it as she bit her lip to prevent a moan from escaping her lips when Jiayi's back began to grind down on her breasts, she already showed weakness in front of the woman and did not intend to show any more.

"Oh you would like that wouldn't you? Don't worry, there will be plenty of that when I soften you up." Sofia snapped back as she continued to try and deflect Jiayi's taunting as it has lead to disastrous situations, however she would then notice Jiayi's legs moving about, most likely trying to escape as Sofia squeezed her legs harder in an attempt to prevent a break out. Unfortunately, Jiayi attempted to break out in an unconventional way as her legs wrapped around her ankle and began to twist it. "Ah!" Sofia let out as she let go of the body scissors and tried to unwrap her foot from the snaking legs.

Letting out a frustrated grunt, Sofia knew that she had to adapt her hold before Jiayi could turn the tables on her as she would release one arm from the full nelson and tried to lock a side head lock before releasing the other arm and attempting to roll over to get Jiayi on her front and Sofia herself on her knees as she tried to keep the experienced Jiayi down.

OmegaVan0




Posts

: 9707


Join date

: 2010-07-05


Age

: 29


Location

: New Mexico



"It seems there has been a flaw in your plan~" She spoke so calmly as she cried out in pain but her body movements were anything but slow. Jiayi might have been bigger but she wasn't a slow one. Her body whipped away, hair trailing behind it, as she twisted her body around. Ankle bones bumped and grinded on one another as she twisted her whole body around, sliding her arm out of the one-armed nelson. A hand grasped at her head but her back at fell to the ground already.

Even better, her legs would have still captured Sofia's. The choice of what submission to use was clear.

Pulling her towards her with her legs, Jiayi would grab her ankle and twist it outwards, squeezing it under her biceps and tensing as she also began to bend it forwards. It was a simple hold that targeted a very particular part of the body but there was more one could do with it than that. Cruelly one of her legs would press down onto the top of Sofia's knee, stretched out presumably straight by her grip on the ankle. It would attempt to press down and make her feel like her knee was being bent inwards.

But what was pleasure without pain? She would quite suggestively rub the inside of their thighs together, letting her child bearing mass rub warmly against Sofia's and near her crotch.

LunarOcean




Posts

: 904


Join date

: 2014-04-08



Page 1 of 4 • 1, 2, 3, 4
---
Permissions in this forum:
You
cannot
reply to topics in this forum