Champions & #1 contenders
Poll regarding Kayfabe rules of hentai in non-hentai matches.
Sat Oct 17, 2020 9:03 pm by Old_Man_Tai
So, one of the various different things we are looking to bring to the board soon, is an official list of "In-World Rules", to help with world building and such and just make clear what the in-story rules of the Friction and Tension leagues are.
One thing I've noticed that people seem to handle differently, is the idea of using hentai, as in fucking, groping, stimulation, anything actually involving touching privates and beyond just flirting/kissing/rubbing in non-hentai matches. Some seem to …
[
Full reading
]
Comments: 31
Need Debut matches/Simply looking for more
Tue Sep 08, 2020 11:19 pm by Void Effect
Comments: 7
Looking for a match.
Thu Oct 08, 2020 10:11 pm by Old_Man_Tai
Simply put, looking to get Silver Ace two or three short, quick matches to set up her story for her Avalanche match.
Also if somebody knows how to use photoshop, have a favor to ask.
Contact me on Discord or PM if you are interested.
Would be willing to offer proper matches with other characters in trade if that's acceptable.
Comments: 0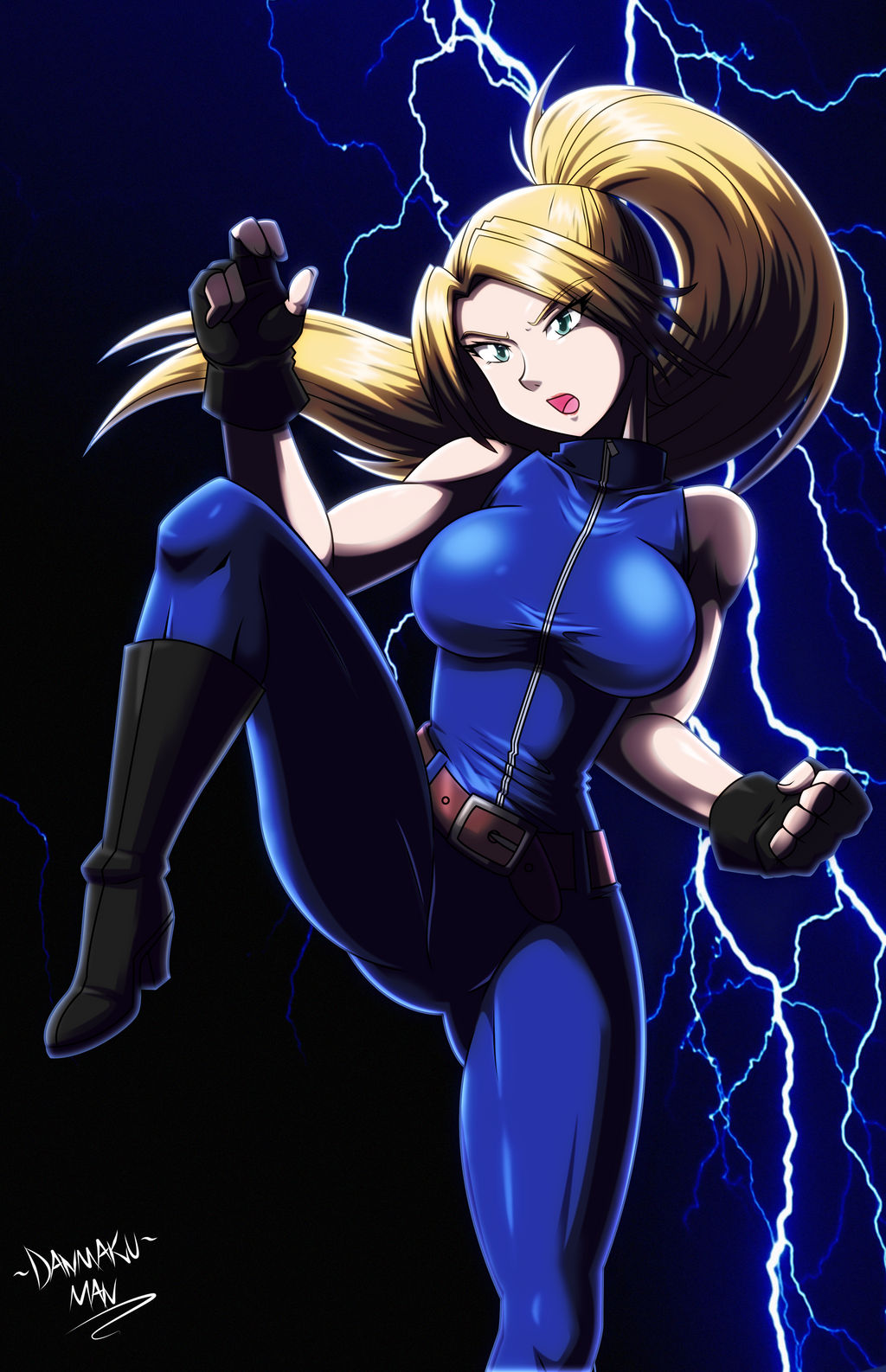 Name: Victoria Archer
Sex: Female
Age: 23
Eyes: Blue
Hair: Blonde
Height: 6'2"
Weight: 150 lbs
Nationality: American
Alignment: Face
Entrance Music:
Battle Without Honor or Humanity:
Appearance:
Main Attire:

1:

2:

3:
Dress:
Bikini:
Wrestling InformationStrategy:
Victoria has a very extensive martial arts background. Strikes are her forte, but she is also quite skilled with grappling and submission holds. Her gameplan typically is to use both her strikes and grappling to chip away at her opponent's defenses, while constantly watching and waiting for openings to form so she can try to finish the fight with a knockout blow. However, when it comes to all things sexual she's very easily flustered, which can throw a giant wrench into her plans.
Style:
Striker / Submission Grappler
Preferred Attacks:
- Punches and Kicks
- Armbar
- Chokeholds
- Suplexes
Preferred Match Types:
Any
Physical Stats:
Endurance: ★★★★☆
Spoiler:

Her stamina and durability are generally excellent, though hentai holds have been known to wear her down rather quickly.
Strength: ★★★★☆
Spoiler:

She's got a good amount of power in those long limbs.
Speed: ★★★★☆
Spoiler:

Dangerously quick, especially for a woman her size.
Defense: ★★★★☆
Spoiler:

In an ordinary, fair fight, her defense is stellar. But it's a different story when hentai tactics get involved.
Technique: ★★★★★
Spoiler:

Everything in her arsenal is executed with textbook precision.
Wrestling Stats:
Strikes: ★★★★★
Spoiler:

Efficient, precise and powerful. Her strikes are always a serious threat.
Submission: ★★★★★
Spoiler:

Her holds are every bit as dangerous as her strikes.
Powerhouse: ★★★★☆
Spoiler:

She's a bigger girl with notable strength, and will use that to her advantage whenever practical.
Aerial: ★☆☆☆☆
Spoiler:

Much more comfortable on the mat.
Counters: ★★★★☆
Spoiler:

She's great with counters, so long as hentai isn't involved.
Signature Moves:Axe Kick:
Victoria raises her leg up high, then slams her foot right down onto the back of her doubled-over foe's head.
Axe Kick:
Flying Knee:
Victoria takes a leaping step toward her opponent while throwing her knee up into their face with a devastating impact.
Flying Knee:
Sleeper Hold:
A timeless classic. Victoria wraps her arm around the opponent's neck from behind while using her other arm to secure her grip, then applies pressure to cut off her foe's air supply and choke them out. The hold is capable of ending matches on its own, but Victoria particularly likes it because of how well it can set up either of her finishing moves.
Sleeper Hold:
Finishing Moves:Penalty Kick:
With her opponent seated upright on the mat and heavily dazed (often eased into that position while trapped in her Sleeper Hold), Victoria sprints into the ropes ahead and dashes right back, firing a brutal running roundhouse kick right into the chest or head of her opponent.
Penalty Kick:
Saka Otoshi:
While Victoria has her opponent secured in a sleeper hold from behind, she pivots her hip into their lower back, then executes a judo toss to flip her foe over her back and onto their front while. Still maintaining the sleeper hold, she mounts her trapped opponent's back, using her body weight to anchor them in place while choking them out.
Saka Otoshi:
Personality:
Victoria is a serious competitor in the ring, but believes that every loss is meant to serve as a learning experience. She's very professional about her matches most of the time, and generally won't go out of her way to excessively injure or humiliate an opponent intentionally. When she's not in the ring or the gym, Victoria can be as casual a person as anyone else. However, she can fairly easily become annoyed or angry, especially when people cheat/try to cheat in matches against her. She is also very easily flustered by sexual situations, which has proven to be a major problem for her in her matches, though she's trying to overcome it.
Past/History:
Victoria was raised only by her father, who was a master of several different martial arts. Her father believed that learning to defend oneself was the most important thing a person could learn. And so starting when Victoria was only 5 years old her father traveled with her to a multitude of places around the world, introducing Victoria to the masters who had taught him how to fight and letting her learn from them as well. These continued almost nonstop over the years, and it was during these travels that Victoria eventually learned about the AFW, and quickly became fascinated by it. She eventually convinced her father to allow her to go join it, under the condition that she meet with her masters whenever she could to continue as much of her training as possible. And so, Victoria joined the AFW as a part of Friction, and now looks to compete and achieve as much success as possible in her new environment.
Fun Facts:
- Since she and her father began traveling when she was young, Victoria has never lived in a country for more than a few years. The longest she's spent anywhere was in China, where she lived and trained for just barely over two years. She also has basic proficiency in multiple different languages because of all her traveling.
- Having been to such a vast number of countries, Victoria has tasted seemingly every kind of cuisine known to man. Yet, her favorite food is ordinary cheese pizza.
- While she was in China, a man once attempted to mug her. Victoria managed to get behind him to put him in a sleeper hold and toss him over her hip before getting on top of him and applying a choke hold, until a crowd of people pulled her off. And when the man began to sit up, Victoria sprinted at him and kicked his head out of anger and frustration, knocking him out cold. Once she found out these both already had names as wrestling moves (Saka Otoshi and the Penalty Kick), she decided she'd use them in her matches as her finishing moves.
AFW Information:
Friends:
Allies:
Rivals:
Enemies:
Crushes:
Lovers:
Wins: 2╏ Losses: 7╏ Draws: 0╏ Total: 2-7-0
Loss against Bertriz Nolasco in a Submission Match
Loss against Anja in a 2 Out of 3 Falls Smother Match
Loss against Cecilia Northman in a Smother Match
Loss against Da-Xia in a Humiliation Match
Win against Izzi in a Smother Match (Softcore Championship Tournament 1st Round Match)
Loss against Masako in a Bra & Panties Match (Softcore Championship Tournament 2nd Round Match)
Loss against Mai Valentine in a Humiliation Match
Loss against Brat Pack in a Handicap Match
Loss against Natalia in a Hentai Submission Match
Win against Raiden Naozumi in a Random Stipulations Match
Championships & Accomplishments:

LARIATO




Posts

: 5160


Join date

: 2014-11-13


Age

: 27



---
Permissions in this forum:
You
cannot
reply to topics in this forum