Who is online?
In total there are
73
users online :: 4 Registered, 0 Hidden and 69 Guests :: 2 Bots
Harrier
,
Iceman
,
Nelv
,
pu-level-up
Most users ever online was
418
on Tue Jul 30, 2019 9:51 am
Champions & #1 contenders
Poll regarding the possibility of Mods booking PPV matches.
Sat Oct 24, 2020 1:43 am by Old_Man_Tai
So, basically, was wondering all of your thoughts regarding the possiblity of mods booking ppv matches.
The thought was, since people often seem to have trouble finding partners for ppv matches until the last minute or so, what if the mod team was to step in and, well in advance of the show, book the show ourselves, and try to put together the best matches we can, including title defenses, no.1 contender matches, and so on and so forth?
While I doubt our more popular members need such a …
[
Full reading
]
Comments: 8
Need Debut matches/Simply looking for more
Tue Sep 08, 2020 11:19 pm by Void Effect
Comments: 11
General Avalanche Reminder
Fri Oct 23, 2020 9:21 pm by Old_Man_Tai
General Reminder: Friction PPV Avalanche goes live on December 1st: So if you need to do any promos or build up for your Avalanche matches, you should be focusing on that now. You are allowed to do such things over Discord and then post them after if it helps get them done faster so matches have proper build up.
Also, if you are looking to get on the ppv, and have a partner and match set up, (or can do so quickly), contact me to let me know what match you are doing on the show.
If you have …
[
Full reading
]
Comments: 0
Page 1 of 15 • 1, 2, 3 ... 8 ... 15
Preceded By:
Tag Elimination: The Valkyries Vs. Blaise Cameron, Amy Poford & Mariko Ishii
Followed By:
Tension Tag Title Match: United Kingdom Elite(C) Vs. Sion & Daisuke Kamiya
Carmen Rodriguez (C):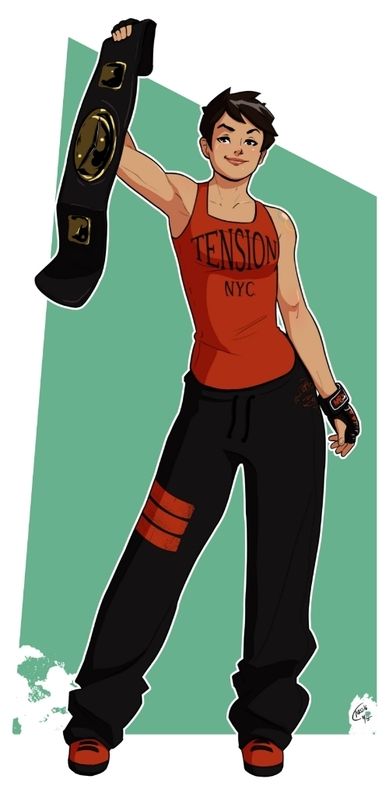 Vs.

Clyde Gastin:



Match Type: 24/7
Winning Condition: Pinfall, Submission or Knockout
Special Conditions: No DQ's, Count outs, No Holds Barred. Falls Count Anywhere. The match will take place at the prestigious Omega Hotel Penthouse Suite. As per the rules of the match, even non participants are able to claim the title if they score a fall on the champion.
A belt that can be defended at any time anywhere by anyone. The stage is set to return to the Omega Hotel, a place quite familiar with hosting contests of strength. No expense was spared on this lavish penthouse suite and it though it is accustom to basking in refinement and eccentricity, tonight it craves one more taste of the more base  and primal sorts of entertainment.

Tatyina




Posts

: 27237


Join date

: 2009-04-02


Age

: 100


Location

: VIP Box inside the AFWDome



Clyde pulled up via Taxi to the long forgotten Omega Hotel. Stepping out of the cab, clad in a Denim Sherpa Jacket over a white tank, wearing a slim pair of blue jeans with matching black knee pads and black wrestling boots that rested over the jeans. He knew he wasn't headed for the arena, but it didn't stop him from gearing up. He was a wrestler, not so much a street fighter. The days of picking fights in bars and dance halls were long over. Now he was a professional.

But as he looked up at the hotel, he frowned just slightly, recalling the last time he was here, his lame loss to Emi and the poor state he was in emotionally. He shrugged it off and made his way inside, going past a bar, he'd stare at it and swore he saw the past flash before his eyes.

Drunk little blonde dropout hick, getting wasted and crying over a bitch who never really loved him. Lots of wasted nights drinking over her. He looked down the hallway a saw a couple of rooms, he remembered picking fights with Johnny right outside his room, getting pinned by Taylor and drunkenly yelling at Cassie Elliot who tried to help him to his room...

He pictured himself stumbling in that same hallway, like he was seeing a ghost. He scowled hatefully before going in the elevator.

"I hate this place..." He muttered dryly, not wanting to be here. He craved the ring and the fans, but this was his chance to be a Champion again. Melissa had banned him being able to compete for the Tension World Title, she didn't say anything about the 24/7 Title and he was determined to win. He liked Carmen a lot, he respected her and loved to compete against her.

But tonight he was going to take her title away from this stupid hotel that he never wanted to return to.

Stepping out of the elevator, Clyde made his way to the Penthouse and strolled into the room, hands in his pockets, looking around carefully and noting how nice looked.

"...Guess the league don't mind expensive shit gettin' torn apart."

Lobo




Posts

: 9729


Join date

: 2009-08-19


Age

: 28



It had just started to rain when Carmen and Army pulled up in front of the Omega, hitting the streets with a light drizzle. You might think that would've made the streets a little clear, forced some people to come inside. Not today - there was a small crowd of Tension fans waiting at the front as they arrived, and the prospect of getting wet didn't seem to bother them one bit. "There's your adoring public." Army threw a quick wave over to a group of schoolgirls, as they took a bunch of photos that would probably be all over Instagram and Twitter in a minute. "Thought they were trying to keep this under wraps?"

Carmen hadn't even been paying attention, wrapped in thought for the past few minutes as she stared at the belt. She looked up with a quick jerk, realizing that they'd arrived for the first time. Even though she'd been living in Kyoto for over a year, there were still parts of it she'd never seen, and this place was one of them. Just another reminder that there was plenty of Japan left for the Rodriguez clan to settle into before they could truly call it their home.

"Everyone knows everything these days, Army. No more secrets in the world." She kept her cool on the inside, but it was a little annoying that the location of her match had a leak. On paper, it shouldn't affect the match itself, since that would be taking place in the penthouse suite, locked in with Clyde and the referee. Things in the AFW rarely went that simple, though, and she was not in the mood for more complications. She accepted that the 24/7 was always up for grabs, but she wanted this to be as clean a match as possible.

Army pulled to the lobby and Carmen stepped out, looking ready for the fight. She'd wore the same outfit she'd brought out for the promo, what the fans dubbed her 'hardcore suit'. It was just a little something a friend of Carmen's father had whipped up to celebrate her first-ever title. Black jogging pants, custom made, red shoes, and a sleeveless shirt with the Tension logo across the chest, with matching grappling gloves. It was simple, but functional, and the sort of thing she could be comfortable wearing anywhere. Perfect for a wrestler who'd be spending most of her time on the streets.

The only problem in her whole look was the small medical patch on the back of her head, covering up a healing gash. As she looked around and raised her belt to the crowd, she kept her eyes open wide, scanning the area for the woman who gave it to her in the first place: Belle B. Barker.

"You see her?"  Army got out and looked around the other side, trying to see anyone like the woman Carmen described. If she was around, he figured she wouldn't be difficult to spot. A chick with long, purple pigtails sounded hard to miss.

She did another wide scan, then turned back to him as she lowered the belt. "No," She shook her head. "But if she's not here, she will be soon. Match like this, in front of the whole world? Way too tempting to pass up."

Army shrugged. "If she is here, she won't announce herself. She'll wait until you're up there, then she'll work with Clyde, and-"

She cut him off with a long, audible groan and held up her hand. Ever since she explained the attack from Belle and told him the weird things she said, Army had been in full-blown conspiracy mode. She slammed the door and hefted the belt up on her shoulder as she made her way towards the entrance. 'They're not working together. You really need to drop that."

"You just like Clyde too much to see it." He followed behind her as the doorman let them both inside, nodding as they passed. "Think about it - you announce you want to take him on, he shows up, then you get decked by some crazy bitch with a country accent right after. Clyde hasn't touched gold for years, and the 24/7 belt's got no rules to stop him. Why not bring in insurance?"

"Because Clyde is an honorable man."

"Because you think Clyde's an honorable man." Carmen made her way into the nearest elevator and stepped in, while Army stood on the other side, looking at her with folded arms and a stony expression. "You still act like this is boxing, like it's always one on one. Wrestling's different. People screw people over to get titles. All the time."

"You've been watching too much Friction." She pressed the button for the penthouse suite, but stuck her arm out to hold the elevator door a few moment. "You just let me do my thing, and keep an eye on the top floors. Whatever Belle's deal is, I don't want her involved. Your job's to make sure of that. Got it?" She stared at him straight on. Army was a goofball, and she loved him, but she need Serious Armando Rodriguez out in full force today.

"Got it." They bumped fists in the middle and Carmen backed off, letting the doors close. "Good luck."

"We're Rodriguezes, Army." She gave him a thumbs up and stared at the ceiling. "We don't need luck."

As the elevator ascended, Carmen laid the belt down and started to do a few stretches. She'd need her body as close to 100% as she could get it. Clyde had beaten her before - not easily, but he'd done it, and it wasn't likely that he'd got weaker in the interim. This was a different Clyde she was facing. A Clyde that was on what might be his last chance at championship gold for a long time. A Clyde who'd been wrestling long before she even knew what AFW stood for. A man who she could easily see with a belt around his waist.

Just not tonight. Not from her. Not in this match.  This was her time, the title was rightfully hers, and this was the place to prove that and silence any doubters. She came in with the belt, and she was leaving with the belt. Period.

She stepped into the penthouse a few moments later and whistled, taking a full look around the place. She'd been in some swank setups, especially when she was competing at the Olympics, but this suite was a step beyond event hat. King-sized beds with satin sheets, a kitchenette that was bigger than Carmen's actual kitchen at home, only the finest leather chairs sitting in front of slick Apple computer, and the biggest television she'd ever seen, easily a foot taller than she was.

Chandeliers, tiled floor, various stock paintings on the wall, and in the middle of it all stood the referee and Clyde T. Gastin.

"Hola." She took a few confident strides towards them and kept her eye focused on Clyde the  whole time. She handed the belt off to the referee and stepped back. "You ready for me, vaquero?" Carmen did a quick glance out of the corner of her eye, spying a couple of cameras on the wall. There were probably a few hidden around the place, too, so the audience wouldn't miss a single angle. "Because I'm ready for you. It won't be like last time." She wagged a finger his way and smirked.

acuya




Posts

: 17684


Join date

: 2014-02-14


Age

: 34


Location

: Charlotte, North Carolina, WOOOO!



Clyde saw his opponent appear through the door with her confident stride. The cowboy stood there, glaring at the champion intensely as she handed off that title to the referee.

His head was down and his shoulders were raised, looking at Carmen out the corner of his eye. She was older and taller, but Clyde hungry.

"Ikuzo."

He ran at Carmen without warning and leaped into the air, trying to snag his legs around her neck while falling, trying to fling her overhead with a head-scissors takedown right out of the gate, hopefully flipping her onto the expensive and fancy hard wood floor.

Lobo




Posts

: 9729


Join date

: 2009-08-19


Age

: 28



Carmen only turned away from Clyde for a moment - the briefest of moments - to hand off the belt. That was all it took.

The next thing she knew, Clyde's boot were around her neck and she was sent flying across the room, ass-over-teakettle. She tumbled once, then twice, before her chest crashed into a nightstand near the beds, knocking an ornate lamp and a Gideon's Bible to floor.

She looked over her shoulder with a fiery glare as she grabbed onto the edge of the nightstand, pulling herself back up as fast as she could. As ticked as she seemed, it was more at herself than him - after all, he hadn't broken a single rule. He couldn't, there were no rules to break. Carmen had been thrown off because there was still a part of her that was looking at this like every fight in her career, expecting bells and official calls and timekeepers and rounds.

This was a brawl, and if she wanted to keep the 24/7 Title, she have to unlearn some habits..

As they fought, the referee moved over to the bigscreen TV and clicked it over to the Pay-Per-View, giving them a live feed of their own fight with the audience's reactions on top. The crowd was already breaking into dueling chants, with half of them pulling for the up-and-coming Tension star and the other half rooting for the time-tested former champion.

acuya




Posts

: 17684


Join date

: 2014-02-14


Age

: 34


Location

: Charlotte, North Carolina, WOOOO!



Falling to his front after flinging Carmen, Clyde sat up and heard the clangs and crashes of furniture that Carmen collided into.

He stood up and rushed Carmen at full speed with his head low, just mere seconds after she stood up as well and turned to face him with that fiery latin glare.

At the last second, Clyde jumped and stuck both feet out, aiming for Carmen's chest, trying to blast her into or even THROUGH the wall with a running dropkick!

Lobo




Posts

: 9729


Join date

: 2009-08-19


Age

: 28



Getting swung around like that was hardly pleasant, but it was more disorienting than painful. Carmen's back hurt from the impact and she was dizzy, but not so much that she couldn't see a 140 pound Texan heading straight towards her at breakneck speeds. She didn't know exactly what he was about to do, but she reasoned that it would involve slamming into her with a lot of forward motion, and probably a jump. Safe bets.

She'd just started to stand up as he neared, and the moment she saw his body prepare to jump, she juked to the side and swung around in a half circle to face him, stepping out of harm's way with the thinnest margin. Sure enough, she was rewarded by the sight of his body flying through the air with a drop kick that would've put her clean through the wall if she hadn't moved, and she knew exactly what to do with the opportunity.

In a flash, she brought her fist low and rose up quick, striking at Clyde's ribs as he flew, looking to land one of the best uppercuts she had.

acuya




Posts

: 17684


Join date

: 2014-02-14


Age

: 34


Location

: Charlotte, North Carolina, WOOOO!



Clyde wanted to change course from mid air when he saw Carmen juke. But he couldn't do a thing save for trying to put one leg down with the other remained high and crashed into the wall, his boot putting a firm dent that penthouse wall. It was all so fast, it felt like time slowed.

His eyes remained locked on Carmen with the greatest of urgency, for the moment his boot hit the wall and then the floor, he was tagged. Hard.

"HAKK!!" Her fist buried into his body and made him bend against her arm as he flopped away, clutching his burning, aching rib while he sucked and gasped for air. The pillows and sheets bounced with Clyde falling onto them, frantically trying to roll onto the otherside of the bed and recover.

Lobo




Posts

: 9729


Join date

: 2009-08-19


Age

: 28



They referee circled around the room, trying to get the best view of the action with the awkward setup, as the furniture already came into play. Unlike far too many women in Tension, Carmen didn't get any pleasure out of simply seeing Clyde hurt, but the competitor inside her was quite satisfied when her shot connected and sent him into a momentary retreat. She couldn't stop herself from having a little smirk as the crowd's roar came booming through the television. Last time they met, it had been more of a casual affair - she wouldn't say she held back, but there was an almost cordial side to it. This time, it was all business.

She couldn't let up on the pressure, not for one minute, not for one second, so when Clyde went flopping across the bed, she immediately went after him. She jumped on top as he rolled over to the side, getting a little air time as the bed's spring propelled. Not quite as much as she would've gotten with the ropes back in the ring, but she could work with this.

She bounced towards Clyde, reared her right arm back, and tried to come down right on top of him with a diving fist drop off the bed, aiming for his torso - one of the new moves she'd picked up since they last fought, and the first of many she was aching to show him.

acuya




Posts

: 17684


Join date

: 2014-02-14


Age

: 34


Location

: Charlotte, North Carolina, WOOOO!



Clyde flopped atop of the bed trying to get away from Carmen as he nursed his burning rib. He didn't forget the hands she had, she was a boxer and he was reminded of the power she packed in her fists. Her, with her brother, packed the hardest punches he had ever felt and he didn't want anymore.

But Carmen was wasn't done. He felt the weight on the bed shift, looked up and saw Carmen coming down on him and he had nowhere to go.

"HUK!!" Her fist came dropping straight into his body, making his arms and legs shoot up faintly as his abs were pounded by her gloved fist, his limbs flopping onto the bed before he curled up and held his stomach. "Uhh..."

Lobo




Posts

: 9729


Join date

: 2009-08-19


Age

: 28



Page 1 of 15 • 1, 2, 3 ... 8 ... 15
---
Permissions in this forum:
You
cannot
reply to topics in this forum