Champions & #1 contenders
Poll regarding the possibility of Mods booking PPV matches.
Sat Oct 24, 2020 1:43 am by Old_Man_Tai
So, basically, was wondering all of your thoughts regarding the possiblity of mods booking ppv matches.
The thought was, since people often seem to have trouble finding partners for ppv matches until the last minute or so, what if the mod team was to step in and, well in advance of the show, book the show ourselves, and try to put together the best matches we can, including title defenses, no.1 contender matches, and so on and so forth?
While I doubt our more popular members need such a …
[
Full reading
]
Comments: 7
General Avalanche Reminder
Fri Oct 23, 2020 9:21 pm by Old_Man_Tai
General Reminder: Friction PPV Avalanche goes live on December 1st: So if you need to do any promos or build up for your Avalanche matches, you should be focusing on that now. You are allowed to do such things over Discord and then post them after if it helps get them done faster so matches have proper build up.
Also, if you are looking to get on the ppv, and have a partner and match set up, (or can do so quickly), contact me to let me know what match you are doing on the show.
If you have …
[
Full reading
]
Comments: 0
Need Debut matches/Simply looking for more
Tue Sep 08, 2020 11:19 pm by Void Effect
Comments: 10
Page 1 of 9 • 1, 2, 3, 4, 5, 6, 7, 8, 9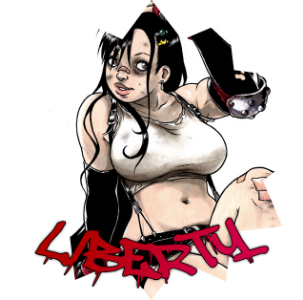 Match Type:
No Disqualification
Victory Conditions:
Pinfall, Submission, or KO
Liberty was in a good mood
Actually, scratch that. Liberty was in an awesome mood
No, wait - Liberty was in a
fucking
awesome mood.
She was extremely glad that no one was paying much attention to her as she hung around the gorilla position, because if they had, they would've seen her hoping from foot to foot, bouncing in a way that no would-be anarchist had any business doing. She couldn't help it, though - after being out of the ring for so long, her last match and the triumph had lit a fire under her ass. She was ready to fight. She was ready to
win.
"1, 2, 3, 4!"
The Clash's
White Riot
came blasting out of the speakers, and Liberty came blasting out of the back only a moment later, pumping her fist to the music. The crowd was more behind than they were last time, giving her a strong reception this time. She was the former - and future, if she'd have any say on it - hardcore champion, after all, and her last match had shown that she could deliver the goods, even if there weren't any weapons in the ring to start off this time.
Come to think of it, that was something she could fix, wasn't it?
Instead of sliding into the ring, Liberty ducked under the apron and started tossing some hardcore standards into the ring: a kendo stick, a table, a ladder, and some chairs. She even went over to the announcer's booth and tossed the bell in, just for good measure.
The poor referee had to dodge all the flying objects, but she was the only one who didn't approve. The crowd loved it all, cheering like crazy as she made her way into the ring, right as her music began to die down. She didn't know who she was up against this time, but frankly, she didn't much care. Liberty felt like she could take on the whole locker room, and some unlucky wrestler was going to find out exactly what made her think that way.

acuya




Posts

: 17658


Join date

: 2014-02-14


Age

: 34


Location

: Charlotte, North Carolina, WOOOO!



To say Karen was in a good mood too would of been a hell of a understatement. She'd had a rocky start in the Federation, but that was starting to fade into memory as the buxom blonde had started a bit of a streak. Hell, the way she was feeling, she could of gone into a handicap match against two champions and come out swinging.

Pacing down the hallway near the entrance, she was shaking out her arms and hands rapidly-she was the definition of confident, maybe even cocky, right now. She didn't have to wait long before she was signalled, confidently marching through the entrance curtains as "Power" kicked off on the speakers, walking at a faster pace than usual, a sign of her eagerness.

As per the norm she kept silent as she was greeted by an away of boos, but this time brought her hands up to almost welcome them. Nothing was gonna piss Karen off right now.

Her confident smile dimmed some what, as she approached the ring apron. "What the f.." she muttered to herself. She knew the match was no DQ, but peering into the ring, it looked more like a garbage pile array of weapons. She'd step onto the apron, walking alongside it as she eyed the numerous weapons almost filling the mat, not even glancing on her foe. She'd eventually bring her tremendous leg over the top rope, bringing the other over too as she stepped in the ring, finally setting her eyes on Liberty.

Hands on hips, she broke her silence. "Thanks for getting them all out for me, idiot."

scorn53




Posts

: 3516


Join date

: 2015-07-24



Liberty didn't like to do too much research on her scheduled opponents. Sort of took the fun out of things - wrestling, especially hardcore wrestling, was supposed to be fun. Research wasn't fun, it was homework, and she hadn't joined the AFW to do homework. Made sense.

There was also the problem of the internet being a monument to unchecked capitalist greed, too. But, first and foremost, it was too much work for her tastes.

So she didn't know much about Karen Starring until she came out of the curtains. In that instant, she learned a few key things - Karen was built like a shotputter, she was dressed like a showgirl, and she had some questionable tastes in music. So far, that all equaled to some mixed feelings. Feelings that became decidedly less mixed when Karen actually opened her mouth and spoke.

"Pfft." Liberty scofffed, looking Karen over nice and close. She was a big girl, sure, but she wasn't that much bigger than she herself was. They were close enough in body type that she banked on her hardcore experience edging it out. Nobody did it better. "You do know I can use the weapons, too, right? And will. Repeatedly. Upside your head."

She put her hands on her hips, mirroring Karen's stance well, except for the eager smile on her face.

acuya




Posts

: 17658


Join date

: 2014-02-14


Age

: 34


Location

: Charlotte, North Carolina, WOOOO!



Karen wasn't that familiar with hardcore matches, but in her mind, she thought-"why should she need to be? It can't be that hard to swing a chair.." she'd briefly laugh to herself, before her face again turned serious.

She didn't care much for her opponents stature-the even build of Liberty would only prove that Karen was the stronger amazon, in her mind anyway, when Karen would claim victory. If she did, that was.

The hefty blonde took a big step back, arms briefly swinging as she stretched and flexed, signalling she was ready for the bell.

scorn53




Posts

: 3516


Join date

: 2015-07-24



Liberty leaned forward, expecting her opponent to make some sort of quip, but she got nothing but silence. Little disappointing, and she sighed to show it. "I'll take that as a 'no', sure."

One of the silent types. Figured. Those were always less fun to fight. Fortunately, she had plenty of party favors to liven things up if Karen's personality wouldn't do the trick. And speaking of the party, she had an idea on how to get it properly started.

Liberty took a few steps back, all the way to the ropes, as the refree signaled for the bell. The moment it rang, the exact millisecond it cried out, she bounced off the ropes and came charging at Karen as fast as her boots would take her. Her long hair streamed behind her as she crossed the ring in a couple of bold steps, ducked down, and slammed into Karen's stomach with a fierce tackle.

acuya




Posts

: 17658


Join date

: 2014-02-14


Age

: 34


Location

: Charlotte, North Carolina, WOOOO!



Karen smiled briefly, as seemingly her ignorance frustrated her opponent. "Gooood..." she'd mutter to herself, her arms high. She'd step forward, confident as ever, looking for the usual test of strength start to any match. It may have been No DQ, but she always went out of her way to fairly show that she was the stronger woman. But this time, it didn't seem like that was going to happen.

Barely given chance to bring her arms low, Karen would grunt as that spear hit her hard, knocking the big woman back. She was far too hefty to be taken straight to the mat, even by a woman the same size as her, but damn did the move hurt. She'd try to push on Liberty's shoulders, trying to push her foe off her as she pressed into her waist.

scorn53




Posts

: 3516


Join date

: 2015-07-24



"Surprise!" LIberty cackled, as her shoulder found a nice, new home in Karen's stomach.

Success! Now, Liberty had options. She could always try and keep pushing Karen, maybe get her into a corner or toss her over the ropes. She was a little hefty for that, though. Maybe later. Something like a single-leg takedown, perhaps? Could work, but she didn't want to get too fancy from the outset. Spinebuster? She liked that. But later. Through a table.

For now, Liberty decided to Keep It Simple, Stupid. She wrapped her arms around Karen's waist, keeping her nice and tight, then lurched upwards and lifted her up. With a quick jerk, she tried to throw the blonde bombshell over her shoulders, making her come down behind. Maybe she'd land on something, too. That'd be nice.

acuya




Posts

: 17658


Join date

: 2014-02-14


Age

: 34


Location

: Charlotte, North Carolina, WOOOO!



Karen felt humiliated, seconds into the bout. Liberty had nearly cut her in half with her opening move, and hadn't exactly given Karen space to breath. Pushed nearly back to the ropes, she felt her waist hugged tight by her eager foe. Sensing Liberty would have some power to her frame, she sensed a form of over the head throw was coming- Hell, it's what she would of done.

Her feet would quickly start to leave the mat, and with it, Karens arms shot back, grabbing the ropes firmly, as tight as she could, to prevent herself being hurled over Libertys head. "Ref! REF!" Karen would scream, as Liberty almost held her in her arms.

scorn53




Posts

: 3516


Join date

: 2015-07-24



Liberty was all set to toss Karen away and dumped her on her ass, but her opponent had other ideas - she grabbed the ropes tight, refused to go over, and an awkward struggle ensued as she and Liberty struggled with opposite goals. To make matters worse, while Liberty was strong, she was not the least bit confident about her ability to hold a thrashing woman who was around her own size. Eventually, she'd have to let go.

Not before a quick comment, though.

"No DQ, remember?" She chirped back to Karen. "Ref can't help you!"

With that said, Liberty fell down to one knee and slammed Karen's stomach into her shoulder, going for a crude gutbuster drop.

acuya




Posts

: 17658


Join date

: 2014-02-14


Age

: 34


Location

: Charlotte, North Carolina, WOOOO!



Karen thought she was onto something, considering her hands were wrapped around those ropes. That's when her stupidity hit her. Liberty could of held her all day, followed up with a lowblow, or even bitten her. Stupid Karen. It was called No DQ for a reason.

She'd react to her mistake far too late, as her waist was again subjected to punishment- her body weight working against her as it was driven down onto Libertys shoulder. She'd quickly roll away, lucky to avoid any objects, as she'd hold her waist.

scorn53




Posts

: 3516


Join date

: 2015-07-24



Page 1 of 9 • 1, 2, 3, 4, 5, 6, 7, 8, 9
---
Permissions in this forum:
You
cannot
reply to topics in this forum