Champions & #1 contenders
Killer King
Sat Jul 04, 2020 5:58 am by KillerV
Looking for female opponents to lose against Killer King, willing to discuss about it...
Thanks in advance.
Comments: 0
Summer Splash start date reminder
Tue Jun 30, 2020 7:13 pm by Old_Man_Tai
Summer Splash starts on July 15th this year.
After the poll that was taken, we decided to push SS back a little this year, to give people more time to get stories together given the pandemic.
With July around the corner, we decided to give a couple extra weeks and start SS halfway through July, just to give people some more time.
Comments: 0
Coming Back?
Wed Jun 24, 2020 7:38 pm by Lotuswarrior
I've been thinking of coming back, but I want to focus on a single character to promote some development. Looking back at what I've done, I've been thinking about how I did things and how I've could've made them better.
Not saying I've greatly improved while I've been away, but I think that most people will at least notice some improvements in my future matches or roleplay events. I have a few characters that I want to truly focus on using, but the others will probably be deleted or turned …
[
Full reading
]
Comments: 0
Name: Claire Knight
Alias: Scorpio, Black Empress
Sex: Female
Age: 25
Eyes: Brown
Hair: Burnette
Height: 5' 8"
Weight: 135lbs
Nationality: American
Alignment: Heel
Background
History: Claire used to be an average person who just lived her life comfortably. She was a personal trainer, but after awhile of training people who didn't follow her instructions Claire limited her clients to those who actually showed promise. After some time she grew bored and wanted to do something more with her trained body. She became a s.w.a.t team member, but she quit after a few missions after a near death experience made her afraid of guns. During her last mission, a crime boss was held up in a empty building. Her team was doing a sweep of the place and he managed to get the drop on Claire. Surprised, he was able to disarm her and the two fought a bit before he held her at gunpoint. Luckily the gun he had was one of the ones that he was dealing and wasn't put together too well. He pulled the trigger and the gun jammed and exploded near her face. One of her teammates heard the fighting going on and was able to reach them at this point and take out the target. Two of her best friends on her team left along with her to help her recover and hopefully come back.
Personality: Claire is very calm and collected. She can be a bit cautious at times, but her self confidence in her abilities can quickly change her mind during a match.
Wrestling Information
Wrestling Style: Mainly strikes and high flying moves.
Signature(s)
Scorpion Kick: A springboard back kick.
Finisher(s)
Double Sting: A two kick combo. Starting with a back kick to double her opponent over. With her opponent bent over Claire will quickly turn sideways and deliver a bicycle kick to the back of their head.
Empress Cut: A final cut performed with her opponent held up on the second rope.
Appearance:
AFW Relationships
Friends: Nanael Marx, Samantha Fox
Allies: Nanael Marx, Samantha Fox
Rivals:
Enemies:
Crushes:
Name: Nanael Marx
Alias: Slient Wolf
Sex: Female
Age: 29
Eyes: Dark Brown
Hair: Black
Height: 6' 2"
Weight: 190lbs
Nationality: American
Alignment: Heel
Background
History: Nanael is a half Japanese American who had a bit of a rough childhood. She got teased a lot due to her height by other children and was treated like an outcast for being the only Japanese student in her class. Nanael was quick to respond to these bullies and was a bit violent. After beating the bullies in her class, the others in the school knew not to mess with her. Despite fighting her bullies, Nanael was not a violent person. She only fought those who directly attacked her and her friends who \couldn't fight for themselves. Further down the road, she got into police work like her father. Though she wasn't going to be satisfied with being a normal cop. She joined s.w.a.t and met Clair Knight and the two quickly became friends.
Personality: Nanael is a generally quite person, but she has a fierce protective attitude. She has some trouble with showing her emotions and will often just have her standard blank face.
Wrestling Information
Wrestling Style: Holds and slams
Signature(s)
CQC: A few quick boxing strikes followed by a quick spine buster
Finisher(s)
Tango Down: Packaged Powerbomb
Appearance:
AFW Relationships
Friends: Claire Knight, Samantha Fox
Allies: Claire Knight, Samantha Fox
Rivals:
Enemies:
Crushes:
Name: Samantha Fox
Alias: Fox, The Cunning Trickster
Sex: Female
Age: 27
Eyes: Light Blue
Hair: Dirty Blonde
Height: 5' 10"
Weight: 150lbs
Nationality: American
Alignment: Heel
Background
History: Samantha doesn't have much as a background. She was nothing more than your average child/young adult, but thats what most people thought. Sam was a master trickster and con artist. Most tried take her skills and use them for illegal gain, but she preferred to use her skills for her own choices. There was a period where she thought about an acting career, but she gave that up for MMA. Martial arts was a bit harder for Samantha to really get into and she quit that dream as well. A lot of her life choices were done through trial and error. Eventually she stopped when she entered s.w.a.t and grew to like it. She was the one to save Claire during her near brush with death and has been the main one to get her friend back to the way she was.
Personality: Samantha can be a bit of a hot head and rush into things. To most she may seem reckless, but she is actually pretty cunning.
Wrestling Information
Wrestling Style: Mixed
Signature(s)
Sleeper Takedown: A sleeper hold where Samantha covers her opponent's mouth and suddenly changes the move into a backstabber.
Finisher(s)
Hands Up!: Full Nelson Facebuster.
Appearance: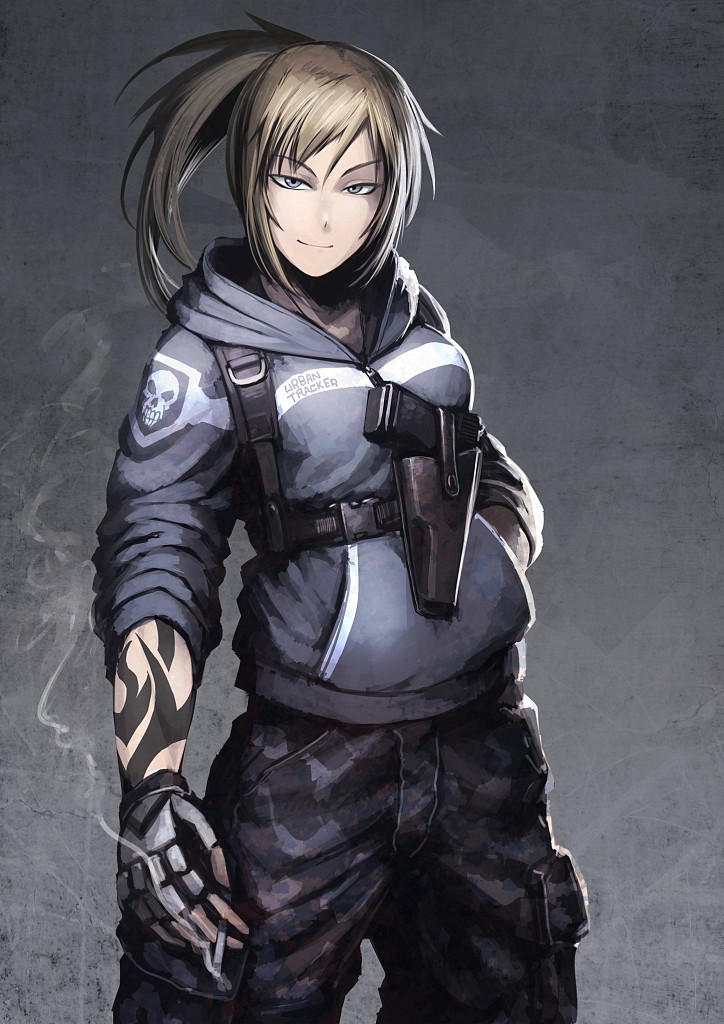 AFW Relationships
Friends: Claire Knight, Nanael Marx
Allies: Clair Knight, Nanael Marx
Rivals:
Enemies:
Crushes:
Team Finisher(s)
Team Takedown: Nanael will hold up her opponent for a powerbomb while Claire and Samantha wait on the apron. Samantha and Claire will springboard over Nanael and join hands to clotheline the opponent that Nanael is holding up before dropping them with the powerbomb.
_________________
Friction:
Friction Teams:
Tension(M):

Lotuswarrior




Posts

: 640


Join date

: 2015-07-01



---
Permissions in this forum:
You
cannot
reply to topics in this forum