Champions & #1 contenders
Poll regarding the possibility of Mods booking PPV matches.
23/10/20, 05:43 pm by Old_Man_Tai
So, basically, was wondering all of your thoughts regarding the possiblity of mods booking ppv matches.
The thought was, since people often seem to have trouble finding partners for ppv matches until the last minute or so, what if the mod team was to step in and, well in advance of the show, book the show ourselves, and try to put together the best matches we can, including title defenses, no.1 contender matches, and so on and so forth?
While I doubt our more popular members need such a …
[
Full reading
]
Comments: 8
Need Debut matches/Simply looking for more
08/09/20, 03:19 pm by Void Effect
Comments: 11
General Avalanche Reminder
23/10/20, 01:21 pm by Old_Man_Tai
General Reminder: Friction PPV Avalanche goes live on December 1st: So if you need to do any promos or build up for your Avalanche matches, you should be focusing on that now. You are allowed to do such things over Discord and then post them after if it helps get them done faster so matches have proper build up.
Also, if you are looking to get on the ppv, and have a partner and match set up, (or can do so quickly), contact me to let me know what match you are doing on the show.
If you have …
[
Full reading
]
Comments: 0
Name: Hazuki Musumi
Sex: Female
Age: 28
Eyes:  Amber
Hair: Blonde
Height: 5'8"
Weight: 135 lbs
Nationality: Japanese
Alignment: Heel
Entrance Theme -
The Destroyer
Wrestling Style:  A blend of amateur style wrestling, hard kicks, quick grapples and tight submissions
Attire:  Same as pic:
Favored moves:  Amateur style locks and pins, quick neckbreakers and other "wear down" moves and holds, meant to weaken and soften up an opponents body for one of her finishers, though she can use her amateur skills to put an opponent in a quick pinning hold if need be.
Finishers:  
Labyrinth Sleeper -
Her original finisher from Wrestle Angels, Hazuki leaps onto her opponents back, wrapping her arm around their neck and applying a tight Dragon Sleeper, while her legs squeeze around their waist, Hazuki using the added weight to drop them onto their back and bend them in half until they either tap out or pass out.
Hazuki Stomp:
Hazuki heads to the top turnbuckle, or springboards off the top rope, and kicks both feet down onto her opponent. One of her most effective moves from her Wrestle Angel days, she generally stomps down on an opponents stomach as they lay on the mat, but has been known to use the stomp on the backs of heads, and on previously weakened limbs.
Brainbuster:
 Hazuki lifts her opponent as if going for a vertical suplex, only to drop flat and drop the opponent headfirst to the mat, smashing their head and compressing and hurting their neck as well. Usually used to set up the Hazuki Stomp, or the Labyrinth Sleeper, but she'll go for a pin on it if her opponent seems out or she's hurt and needs a quick pin. Can also be done from the top rope onto the mat or turnbuckle.
Top Rope Version
Personality: Before, back in Wrestle Angels, Hazuki had mostly been a silent mercenary, working with anyone as the silent partner, just doing her job in and out of the ring and not making much of a fuss about anything. Now though, finally regaining her lost drive and motivation, Hazuki has remerged in AFW as a confident and talkative person, eager to brag and show off her abilities, though intelligent enough to know when its time to back off and fight another day.
History: Hazuki, from a young age, had an interest in wrestling, watching it on television and joining her Jr. High and High school's amateur wrestling team, gaining skill and experience, continuing to wrestle in college and winning various minor championships through the years. At the height of her time as an amatuer, she was being considered to represent Japan in the Olympics, with the general feeling by her friends, family, and government officials as a lock to bring home a gold medal.
Unfortunately, during a training session, Hazuki suffered a leg injury that kept her sidelined for the better part of a year, forcing her to miss her chance at representing her country in the Olympics.
Depressed and frustratd over the loss of what would have been the proudest moment of her life, Hazuki sat at home for a while, until recieving a call from a The President of a wrestling company called Wrestle Angels, who had seen footage of her amateur matches and wanted to offer her a spot on his roster. With her injury healed, and little opportunities left for her in the amateur field, Hazuki accepted.
Ironically enough, due to her wrestling ability, The President, as well as other WA higher ups, were interested in pushing and promoting Hazuki. Unfortunately, the girl was so jaded by losing her chance at the Olympics, that she really never gave Wrestle Angels a chance, never promoting herself, or going out of the way to connect with the fans or do interviews or promotional appearences or any of the things the other girls did to get noticed and become popular, and as a result, the company decided she wasn't worth the effort to put in main events or put their promoting power behind.
Still, her amateur skills, as well as the submission and grappling skills she gained training and wrestling in the league served her well, allowing her to easily handle girls more focused on sex appeal than actual fighting, and while she never got a shot at the main title, she was able to handle herself well against even the main event stars of the company, to the point where a fan poll of the ten best wrestlers in the league ended up with Hazuki listed as the number 10 spot, the bottom of the top, a position she never really left.
With Hazuki having gained a degree of popularity and acceptance from the crowd, but lacking the drive and motivation to use it or pursue any glory for herself, the higher ups at Wrestle Angels decide to take advantage of her popularity by pairing her up with other, lesser known wrestlers that they wanted to the fans to notice, having her team up with them in tag matches, and act as a bodyguard for them in singles matches and backstage.
Hazuki took to her new duties with indifference, ignoring the teasing she got from fans and other wrestlers about being "just support", getting other wrestlers to a higher level of stardom while she remained content to just team up with them, using her skills to gain them wins, (even landing a couple short lived tag title reigns in the process) and keeping them protected from outside interference in their singles matches. This deal lasted for a couple years, Hazuki working with and protecting several different stars as Wrestle Angels reached its height of popularity and began its decline into bankruptcy.
With Wrestle Angels out of business, Hazuki drifted a bit, picking up various odd jobs around Japan as a bouncer and other physical jobs. Over time however, as former rival organization AFW grew in populartiy, and several of her former co-workers began working there themselves, even winning titles, she felt something she hadn't felt in a long time. Desire, motivation, eagerness to compete. For too long had she been just spinning her wheels and idling while other wrestlers took spotlight that should have been hers, that deserved to be hers. Feeling a drive in her that she hadn't had since her days training for the Olympics, Hazuki got back to training, getting back in ring shape and using some contacts she still had from Wrestle Angels that worked behind the scenes in AFW to get herself a tryout, being offered a contract soon after.
Rather than come in alone however, Hazuki decided to bring a friend in Garm, another former WA star that never really made it to the big time. Only this time, Garm was going to be HER bodyguard, and SHE would be the one making it to the top!
Misc. Facts:
Hazuki's half mask is just for show, part of Wrestle Angels idea to give each wrestler a fun gimmick of some kind. Both her eyes work fine and she removes the mask before each match.
Allies: Garm Takanashi: One of the few allies she made in Wrestle Angels, She discovered Garm had left wrestling after WA folded and became a bouncer. Using the promise of better fights and higher pay, she convinced Garm to enter AFW with her as her bodyguard and tag partner.
History:
1.
Garm and Hazuki debut
2.
Garm takes on Alaina Sanders in a tough match involving cheating when Hazuki gets involved!
3.
Hazuki has her own debut match, against Julia Rogers!
WIN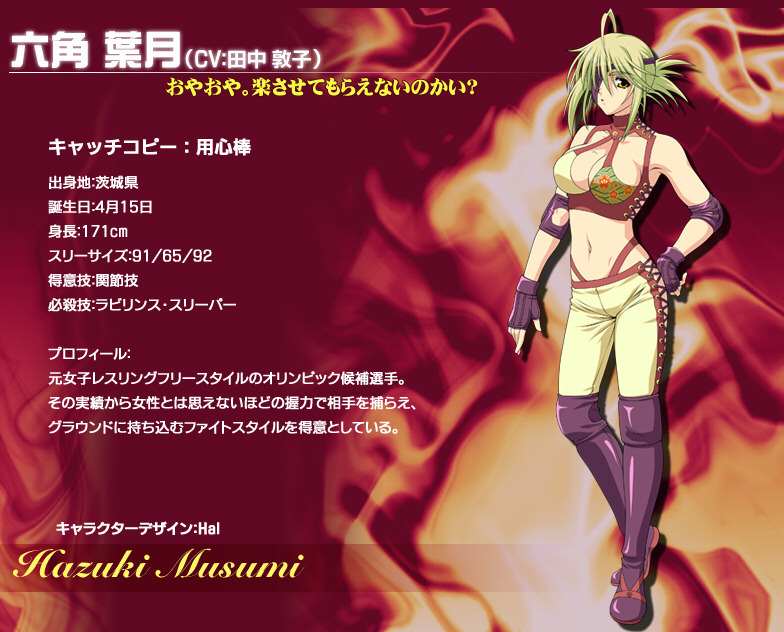 Old_Man_Tai




Posts

: 8585


Join date

: 2008-04-28


Age

: 30



---
Permissions in this forum:
You
cannot
reply to topics in this forum