Champions & #1 contenders
Need Debut matches/Simply looking for more
Tue 8 Sep 2020 - 18:19 by Void Effect
Comments: 11
Poll regarding the possibility of Mods booking PPV matches.
Fri 23 Oct 2020 - 20:43 by Old_Man_Tai
So, basically, was wondering all of your thoughts regarding the possiblity of mods booking ppv matches.
The thought was, since people often seem to have trouble finding partners for ppv matches until the last minute or so, what if the mod team was to step in and, well in advance of the show, book the show ourselves, and try to put together the best matches we can, including title defenses, no.1 contender matches, and so on and so forth?
While I doubt our more popular members need such a …
[
Full reading
]
Comments: 7
General Avalanche Reminder
Fri 23 Oct 2020 - 16:21 by Old_Man_Tai
General Reminder: Friction PPV Avalanche goes live on December 1st: So if you need to do any promos or build up for your Avalanche matches, you should be focusing on that now. You are allowed to do such things over Discord and then post them after if it helps get them done faster so matches have proper build up.
Also, if you are looking to get on the ppv, and have a partner and match set up, (or can do so quickly), contact me to let me know what match you are doing on the show.
If you have …
[
Full reading
]
Comments: 0
Name: Rossweiss (AKA Rose)
Age: 21
Sex: Female
Hair: free flowing long purple
Eyes: green
Height: 174 cm
Weight 66 kg
Nationality: German
Entranced music: Don't stop the music tonight
Alignment: neutral (can go eitherway)
Personality: Loud and adventerous. The girl is not afraid to speak her mind freely. Easy to get along with at times thanks yo brutal honesty.
She does not like to be reminded she has no relationship and is dirt poor. Getting beaten and losing is one thing for her, but she doesn'r like it when people talk down the defeated.
Information: Because of her lack of a relationship, she doesn't like it when someone thinks of her as a slut or a whore that only took part cause she was despreate for money or sex.
Appearance:
Casual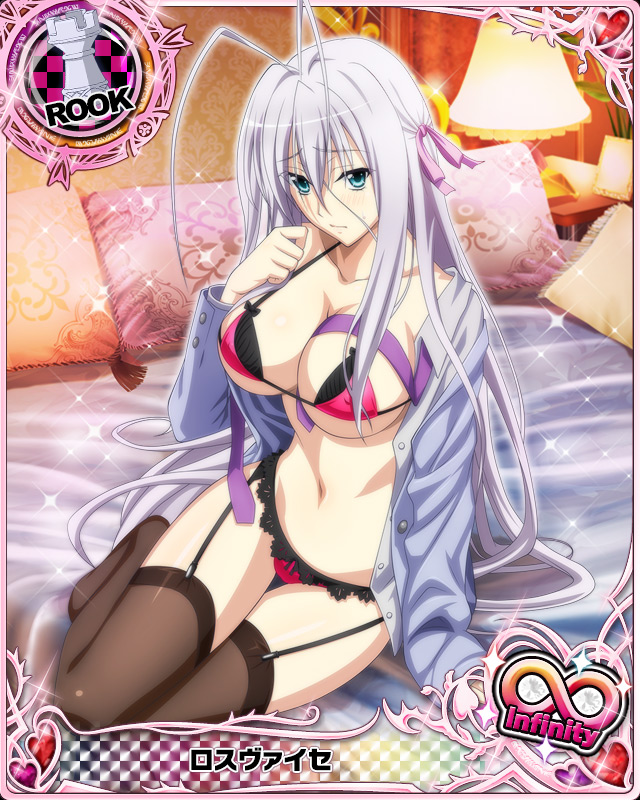 Nude
History: Rose was a girl who originally travelled overseas to study.  However as she was there, her family's business collasped, leaving it hard to send her money. Which was why she had to start taking up jobs to pay for expenses.
Originally she worked as a model, but the money she earned was barely enough. Realizing her plight, her manager introduced her to another line of work as a wrestler. Though she had no formal training or experience, she was allowed in due to her manager's connections.
She was never expected to win much of her matches, but rather to use to train other wrestlers other by being used to encourage them simply by pitting her against them, using her as a means to lighten their mood either when their stressed or feeling down.
Prefered Matches: Hentai and boxing.
Due to a lack of proper training, Rose can barely hold her own against the other wrestlers in terms of techniques. It is why she can only do decently in a match that doesn't rely too much on wrestling moves.
Wrestling information:
strategy: Rossweiss often plays it safe. Never grappling with the enemy unless necessary. While she has great endurance and physical strength her technique is weak. She would often rely on striking her oppoments with feints, dirty moves like headbutts and controlling their movement in the ring.
Style: defensive
Type: passive/ defensive
Favourite moves: Low blows and spinning backhand
Signature moves: None
Finisher moves: None
Status
Strength:3/5
Endurance:4/5
Speed:2/5
Defense:3/5
Technique:1/5
Wins:
Loss:
Draws:
Allies:
Enemies:
Trivia: Rose knows full well that she's not going to be winning much, but this whole experience itself is rather new and interesting to her, so she'll hang in there.
Fun fact: Rossweiss often forgets to think when money is involved untill its too late.
She also loves discount stores and is often seen hanging out in there.

Silentcoins




Posts

: 370


Join date

: 2016-06-23



Approved. You may make matches and rp as you like.

Tatyina




Posts

: 27237


Join date

: 2009-04-02


Age

: 100


Location

: VIP Box inside the AFWDome



---
Permissions in this forum:
You
cannot
reply to topics in this forum