Who is online?
In total there are
49
users online :: 11 Registered, 0 Hidden and 38 Guests :: 2 Bots
Cicilia
,
Kelsea
,
LunarWolf
,
M.J.Caboose14
,
OmegaVan0
,
Panda
,
pu-level-up
,
Serpon
,
Underdog21
,
Yori
,
yummybunny
Most users ever online was
418
on Tue Jul 30, 2019 9:51 am
Champions & #1 contenders
I'm back
Wed May 20, 2020 4:48 am by Ragdoll_Jobbers
Hey everyone! I'm back. My grandparents are safe now and I have been able to get some free time again. I look forward to RPing and talking with everyone again.
Comments: 2
Cicilia De'Reignhardt: Looking for a Match
Tue May 19, 2020 10:41 pm by Cicilia
Comments: 0
Rookie Avalanche Event
Mon Oct 09, 2017 4:37 pm by Serpon
Rookies of AFW, are you trying to get your character in big events?  Well look no more, we have an event for you that will start in Avalanche.  What kind of event you ask, well we do have some ideas but we want your feedback as well.  I will be giving out suggestions but these are just suggestions, if you guys want to do something else, we can do something else.  For those of you who are wondering what is considered a rookie, anyone who has been around for less than two years or has less …
[
Full reading
]
Comments: 31
Page 1 of 4 • 1, 2, 3, 4
When Sona returned back to her dorm from her match, she found a letter on bed telling her to meet at a certain building for a private match during the night. Sona isn't a stranger to these types of things and decided to go and check it out. Who knows, maybe she would get to meet another wrestler to choke her out or smother her in creative ways.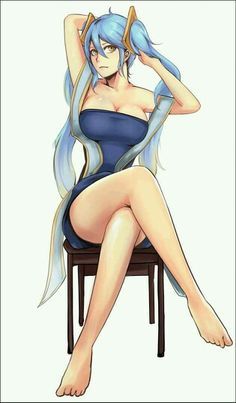 Ragdoll_Jobbers




Posts

: 2719


Join date

: 2016-09-07



Appearence:
Receiving a similar note, Rapunzel was a bit more at ease than in her earlier matches. Whoever set this up, obviously wanted to see the blonde being slammed and knocked out again. As much as she was opposed to it initially, she could not deny that there were fans who liked to see her lose, heaven knows why.

SleeperAgent94




Posts

: 3148


Join date

: 2015-05-05


Age

: 26



Once Sona arrives at the building she enters and goes to the room designated on the letter. The building was empty and the room she entered in seemed like an ordinary wrestling gym. Sona walked into the room and got into the ring, patiently waiting for whoever challenged her to show up.

Ragdoll_Jobbers




Posts

: 2719


Join date

: 2016-09-07



Rapunzel was not far behind, entering the room to find a strange blue haired girl waiting for her. Her future opponent most likely. Clearing her throat, she approached the young woman, putting on a gentle smile and stretching her hand out in a handshake.

Hello. Nice to meet you miss. The name's Rapunzel." she greeted, happy to meet a new face.

SleeperAgent94




Posts

: 3148


Join date

: 2015-05-05


Age

: 26



Sona saw a blonde girl enter the room and said hello. She stepped into the ring and offered a handshake. Sona smiled and accepted the handshake as a sign of gesture.

Ragdoll_Jobbers




Posts

: 2719


Join date

: 2016-09-07



Now that the introductions were out of the way Rapunel clasped her hands together, "So, I take it whoever sent us the invites wants us to fight in a KO match. I have to admit, I'm not that good here. But still, I'll give you my all!"

Heading to the ring, the blonde slid inside, getting up and ready to kick some cute ass.

SleeperAgent94




Posts

: 3148


Join date

: 2015-05-05


Age

: 26



Sona nodded in agreement with Rapunzel. Sona got out of her corner and got ready for a test of strength against the blonde wrestler. She had to admit, she found the enthusiasm cute but she shook her head a little bit to regain her focus. Cute girl, I wonder how she'll knock me out? I hope she'll choke me out with those luscious golden locks of hers Sona thought to herself, Or maybe I'll be the one chocking her out with her hair. Oh thinking about this makes me feel wet!

Ragdoll_Jobbers




Posts

: 2719


Join date

: 2016-09-07



Looking the blue haired girl up and down, the blonde noticed how attractive the girl looked, while also taking notice of the girl's lack of any serious muscles. Well at least she wasn't gonna be slammed over and over again. This actually may be a match she could win! Smirking with confidence, Rapunzel sauntered over to Sona, putting her fists up.

"You know, why don't you take the first shot sweetie. I mean it's a spar right? SO I'll be nice and let you make the first move."

SleeperAgent94




Posts

: 3148


Join date

: 2015-05-05


Age

: 26



Sona raised an eyebrow and smirked at the blonde princess. She nodded and charged at Princess but as she did, Sona accidentally tripped over her own feet and fell face-first in front of Rapunzel. Ah!, Sona cried mentally. Sona groaned on the ring and tried to get up, already on all fours.

Ragdoll_Jobbers




Posts

: 2719


Join date

: 2016-09-07



Of all the things the blonde was expecting, her opponent falling on her face wasn't one of them. Trying hard to suppress a giggle, she helped Sona to her feet, "Need another shot? I'm nothing if not a good sport about it."

IN her head she knew she had this won, if her opponent was as clumsy as this. easy pin and an easy win! The the blonde could finally get on a winning streak!!

SleeperAgent94




Posts

: 3148


Join date

: 2015-05-05


Age

: 26



Page 1 of 4 • 1, 2, 3, 4
---
Permissions in this forum:
You
cannot
reply to topics in this forum