Who is online?
In total there are
49
users online :: 12 Registered, 0 Hidden and 37 Guests :: 2 Bots
acuya
,
Agent Hunter
,
Lobo
,
LunarWolf
,
M.J.Caboose14
,
Old_Man_Tai
,
OmegaVan0
,
Serpon
,
SimplyMoon
,
Underdog21
,
Yori
,
yummybunny
Most users ever online was
418
on Tue Jul 30, 2019 9:51 am
Champions & #1 contenders
I'm back
Wed May 20, 2020 4:48 am by Ragdoll_Jobbers
Hey everyone! I'm back. My grandparents are safe now and I have been able to get some free time again. I look forward to RPing and talking with everyone again.
Comments: 2
Cicilia De'Reignhardt: Looking for a Match
Tue May 19, 2020 10:41 pm by Cicilia
Comments: 0
Rookie Avalanche Event
Mon Oct 09, 2017 4:37 pm by Serpon
Rookies of AFW, are you trying to get your character in big events?  Well look no more, we have an event for you that will start in Avalanche.  What kind of event you ask, well we do have some ideas but we want your feedback as well.  I will be giving out suggestions but these are just suggestions, if you guys want to do something else, we can do something else.  For those of you who are wondering what is considered a rookie, anyone who has been around for less than two years or has less …
[
Full reading
]
Comments: 31
Page 1 of 7 • 1, 2, 3, 4, 5, 6, 7
http://www.afwrpg.com/t15348-sakura-and-the-swede?highlight=swede
Sakura and Linnea would double check their map, they were somewhat surprised that they were meant to go to F&F for training rather than friction but neither of them seemed to complain too much. After being signed to the AFW they were told that because they were so suddenly thrown together as a tag team that they could have a few sparing matches, of course Linnea who was eager to learn and Sakura who was eager to feel her opponent up both agreed to this and were excited for their own reasons.
" Oh this is the place, I knew we would be able to find it... I'm getting a little nervous though Sakura " Linnea would say, the small woman starting to have slight second thoughts as she looked in the arena, it wasn't even her official match and Linnea was still afraid of messing up or looking foolish. As usual Linnea would look towards Sakura for inspiration and to take the lead.
Sakura would look to her new partner with a smile, as usual a fair amount of that would be lost in translation but Sakura would know exactly what her partner needed and would put her arm around Linnea, pulling the girl in close before saying " It's ok " in a gentle voice before she started to walk into arena.
Sakura would lead with Linnea slightly behind and upon entering the ring Linnea would jump up onto the apron, seemingly her nerves starting to ease as soon as she sees the ring and a light smile appearing on her face as she gets into her familiar environment, the squared circle.
Sakura would slowly walk up the stairs before entering the ring at the same time as Linnea the two looking at each other for just a second before Sakura would walk over to the ropes and exit them to stand on the outside of one of the corners, both the women didn't need to make any further discussion about match tactics, seemingly having a general idea already.
While waiting for the opponent Linnea would go to the corner her partner was at and have a chat as well as try to teach Sakura some more English terms, Sakura knew Japanese, the very slightest of English and luckily enough Swedish which meant that the Swedish born  Linnea could translate and help teach her partner the bare minimum English required.

RJD




Posts

: 3331


Join date

: 2013-10-09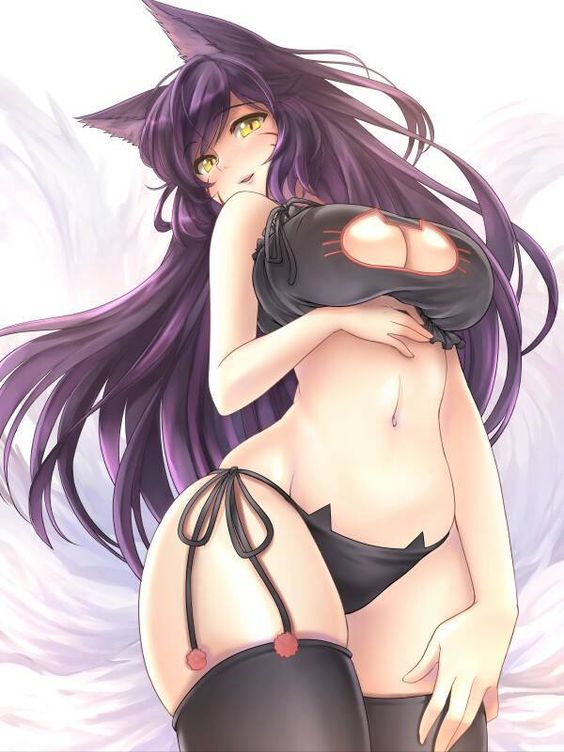 Ahri had been waiting at the FnF wrestling complex for a while. She had received a call that she would be wrestling against a tag team from Friction. They told her they needed some training and wanted to build up their confidence before they entered a real match. Ahri would scoff when she hung up. Ahri knew the main reason they wanted this was just so she either got beaten into a drooling mess by the new tag team or she beat them first. Either way, Ahri didn't mind, she was rather quite excited. Ahri had reached the complex an hour early and decided to take a nap above the ring on some of the tree branches sprouting in from an open window. Ahri's eyes would shoot open as her ears perked up, hearing the two girls entering the room. She would watch them get into the ring.
Ahri looked at the blonde one and thought how cute she looked, being nervous. She then eyed the bigger woman of the two and licked her lips, thinking how hot it would be for her to knock out the girl in between her legs. Ahri would wait until they've calmed down and jumped down onto one of the top ropes and landed on all fours. Ahri hadn't told her friend Zoey yet but due to her fox-like features, she was very nimble. She would give the two wrestlers a foxy smile, her tails waving from side to side.
"Well hello there, you must be my opponents," Ahri greeted as she hopped off the top rope and landed on the mat, walking over to size up with the two, "My name's Ahri. What's yours?"

Ragdoll_Jobbers




Posts

: 2719


Join date

: 2016-09-07



Linnea would watch as the fox made her way to the ring, her eyes quickly identifying the moving figure and Linnea's face turning towards the fox as she landed, after hearing her opponent speak Linnea would be the one to introduce the tag team.

" Hello nice to meet you Ahri, my name is Linnea" Linnea would say after a respectful bow before turning back to look towards Sakura who obviously didn't know what her opponent had said as she would just put her thumbs up which would them prompt Linnea to say " That over there is Sakura, she doesn't know much English but she's nice. "

Sakura on the outside would be eyeing up her opponent in a similar fashion to the way Ahri had just checked out the tag team and would smile before saying " You'll be my love slave " to which Linnea would look back with a disgusted look on her face.

" I am...unsure if that is what she meant to say or not " Linnea would say as she got into a fighting stance, having a feeling that her opponent was of a similar mind to her opponent as she had a feeling that Sakura wouldn't have said such a thing otherwise.



RJD




Posts

: 3331


Join date

: 2013-10-09



Ahri would hear what Sakura said and out her finger in her mouth seductively and said back in Japanese, "Not if I make you mine first!" She would take her finger out of her mouth and walk into her corner and said, "So which one of you will I be up against first?"

Ragdoll_Jobbers




Posts

: 2719


Join date

: 2016-09-07



Linnea wouldn't understand what her opponent had said but could guess that it was Japanese, that's good that means everyone in this match could communicate...even if they did need to switch languages to do so.
" You'll be up against me fox " The small Swedish woman would say stepping forward and looking up at the bigger woman, as she did so she would remember her ridiculous looking attire that she was forced to wear and her face would go a slight bit red but she would get ready to fight anyway.

Linnea would then say " let's start this now " and then would try to approach the fox and quickly chop her opponent twice in her large breasts, just to see how her opponent reacted to that so Linnea would know how much energy she was going to need to extend to knock the woman down.

RJD




Posts

: 3331


Join date

: 2013-10-09



"Fufufu, how brave of you! You remind me of someone," Ahri taunted with a flirtatious laugh as she would move back and dodge the small girl's chops, "And you're very forward! Good." Ahri would then grab Linnea's arm and throw her to the ropes and try to do a clothesline. If this would work, Ahri would then jump on to the smaller girl, landing on her stomach with her butt!

Ragdoll_Jobbers




Posts

: 2719


Join date

: 2016-09-07



Linnea would be surprised that her opponent had dodged the chops, she had clearly underestimated her enemy this time, something that couldn't be avoided since it was her first hint of a match within the AFW.

she would yelp when she hit the ground from the clothesline and before she could roll over in pain she would feel her larger opponent's weight coming down on her as the fox landed with her rear on her stomach which would make Linnea grunt in pain as she started trying to bring her leg up to kick her opponent's back, though it was a move that took a fair amount of effort and was pretty easy to avoid or block considering how much energy it was expending.

" Thank you " The Swedish woman would say while trying to get out of this difficult situation.


RJD




Posts

: 3331


Join date

: 2013-10-09



"Oh no problem," Ahri would taunt as she would get off her opponent momentarily to flip Linnea onto her stomach. Ahri would then sit back down and apply a camel clutch, stretching Linnea as far as she could! "Fufufu, is this really your best? The match literally just started and you're letting me get a camel clutch?" Ahri taunted as she would let Linnea fall back a bit before wrenching the clutch farther back, her tails waving side-to-side.

Ragdoll_Jobbers




Posts

: 2719


Join date

: 2016-09-07



The Swedish woman was clearly getting irritated by her opponent's taunts as after being flipped onto her stomach and locked in a camel clutch she would cry out in pain before saying " shut up ".

The Swede wouldn't spend too long being helpless in the camel clutch though as she would try to squeeze one of her small arms free and then when it was she would try to quickly drive an elbow into the Fox's face before quickly trying to get to her feet and run out of her opponent's grasp if given a chance.

RJD




Posts

: 3331


Join date

: 2013-10-09



Ahri would smirk at Linnea's face of irritation and giggled at Linnea's defiant remark to tell her to shut up. Ahri wouldn't notice Linnea's slipping free one of her arms and then be elbowed in the face. Ahri would fall on her back as Linnea will be free. Ahri would rub her hand on her face and glare back at Linnea but with a taunting smile, "So you do have some fight in you. I was afraid you'd be just as strong as you look, Pipsqueak." Ahri would get up and ready herself for Linnea's next attack.

Ragdoll_Jobbers




Posts

: 2719


Join date

: 2016-09-07



Page 1 of 7 • 1, 2, 3, 4, 5, 6, 7
---
Permissions in this forum:
You
cannot
reply to topics in this forum