Who is online?
In total there are
29
users online :: 11 Registered, 0 Hidden and 18 Guests :: 2 Bots
acuya
,
Agent Hunter
,
ChateauDame
,
Deus001
,
Diesel_Electric_Razor
,
Edmund
,
LunarWolf
,
Mart-Kos
,
Nelv
,
Teenwrestler
,
The Riders
Most users ever online was
418
on Tue Jul 30, 2019 9:51 am
Champions & #1 contenders
Looking for a short match
Sat Jul 11, 2020 12:21 pm by Kelsea
I'll be looking around for a short one off match for my test character
Chantelle Lafleur
against a male heel character in more or less a onesided battle. PM me if interested
Comments: 0
Killer King
Sat Jul 04, 2020 5:58 am by KillerV
Looking for female opponents to lose against Killer King, willing to discuss about it...
Thanks in advance.
Comments: 0
Summer Splash start date reminder
Tue Jun 30, 2020 7:13 pm by Old_Man_Tai
Summer Splash starts on July 15th this year.
After the poll that was taken, we decided to push SS back a little this year, to give people more time to get stories together given the pandemic.
With July around the corner, we decided to give a couple extra weeks and start SS halfway through July, just to give people some more time.
Comments: 0
Page 1 of 2 • 1, 2
"Mitsuru Satou":
"Hikaru Matsuoka":
"Ryuunosuke Tachibana":
The three members of SEME waited most patiently for their sparring opponent to arrive, well everyone but Hikaru at least. Mitsuru sat on the edge of the gym ring looking like she'd walked out of an exercise catalogue, dressed in expensive yet chiq athletic wear. She strummed her manicured nails against her folded legs, busying herself with a hardback book bound in leather. Of the three, she seemed the most perfectly at ease waiting.
On the other end of the spectrum, Hikaru was pacing eagerly back and forth, clad in dark green basketball shorts and a sleeveless gray tank. He just seemed to be excited at the prospect of another 3 on 1 match, and wondered why it was that people agreed to such slaughter matches. This was all for fun of course, how could he say no to beating someone up when they literally asked for it? His energy seemed boundless, and eventually he just resolved to do some light jogging to curb his boredom.
Lastly, Ryuunosuke's disposition was somewhere between his teammates. Neither overtly calm nor anxious, he had a mostly neutral expression, though it was often interpreted as frowning. He would lightly stretch his arms and legs, aiming to keep the muscles warm but not expend unnecessary energy like Hikaru was. He swiveled his head over his shoulder to check the clock; Johnny ought to be here any time now.

TripleHelix




Posts

: 1582


Join date

: 2014-12-28


Age

: 27


Location

: Texas



There was a blast of Electric Guitar, loud and jarring which no doubt would get the attention of anyone within a mile radius. Johnny entered the gym as if he was on some kind of main event PPV with a big self assured smile. Slung over his shoulder amid his waist was his favourite guitar. On his other hip a small but powerful enough portable amplifier. With another swing of his hand, he dragged the pick along the strings, blasting out another power chord.
"Oh yeah baby! The rock and roller is in the house!!!!!"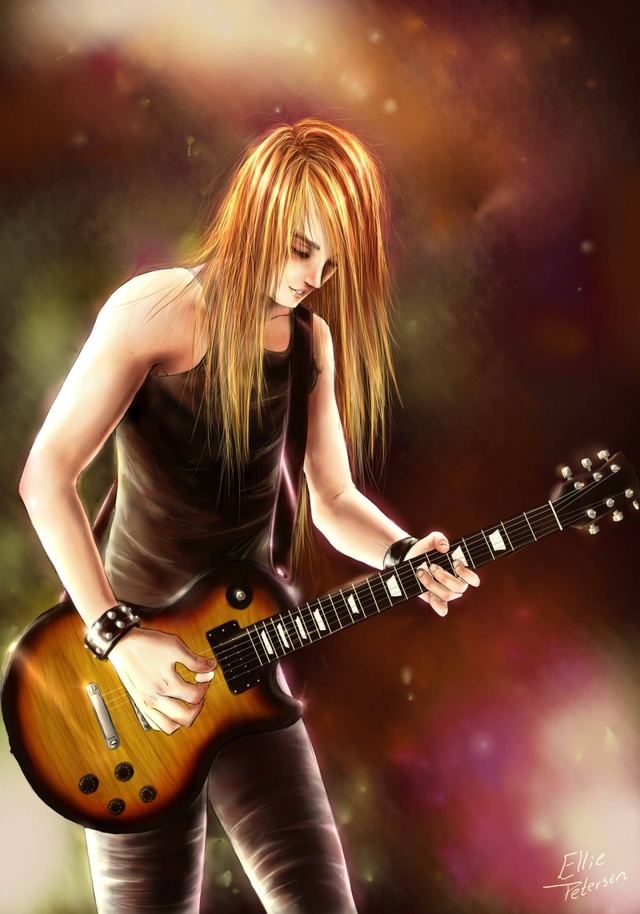 Johnny shouted at the top of his voice. Johnny looked like he was ready for a gig, spandex bright green/blue bottoms, heavy looking motorcycle boots and topless, showing off his lithe but muscular frame. In all truth he looked like a girl with his fine long blonde hair.
His attentions were immediately focused on Mitsuru.
"Hey doll, what do you say we ignore the clowns you are with and you and I find someplace more intimate for a match? They call me fast fingers for a reason..."
Johnny was never one to be shy and more often than not his mouth got him in all kinds of trouble. He could see how sexy Mitsuru looked and definately wanted to test out his charns on her. Meanwhile, he gave the other two a flippant glance.
"Damn I had no idea it was still Halloween, you two freaks would look good in my show! You want a job after I finish your careers here tonight?"
He eventually got around to taking off his guitar and amp and laying it just at the side. He slipped through the ring ropes and bounced a little. At 6ft but just 137ibs, Johnny was never going to win any strongman contests. In fact most girls of the AFW either outweighed him and certainly outwrestled him, which made this match choice something of a mystery.
"So remind me doll of the rules here?" He smiled at Mitsuru, coming across as more creepy and desperate than anything like the sex god he thought he was.

PV




Posts

: 1191


Join date

: 2016-02-21



All three members of SEME looked up from what they were doing when Johnny made his obnoxiously loud entrance with the electric guitar. Even as this was an informal event, the blonde boy seemed to be taking it far too seriously. No one found it particularly amusing, least of all Hikaru who looked like he wanted to gouge his ears out.

When the rocker came over to greet Mitsuru, she seemed disinterested enough to return her gaze to the book. He tried what he probably thought was a great pick-up line, but the red-headed Japanese woman didn't make any sort of reaction. She simply finished reading her page, slipped in the bookmark, and shut the book with a loud FWUMP. She would push herself off the lip of the ring and move to tuck the tome back in her gym bag, while Hikaru and Ryuu moved over to their corner of the ring.

When Johnny decided to insult the two SEME men, Hikaru flipped him off while Ryuu simply shook his head. Mitsuru was the first one to climb into the ring, which was fitting as Johnny seemed intent only addressing her directly. She reached behind her to tie her hair back as he spoke a final time, and by that point his presence was more annoying than anything else.

"3v1 tag match. Winner makes 3 pins total." she answered curtly and then drew up her fists. She took on a serious look as she began to circle Johnny.

TripleHelix




Posts

: 1582


Join date

: 2014-12-28


Age

: 27


Location

: Texas



Johnny was all smiles, especially as he could see he was getting under the skin of Mitsuru's tag partners. He even went as far as to blow a kiss to Hikaru when flipped off. Johnny was not endearing himself to his rivals at all! With his attentions focused back on the redhead he raised his hands but in his mind he was a bit unsure of just how to proceed.

"Just 3 pins? Well I guess if you have zero teamwork skills, you would say that. Damn I could take you all on! But dont worry, in just 9 seconds you are all out of this match..."

Usually the girls he fought were basically jobbers and Johnny had no trouble overpowering them for a erotic attack or pin. Mitsuru seemed different. Harder somehow. Johnny shugged his shoulders and with his hands up he stepped forward looking to grapple with the sexy japanese girl.

"Come on Doll, you know you want me on top of you..." Johnny was not the smartest, and continued his hopeless flirting which was at the very least pissing off her tag partners. It was a sure bet that SEME would be looking to slam, crunch and slap the smartass out of the rocker.

PV




Posts

: 1191


Join date

: 2016-02-21



Mitsuru didn't roll her eyes or scoff or even look annoyed at Johnny's arrogance claiming he could take them all at. She continued looking at him with the same serious neutral expression, which was probably a bit unnerving at this point.

From the sidelines Hikaru clapped his hands as he jumped up onto the side of the ring and leaned himself forward on the ropes. He was eager to be tagged in at any time. Ryuu stood outside the ring solemnly, arms folded across his chests. He'd reach over and activate the ringside bell, signaling the beginning of their sparring match.

With that, Mitsuru went into battle mode right away. Arms raised in a ready position, she strode forward and locked eyes on Johnny. She wasn't sure what she wanted to hit first, his face or his ego. Though her eyes did not betray her internal emotions, the strength and control behind her motions suggested an aggressiveness. She raised an arm and chopped at him from overhead, but this movement was only to get him to draw his eyes away from the ground. If he was successfully distracted, Mitsuru was going to land a hard kick to the outside of Johnny's thigh like a muay thai would, designed to bruise and limit his movement if continually exploited.

TripleHelix




Posts

: 1582


Join date

: 2014-12-28


Age

: 27


Location

: Texas



Johnny's expression went from goofy grin to slightly worried when she saw that his "charms" were not working on Mitsuru. However he couldnt deny just how amazing she looked, the top she had on did little to hide her ample chest....

At the last moment he saw the chop and actually raised his hands to almost cower and hide so that he couldnt see what was going on. At this point, as was so often in matches, Johnny had been exposed. He knew nothing about fighting save for drunken brawls in which he usually got his ass kicked. This did not bode well, given he was taking on the smallest of SEME so far. The guys would surely smash him into little pieces.

As such he never even saw the kick coming.

AGGHHHH! he gasped out and immediately dropped to one knee for a moment, his hands coming to clasp his thigh which throbbed as the pain shot around it.

He soon realized his position and knew he had to do something and so his hand shot out, much higher than was normal. He was going for the only tactic he knew, dubious attacks. He reached palm flat to try and push Mitsuru away a little but making sure his hand connected with her right breast.

It wouldnt be more than a grope and light push, but to Johnny it was at least some sort of defense.

"Damn *gasp* do you do anything else with those legs and thighs..." he muttered out trying to maintain his cool which had been shattered in one kick. His long hair flopped all around his face but he knew where his hand was



PV




Posts

: 1191


Join date

: 2016-02-21



Mitsuru wasn't done when her leg exploded into the side of Johnny's knee and he crumpled like a wet tissue, but whatever she had planned to follow up with was thrown off when he stumbled forward with a grope. She didn't shriek or blush or fly into a rage like some floppy-titted Friction fighter, no, she was absurdly calm in the face of what the wannabe rocker had done. No, this was the calm before the storm that was the Goddess Izanami.

From the sidelines Hikaru bust out laughing once he saw the the face his teammate had made. He'd have easily slipped into the ring and started wailing on Johnny the moment he snuck a grope, had he not feared what Mitsuru would do to him later for trying to white-knight her. But there really was no need to do anything at this point, Mitsuru was going to take care of it all by herself.

Her hand rocketed forward into the rocker's blonde hair, yanking him to his feet without an ounce of mercy. She whipped him around in a circle and threw him into the ropes, and immediately raced after him. As Johnny bounced back towards her, Mitsuru would jump and scissor-kick into the air, aiming for the tip of her boot to smack into the underside of Johnny's jaw like a sick uppercut!

TripleHelix




Posts

: 1582


Join date

: 2014-12-28


Age

: 27


Location

: Texas



Despite the pain in his leg, Johnny did feel happy with his grope based attack. He waited expecting Mitsuru to go "girly" and give in where Johnny could mount a comeback. He was very very wrong!

Yanked up he yelped like a girl and before he knew it he was running on that injured leg, as he bounced from the ropes there was a loud CRACK! Johnny had no idea what happened exactly but he saw the flash of Mitsuru, her boot and then the canvas approaching fast. Johnny landed with a THUMP! and he was seeing stars. He lay on the canvas on his front moaning softly to himself, a small trail of drool slipped from his lips. He eventually managed to move, only with a crawl for a few inches and rolled over to his back.

His vision was cloudy and he knew he had to get up, but this was impossible given the situation. His chest rose and fell as he took deep breaths. As a boxer Johnny would have lost every match, he had a "glass jaw" and did not take punches or kicks well.

"Ughhnn my face...." he mumbled, always terrified of damaging his "good looks"

PV




Posts

: 1191


Join date

: 2016-02-21



Johnny would have all the time in the world to lay down on the mat later once he had lost the spar for good. She grabbed his left ankle and turned on her heel, dragging him immediately away from the ropes and towards the center of the ring. 'Ughhh mr face' she mocked inside her head as she tossed Johnny's leg away. Looking down at her toes, she wished she had worn her boots to the gym, even if they weren't practical, because a sneaker just wasn't going to do a good amount of comparable damage.

Even so, she kicked him over onto his chest and then set to work on bringing the pain. She first takes the blonde's legs then bends them at the knees and crosses them, placing one ankle in the other leg's knee-pit. She then turns around so that she is facing away from him and places one of her feet into the triangle created by the Johnny's crossed legs. Finally she then places the Johnny's free ankle under her knee and bridges backwards to reach over her head and locks her arms around Johnny's head. A complicated description of a muta lock, but then again, nothing was even simple in her mind.

TripleHelix




Posts

: 1582


Join date

: 2014-12-28


Age

: 27


Location

: Texas



Johnny stopped his head from spinning and he was about to get up when he was pulled into his tummy. "Oh come on!" he gasped knowing that his smart mouth was going to be duly punished. As his legs were folded up, Johnny didnt exactly know what was coming, he had neither the skill nor the ability to pull off such a move, let along counter one.

The answer soon came as his head as cranked back and he felt the pain shoot down along his back. "UUAGGHH" he gasped out and immediately stretched out a hand and began tapping furiously... of course after four or five slaps he realized it was a pins match, and he could tap all day, it wasnt going to help him.

What was worse was that he was getting owned by a smaller 125ibs girl, god knows what the guys on the team could do to him if he couldnt handle Mitsuru. "Let me... ugnn go you bitch!" Johnny cried out. Not a smart move sassing someone who not only had owned you so far in the match but had some serious heavyweight backup.

Johnny was in big trouble, he had trouble moving and now his back was aching and numb.


PV




Posts

: 1191


Join date

: 2016-02-21



Page 1 of 2 • 1, 2
---
Permissions in this forum:
You
cannot
reply to topics in this forum