Who is online?
In total there are
70
users online :: 9 Registered, 0 Hidden and 61 Guests :: 2 Bots
Agent Hunter
,
Cicilia
,
Harrier
,
Iceman
,
LunarWolf
,
M.J.Caboose14
,
Nelv
,
Teenwrestler
,
Yori
Most users ever online was
418
on Tue Jul 30, 2019 9:51 am
Champions & #1 contenders
I'm back
Wed May 20, 2020 4:48 am by Ragdoll_Jobbers
Hey everyone! I'm back. My grandparents are safe now and I have been able to get some free time again. I look forward to RPing and talking with everyone again.
Comments: 2
Cicilia De'Reignhardt: Looking for a Match
Tue May 19, 2020 10:41 pm by Cicilia
Comments: 0
Rookie Avalanche Event
Mon Oct 09, 2017 4:37 pm by Serpon
Rookies of AFW, are you trying to get your character in big events?  Well look no more, we have an event for you that will start in Avalanche.  What kind of event you ask, well we do have some ideas but we want your feedback as well.  I will be giving out suggestions but these are just suggestions, if you guys want to do something else, we can do something else.  For those of you who are wondering what is considered a rookie, anyone who has been around for less than two years or has less …
[
Full reading
]
Comments: 31
Page 1 of 9 • 1, 2, 3, 4, 5, 6, 7, 8, 9
Knockout/Smother Hentai POW Match
Conditions: Knockout or smother the opponent 5 times with 5 different moves. There will be an assortment of sex toys under the ring, ranging from bondage gear to FnF-custom dildos/vibrators. No DQ, no ref, no audience. The match will take place in one of AFW's private facilities in the FnF forests. There will be hidden cameras filming the match. The winner will get to claim the loser as their POW for a month.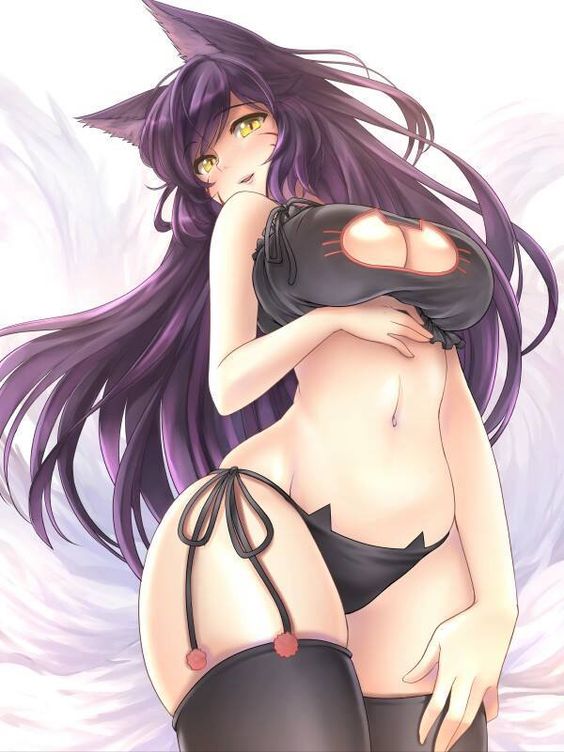 Ahri would strut into the designated facility she was instructed to. A challenge for her? From a Friction wrestler? Ahri couldn't believe this was happening. Not only that but the conditions for this match was
delicious
. Ahri would bite her lower lip and would have very perverted smile creep on her face. She couldn't wait to knock her opponent and take her home to have
fun
. Ahri would find the room the match would take place and entered it. There was a ring in the center with lights turned on to provide lighting in the center of the room. There were vines and branches growing in and out of the room, go figure since this was in the FnF section of AFW. Ahri would climb into the ring and waited in her corner for her opponent to appear.

Ragdoll_Jobbers




Posts

: 2719


Join date

: 2016-09-07



Rhiannon would walk through the forests, she would be glad to be able to finally get a look at them since she had always liked to be around nature, she was enjoying this forest walk almost as much as she was anticipating enjoying the match.
Rhea would then find the clearly out of place building with the ring in it and with a smile she would enter the ring wearing her bunny attire she recently debuted and would be wearing her usual sunglasses
Rhiannon would then look her foxy opponent up and down and would grin before saying " Oh a fox, I've tamed all kinds of beasts and beauties but you'll be the first one my list who is both." in a flirtatious tone while she started with eyes unblinking at the kitsune. Rhea had requested this match here tonight because she was planning to get herself a sex pet that she could practice on before matches and upon doing some research Rhea thought that Ahri would be a good fit.

RJD




Posts

: 3331


Join date

: 2013-10-09



Ahri would smirk at her opponent's statement and giggled, "Fufufu. How funny, I was thinking of the same thing. After watching your matches, I just couldn't wait to make you my widdle sexy rabbit." Ahri would move out from her corner and confronted her opponent in the center of the ring, her breast mashed up against Rhea's as she would forcefully take Rhea's hands and force her into a test of strength.


Ragdoll_Jobbers




Posts

: 2719


Join date

: 2016-09-07



Rhea would grin at Ahri as she teased the purple haired bunny, Rhiannon would try to ignore the thought of how sexy it would be to lose herself to her urges and just let Ahri take control, but for now the woman would just try to get control early in the match.
Rhea would then move towards the middle of the ring to go for her usual false test of strength spot but instead Ahri would grasp her arms and use her superior strength to pull and squish Rhea's body against her own.

Rhea's face would go a tiny bit pink as Ahri's breasts pressed against and almost engulfed hers, she would try to ignore that though before saying " Perhaps you didn't watch my matches close enough " Rhiannon would say before trying to move her head forward and kiss the slightly taller woman, invading her soft and moist lips with her own as she forced the kiss.

RJD




Posts

: 3331


Join date

: 2013-10-09



Ahri would smirk when she heard Rhea and received a kiss. Ahri would happily accept it and took this chance to wrap her arms around Rhea and lift her up into a bearhug! Ahri would momentarily break away from the kiss and look at Rhea with a seductive smile, "Oh believe me. I watched them very closely." Ahri would then go back in for the kiss and try to invade Rhea's mouth with her tongue while squeezing Rhea in the bearhug. Ahri didn't use too much power, just enough to make her squirm, she didn't want this match to be boring after all.

Ragdoll_Jobbers




Posts

: 2719


Join date

: 2016-09-07



Rhiannon would be distracted by the kiss and would just let out a pained squeal when Ahri wrapped her arms around the purple haired woman and pulled her into a bearhug, Rhea couldn't help but notice how pretty Ahri's face and especially eyes were, the ears would actually help to make the woman look even more cute and make this an even more bothering situation for Rhea.

Before Rhea could really struggle much the kitsune woman would go back in for the kiss which Rhiannon would think about trying to avoid but couldn't resist it, Rhea would try to fight back for control of the kiss but would be stopped as she let out a pained moan when Ahri squeezed her, Rhea would be starting to get turned on as she was having some pain applied while Ahri would invade her mouth.

Rhea would stop trying to return the kiss and would instead start squirming in Ahri's arms as the purple haired bunny was quickly overwhelmed by the sexy fox.

RJD




Posts

: 3331


Join date

: 2013-10-09



Ahri would smirk as she felt Rhea start squirming in her clutches. Ahri would break away from the kiss again and asked in a taunting manner, "Awe, does widdle Rhiannon not like hugs? Then how about a nice suplex!" Ahri would then throw herself back and slam Rhiannon head first into the mat with a German Suplex. Ahri would let go of Rhea's waist and pull her back up to steady her back on her feet. "How do you feel now sweetie?" Ahri asked with a smirk.

Ragdoll_Jobbers




Posts

: 2719


Join date

: 2016-09-07



Rhiannon would hear Ahri's taunting and would just get more turned on, she felt so helpless which as Rhea would happily admit to anyone, was something that made her get incredibly turned on. Rhea would struggling in the hug until she suddenly heard Ahri mention the suplex and then before she had time to think about it the bunny would be launched across the ring before landing hard on her head against the mat.

Before Rhea had time to recover she would feel Ahri wrapping her arms around Rhea's waist and pulling her to her feet, funnily enough it was almost as if Ahri were just picking up a rabbit in her arms. Rhea would immediately go for her usual method and try to grab Ahri's crotch with her hand, giving it a firm squeeze while rubbing and cupping her. " I feel delightful " Rhea would say as her face would form into a perverted smile, Rhea was cute but her creepy smile was almost enough to ruin her deceptively innocent and sweet look.

RJD




Posts

: 3331


Join date

: 2013-10-09



Ahri would moan when Rhea suddenly grabbed her pussy and looked at the perverted purple hair girl's face. "Heh, that's good to hear. That means you can still take more, like this!" Ahri exclaimed as she would grab Rhea by her other arm and Irish Whip her to the ropes. Once she bounces off the ropes, Ahri would charge back at her and try to land a flying kick to her face.

Ragdoll_Jobbers




Posts

: 2719


Join date

: 2016-09-07



Rhea would think that she would get at least a slight advantage on Ahri by doing this unpredictable move but would be surprised to find herself being thrown to the ropes with strength that was superior to her own. Rhea would then come thundering back towards Ahri before being surprised again as she received the kick to the face that would knock her down to the mat hard, Rhea making a pained grunt before giggling.

Rhea would land on the top of her back before the momentum turned her onto her stomach, Rhiannon would smile after taking the hit and would open her mouth to speak although it was more to herself than Ahri. " Another quick and strong wrestler huh, guess I'm going to need to be the boring underdog. " then Rhea's eyes would flash up as she realised this match probably wouldn't be watched by most her fans which meant she could try out new idea's and new persona's during this match and not have any consequences if either they are bad or she portrays them wrong.

RJD




Posts

: 3331


Join date

: 2013-10-09



Page 1 of 9 • 1, 2, 3, 4, 5, 6, 7, 8, 9
---
Permissions in this forum:
You
cannot
reply to topics in this forum