Champions & #1 contenders
Poll regarding the possibility of Mods booking PPV matches.
Sat Oct 24, 2020 1:43 am by Old_Man_Tai
So, basically, was wondering all of your thoughts regarding the possiblity of mods booking ppv matches.
The thought was, since people often seem to have trouble finding partners for ppv matches until the last minute or so, what if the mod team was to step in and, well in advance of the show, book the show ourselves, and try to put together the best matches we can, including title defenses, no.1 contender matches, and so on and so forth?
While I doubt our more popular members need such a …
[
Full reading
]
Comments: 8
Need Debut matches/Simply looking for more
Tue Sep 08, 2020 11:19 pm by Void Effect
Comments: 11
General Avalanche Reminder
Fri Oct 23, 2020 9:21 pm by Old_Man_Tai
General Reminder: Friction PPV Avalanche goes live on December 1st: So if you need to do any promos or build up for your Avalanche matches, you should be focusing on that now. You are allowed to do such things over Discord and then post them after if it helps get them done faster so matches have proper build up.
Also, if you are looking to get on the ppv, and have a partner and match set up, (or can do so quickly), contact me to let me know what match you are doing on the show.
If you have …
[
Full reading
]
Comments: 0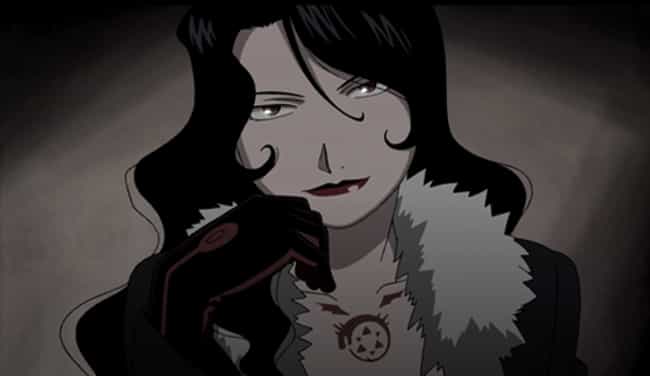 Name: Adriana Nita
Alias: Lust
Sex: Female
Eyes: Brown (often wears red contacts)
Hair: Black
Height: 5'8"
Weight: 130 lbs
Nationality: Romanian
Alignment: Heel
Entrance Music:
14 Ghosts II:
Appearance:
Ring Attire:
Managing:
Lingerie:
Wrestling InformationStrategy:
As you might guess from her name and appearance, Lust is quite a seductress, and she has quite a liking for dominating and humiliating opponents. But she's also rather cunning. If she believes she can charm a foe into dropping his or her guard, she'll do just that. If not, she'll likely try to taunt and goad her foe into making a mistake she can take advantage of. Either way, once she has an opening to work with, she won't hesitate to strike. She's not immensely strong, but she's very good at wearing people down with an assortment of simple but effective submission holds, takedowns, strikes and smothers.
Style:
Submission Grappler
Preferred Attacks:
- Chokeholds
- Smothers
- Scissor Holds
- Kicks
Preferred Match Types:
Any
Physical Stats:
Endurance: ★★★★☆
Spoiler:

Can go all night long~
Strength: ★★★☆☆
Spoiler:

Moderate, not her best asset.
Speed: ★★★★☆
Spoiler:

Very quick and agile.
Defense: ★★★★☆
Spoiler:

Very good at protecting herself.
Technique: ★★★★☆
Spoiler:

Her wrestling arsenal is simple, but her execution is precise.
Wrestling Stats:
Strikes: ★★★☆☆
Spoiler:

Her punches and kicks aren't the strongest, but she always uses them in ways designed for maximum effectiveness.
Submission: ★★★★★
Spoiler:

Little makes her happier than bending, squeezing and twisting until they beg for mercy.
Powerhouse: ★★☆☆☆
Spoiler:

Leaves the heavy lifting to her clients whenever possible.
Aerial: ★★☆☆☆
Spoiler:

Almost never even considers it.
Counters: ★★★★☆
Spoiler:

A big part of her typical strategy. She'll often goad opponents into making mistakes specifically so she can easily counteract what they do and maintain control.
Signature Moves:First Step:
With her opponent lying face up on the ground, Lust grabs their wrists and shoves the heel of her boot into their mouth while pulling up on their arms, forcing them to choke on her heel while she dominantly grinds the sole of her boot into her foe's face and keeps their arms restrained to make it harder for them to fight her off.
Lavishing Affection:
Lust lies on her back and suspends her opponent above her in a Reverse Romero Hold, stretching their legs out with a grapevine while holding their arms in place.
Lavishing Affection:
Night Rider
Lust climbs onto the back of a doubled over foe while bending their arms back behind them.
Night Rider:
Sinful Embrace:
After straddling the lap of a seated foe, Lust pulls their face into her cleavage for a breast smother and wraps her arms around their head and neck to hold them in place. Then her legs coil around their waist to apply a body scissor along with the smother.
Finishing Moves:Violent Delights:
Lust applies a reverse headscissor to an opponent lying on their back, then grabs one of their arms and rolls onto her side to apply a kimura lock at the same time.
Violent Delights:
Hentai Finishers:Temptation:
After securing a side headscissor, Lust reaches her hand down to pleasure her opponent's sex, alternating her focus between the squeeze of the scissor hold and the pleasing efforts of her hand. While doing this Lust will often promise to allow her trapped adversary to cum, but only if they submit to her. If they give into their desires and surrender their will to her, she releases the headscissor and transitions to a reverse facesit while using her hand to work her opponent to an orgasm.
Temptation:
Will Breaker:
Lust secures an armbar while also trapping her foe's leg on that side under one of her arms, while her free hand works over her opponent's exposed sex. The hold is designed to break her opponent's will through pain and humiliation while simultaneously forcing an orgasm from them.
Will Breaker:
Personality:
Much of her personality can be guessed just from looking at the name she goes by. Lust is a seductress who manipulates the desires of others for her own personal gain. She's selfish, deceitful, greedy, and arrogant. But arguably her two most important traits are that she's cunning and a control freak. She wants to be in control of everything she possibly can, and is great at saying whatever or acting however she needs to people to satisfy her goals.
She loves her husband, Greed, though at a glance most would assume she treats him no better than she would any other submissive "pet" of hers. There is some truth to that, although the "mistress-slave" aspect of their relationship is consensual. And unlike any other pawn Lust has controlled, there is a much higher sense of trust, loyalty and devotion between her and Greed. Still, she knows that if asked Greed would gladly fight an enemy of hers or allow her to use him like a piece of furniture, and she takes advantage of that.
Past/History:
Much of her life as a child was rather uneventful, but it was during high school she had her first small taste of what it was like to have someone under her thumb. She found scandalous pictures on a teacher's computer and blackmailed him into giving her the answers for the final exam, which she made copies of and sold to her classmates. A relatively small and innocent thing in comparison to the things she'd do in the years that followed, yet at the same time it started her down a path that she quickly fell in love with.
She'd taken several self defense courses and regularly practiced jiu jitsu, and enjoyed them enough to decide to try putting them to practice professionally. Thus began a brief, yet curious start to her wrestling career. She began appearing seemingly out of nowhere in numerous European promotions, taking on the name "Lust." There was never any story behind her arrival or knowledge as to what her goals were. But everywhere she went, she accumulated a handful of very one-sided victories, managed other wrestlers who went on to become champions there, and behind the scenes even made personal servants out of some of the roster members. Blackmail and backstage politics were as dangerous a tool for her as anything she used in the ring, and every calculated move she made was sure to benefit her financially and professionally, whether the means were ethical or not.
The one who would become by far the most interesting of these was a man by the name of Viktor Vasilev. Lust had been aware of him during her run in CAGE, an independent promotion in Europe. But since he held no specific connections useful to her and his personal plans didn't relate in any way to her own, he wasn't on her radar...that is, until the day he confronted her. Viktor evidently didn't approve of Lust's use of manipulation to get what she wanted in CAGE, and valiantly challenged her to a match, with the stipulation that Lust would have to leave the promotion if she lost. She agreed, but only after adding a stipulation of her own: If she won, Viktor would be her servant for a full year.
Lust won the match. Viktor seemed to detest being her new pet at first, but that was hardly a bad thing. It amused Lust to no end watching him cringe in disgust when she made him lick her boots, or seeing him wearily battle friends and teammates she arranged for him to fight. But to her surprise, Viktor held true to his word through it all. And quite interestingly, over time she noticed him growing to enjoy her total domination over him. Over the course of the year he went from begrudgingly doing what he was told out of pure obligation, to devoting himself fully to Lust's every need. He had become the most valuable and reliable of her pets. So when Viktor requested their arrangement to be permanently renewed after his year of servitude was over, Lust was more than happy to accept. An even better surprise came when Viktor proposed to her. Lust accepted that too, but only after making him stay on his knees and lick her boots clean. Shortly after their marriage, however, having accomplished as much as she could in Europe, she felt it was time to set her sights elsewhere.
Always one to seek out bigger and better, Lust eventually turned her eyes on the "big leagues" in AFW. Much to her surprise, the hardest part about getting a contract was the flight to Japan. Once the recruiting officials got one look at her and saw a bit of her work in Europe, that was all they needed. Just like that, she was ready and eager to start to leaving her mark in Japan, just as she had in Europe. And of course, she made sure to bring Viktor with her.
Fun Facts:
- She loves cats, can't stand dogs.
- She often spends her free time reading mystery novels.
- During high school she was the star of the drama club and played the lead female role in almost every play. Based on the potential she showed, she likely would've been an excellent actress had she not pursued a career in wrestling.
AFW Information:
Friends:
Allies: Greed
Rivals:
Enemies:
Crushes:
Lovers: Greed
Wins: 0╏ Losses: 0╏ Draws: 0╏ Total: 0-0-0
Championships & Accomplishments:

LARIATO




Posts

: 5217


Join date

: 2014-11-13


Age

: 27



---
Permissions in this forum:
You
cannot
reply to topics in this forum