Champions & #1 contenders
Need Debut matches/Simply looking for more
Tue Sep 08, 2020 11:19 pm by Void Effect
Comments: 11
Poll regarding the possibility of Mods booking PPV matches.
Sat Oct 24, 2020 1:43 am by Old_Man_Tai
So, basically, was wondering all of your thoughts regarding the possiblity of mods booking ppv matches.
The thought was, since people often seem to have trouble finding partners for ppv matches until the last minute or so, what if the mod team was to step in and, well in advance of the show, book the show ourselves, and try to put together the best matches we can, including title defenses, no.1 contender matches, and so on and so forth?
While I doubt our more popular members need such a …
[
Full reading
]
Comments: 7
General Avalanche Reminder
Fri Oct 23, 2020 9:21 pm by Old_Man_Tai
General Reminder: Friction PPV Avalanche goes live on December 1st: So if you need to do any promos or build up for your Avalanche matches, you should be focusing on that now. You are allowed to do such things over Discord and then post them after if it helps get them done faster so matches have proper build up.
Also, if you are looking to get on the ppv, and have a partner and match set up, (or can do so quickly), contact me to let me know what match you are doing on the show.
If you have …
[
Full reading
]
Comments: 0
Name: Celica.H. Goldmen
Sex: Female
Age: 27
Eyes:
Hair:
Height: 5.8
Weight: 66 kg
Nationality: American
Alignment: Good
Entrance Music:
Wrestling Information
Strategy:
Style: Take the blows and counterattack. Celica isn't too good at dodging attacks, but is confident in the amount of damage she can take and outlast her opponents.
Preferred Attacks: Powerbomb, DDT, Torture racks
Preferred Matches: Standard, no hold bars and knockout matches
Stats
Endurance:5/5
Strength:4/5
Defense:4/5
Speed:2/5
Technique:3/5
Finishing Moves:
Graceful Drop: Celica pulls her opponent towards the turnbuckle where she would then climb onto it with her dragging them by their hair. Slinging their arms over her shoulder, she bends them and grabs them and lifts them before jumping off and slamming them onto the ground.
Shake The Tree: Celica puts her opponent in a vicious torture rack as she bends up and down at an incredibly fast rate before she suddenly throws herself back and slamming her opponent down by the sides of their body.
Appearance:
Casual outfit: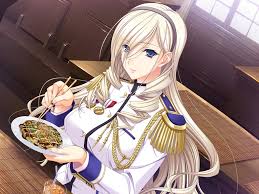 In her swimsuit: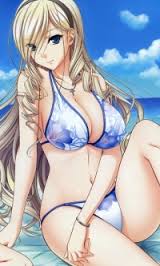 Wrestling outfit: (She removes the armor before fighting)
Personality: Celica seems like a typical rich to do and stern girl at first glance, but in reality she's actually quite a nice person. Her character at first glance makes her hard to approach, as there are those who thinks that they aren't good enough to interact with her, or that she might be too stiff to associate themselves with. In reality, she's actually a quiet and easy to get along with person. She's just slow in interacting with many people due to her upbringing. Celica has a lot in common with most people, but they simply have some difficulty accepting that belief because of how she carries herself.
Her hobbies are tasting new food and travelling around looking for ways to start her own business. Often she has her head in the clouds because she's thinking of a lot of things. Direct and confident, Celica would move forth even though she may mistakes, she would learn from them and move on. This has been her motto her entire life. Be it in life or in sports or business.
Celica does have quite a fasination for the Medevial times, so much that she has decorated a good portion of her money into collecting antiques from the middle ages and even outfits resembling them.
Past/History: Celica was made an orphan not too long after she was born. Her parents went on a vacation to the US, but their plane crashed and she since then lived with her aunt and uncle. She attended a good school and got good grades. Took up many other skills as a side quest. As she grew older, she developed a lot of skills and was capable of accomplishing almost any type of jobs she wanted. She eventually found her way into the AFW after she was scouted upon winning another woman's wrestling championship.
Bored with her life and wanting more challenges, Celica was quick to accept her invitation into the new place. Seeing it as both a job and a way of making contacts. The AFW was a place that drew many to it. She would be able to make new connections with the people there and from there, there would be a bunch of people she could make connections with to start new businesses if she ever had any other ideas.
Funny Facts :
AFW Information
Record: 0-0-0
Wins: 0
Loses: 0
Draws: 0
Relationships:
Friends:
Allies:
Rivals:
Enemies:
Crushes:
Match History

Silentcoins




Posts

: 370


Join date

: 2016-06-23



---
Permissions in this forum:
You
cannot
reply to topics in this forum