Who is online?
In total there are
36
users online :: 9 Registered, 0 Hidden and 27 Guests :: 2 Bots
Diesel_Electric_Razor
,
Harrier
,
Iceman
,
Jstruggs716
,
LunarWolf
,
M.J.Caboose14
,
Nelv
,
Snidey
,
Teenwrestler
Most users ever online was
418
on Tue Jul 30, 2019 9:51 am
Champions & #1 contenders
Looking for debuts and matches.
Mon Jul 27, 2020 8:26 pm by Old_Man_Tai
Looking to be more active around here, which means starting more matches.
Yay more matches!
For those interested:
Cami
(will do hentai, but not for debut match)
Hiromi
(No hentai)
Blazing Kitsune
(no hentai)
All still need debut matches
I'm also accepting offers for matches against:
Kairi
(will do hentai)
Dark Star Chaos
(no hentai)
Grizzly
(no hentai)
Feel free to PM me or find me on the Discord if any of those sound interesting, or if you have another match you want to suggest. …
[
Full reading
]
Comments: 0
Apologies for delays
Fri Jul 24, 2020 11:19 pm by Old_Man_Tai
Hullo!
I just wanted to take a minute and apologies to the many people I am RPing with and my slowness this last month or two. It's been a busy time and I've had trouble with motivation and inspiration to post.
I am going to do better, I promise, and I will have posts up for everybody soon and I will try not to falter again...at least for a while XD.
Thank you for your patience and understanding.
Comments: 4
Specific Debut Match Idea
Fri Jul 24, 2020 10:45 pm by SuckerPunch
Hello friends and fellow AFW'ers! I'm looking for a very specific type of squash for the debut match of
Harmony Harper
, my newest character. If you're interested, please send me a PM on the forums! I'm looking forward to playing with you all!
Comments: 0
Team Name:
The Jailbirds - Charlotte & Jade
Name:
Charlotte Slater - The Common Thief
Sex:
Female
Age:
23
Eyes:
Black (like her heart)
Hair:
Blonde
Height:
5'6"
Weight:
130ibs
Nationality:
British
Alignment:
Heel
Name:
Jayden Tyler - The Common Thug
Sex:
Female
Age:
25
Eyes:
Dark Blue
Hair:
Black with Purple Highlights
Height:
5'10"
Weight:
155ibs
Nationality:
British
Alignment:
Heel
--------------------------------------------------
Combined Weight:
285ibs
--------------------------------------------------
Strategy:
Charlotte is the tickster with speed and holds, Jayden is the powerhouse with slams and splashes
Style:
Wrestling
Type:
Heels. Cheats. Criminals.
Preferred Matches:
Tag Team and Handicap Matches
Favored moves:
Chokes, Arm Locks, Figure 4, Slams, Splashes, Corner Work, Distraction, Ceiling Hold, Boston Crab, Crossface, Camel Clutch, Backbreaker, Piledriver, Anything illegal. Smothers, Double Teaming, Weapons
When Double Teaming:
Fast and Illegal Tags, Cheating,
--------------------------------------------------
Finishers:Prison Bitch:
As the name suggests, this is a humiliating move that the girls use 95% of the time. Charlotte lays on her tummy as Jayden drags the exhaused rival over to her partner. Jayden then pushes the victims face between Charlotte's ample buttcheeks and immediately sits on the back of their head to ensure a tight smother. For added effect, Jayden can grab and pin down their hands to make escape almost impossible. Due to Jayden being the heavier of the two, shifting her or even crying for a submission is a race against time before passing out.
Maximum Sentence:
Charlotte applies a surfboard style submission with their body arched back and hands held. She often places her boot on their back to push for more pressure. Jayden then runs to the ropes and bounces off to deliver a drop kick to their face to KO them for a team assisted pin.
Lock Down:
The girls work for a submission on this one. Jayden applies a camel clutch whilst Charlotte applies a boston crab to bend the unfortunate victim painfully into a C shape
Hentai Finisher:
(Can be done against males or females)
Hard Time:
With a rival on their back, Jayden applies a reverse facesit and lifts up their legs, spreading them wide open. From there, Charlotte will pleasure their victim orally for a humiliating Hentai finisher.
--------------------------------------------------
Physical Appearance: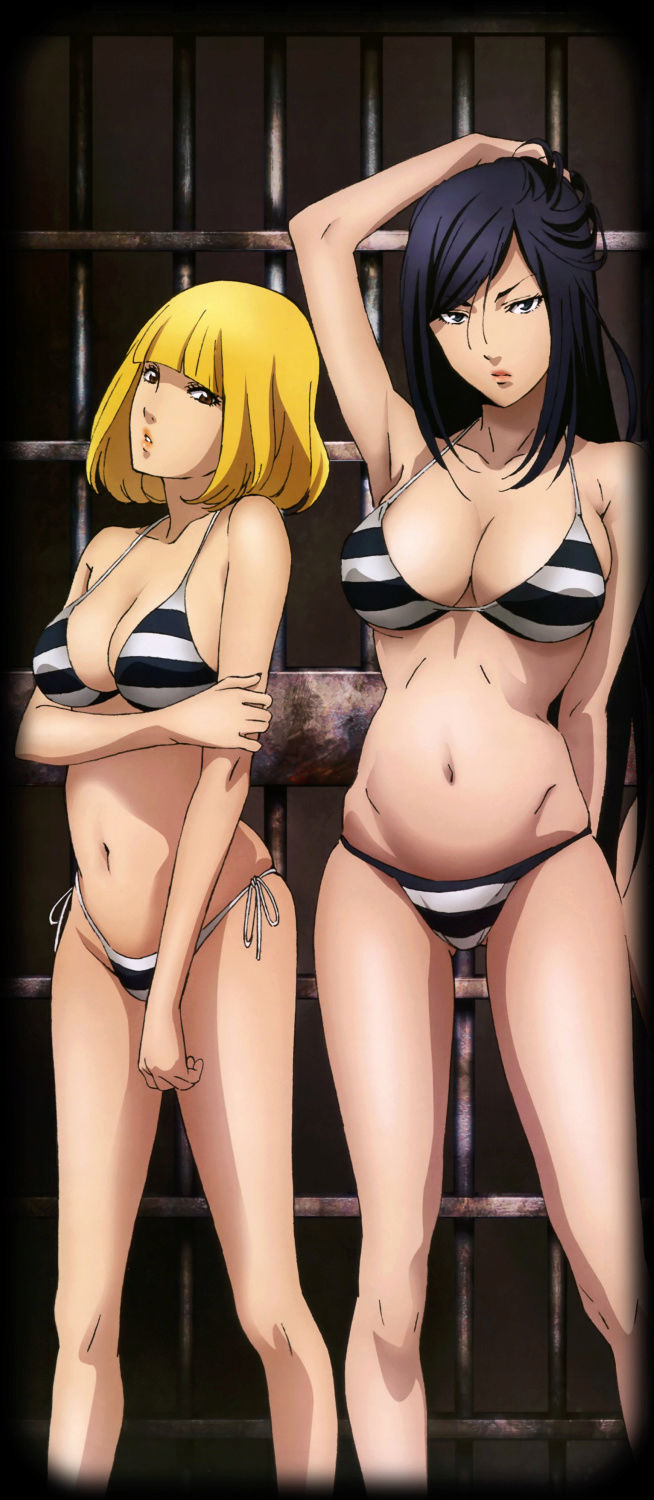 --------------------------------------------------
Personality/History:
Charlotte and Jayden have been in and out of the prison system since they turned 18. Both are from deprived areas of England and it has made the girls tough, rough and hardened criminals. They dont care who they beat up and will happily punish anyone who dares to face them. They are not the sort of girls you take home to meet your mother!
Charlotte is the smaller and quicker of the two. She will use flying moves, submissions and of course will blatantly cheat to get the win. She by trade is a common thief she is used to tricking people, distracting them and generally robbing them of not only their money but their pride also. Charlotte is blessed with a "bubble butt" and led her to have a lot of attention in prison. She had her first lesbian experience in prison at 19 and since then has no issues with sexing up a rival to put them off. She actually enjoys getting close to other girls and has a significant weakness for redheads or girls that are inexperienced. She also is quite happy to dominate guys. To her it is all a power game.
Jayden is bigger and heaver and can be considered the "muscle" of the team. She will use slams, throws, splashes and anything that shows her physical dominance. She has applied holds but considered it unnecessary when a you can give someone a good "kicking" (her words) and beat them down. As with her partner in crime (ha!) she has been in the prison system for a long time and it has made her hard. She was an enforcer on her wing which meant that physical domination and sexual domination was all part of her life. As such she too will turn to erotic attacks as needed. Unlike Charlotte, she has no real preference for girls or guys and is just here for the chance to "slap some bitches silly!" (her words)
The pair are common, uncooth and ready for a fight at a moments notice. They have little in the way of morals and only work together because they enjoy the money which is better than thievery or enforcement.
They are available for Friction & Tension matches

PV




Posts

: 1191


Join date

: 2016-02-21



---
Permissions in this forum:
You
cannot
reply to topics in this forum