Champions & #1 contenders
Looking for a match for a debut for new girl
Sat Aug 08, 2020 6:42 am by Void Effect
Like the title said: Looking for a match for Lily, contact me using Discord please or PM
Spoiler:
https://afwrpg.forumotion.com/t20264-lily-harper-the-princess-knight#543965
Comments: 0
Looking For Matches/Long Term Story Threads For New Wrestler
Fri Aug 07, 2020 12:19 pm by HighFly
Hey everyone, I just made JJ and need some threads for her!
https://afwrpg.forumotion.com/t20259-jj-janella-johnson
I am looking for matches, maybe even a long term rivalry as well! If you feel like you want to work with her long term asa sparring partner for friend outside the ring after a match that is fine as well. Really anything that tells a fun story would be awesome! Please PM me if interested, thank you!
Comments: 0
Delay
Thu Aug 06, 2020 2:16 am by ChateauDame
My apologies for the delay on all posts and plans. My workday has a start time dialed back to a 4:00 AM start as of late and I don't end until about 4 or 5 PM so I am utterly tired as of late. I have about the rest of the week at this schedule and then it should lighten up a bit. I am optimistic for a sense of normalcy soon, maybe this weekend or start of next week.
Apologies for the delay!
Comments: 0
Name: Flora
Sex: Female
Age: clone artificially aged to be way, way over 18
Eyes: Green
Hair: Red
Height: 5'10"
Weight: 121
Nationality: Italian
Alignment: Face
Entrance music:
Wrestling Information
Strategy:
- Block and counter.
- Quarter circle forward, punch and kick
- Do a towel-whip-like move with her shawl.
- Would like to start learning some submission holds; her thighs aren't quite Chun-Li-level, but they're not half bad.
Style: Streeeet Fighter
Type: Journeywoman
Preferred Attacks: Shawl whip, sliding kick, jump kick, standing kick.
Preferred Matches: "Round 1. FIGHT!"
Endurance: 9/10
Strength: 5/10
Speed: 5/10
Defense: 9/10
Technique: 2/10
Finishing moves:
- Wool over the eyes: A reverse indian deathlock into a bridge, where she uses her shawl to choke out her opponent
- Roses and Thorns: Twists one nipple hard while sucking on the other one
- Figure-Flora: during sexfights or humiliation matches, will remove her own boot and use her stocking toes to tease her opponents pussy while they are locked in the figure-4
Characteristics
Visual Appearance:
Wears a long wool shawl over her top, and a flowing skirt with high slits. Wears sheer, dark pantyhose with heels.
Physical Appearance:
Clone of Rose.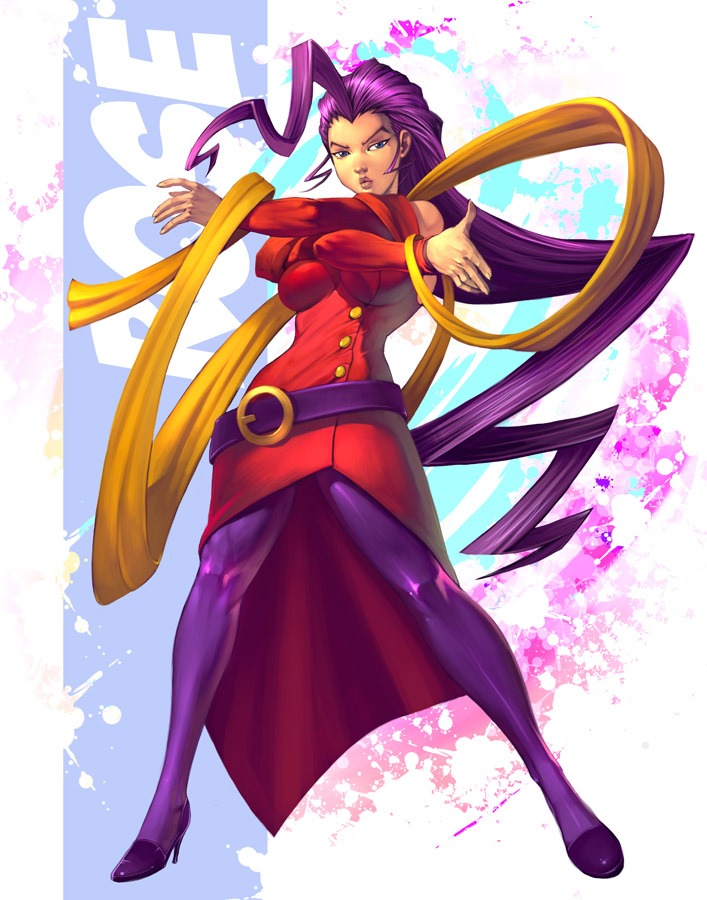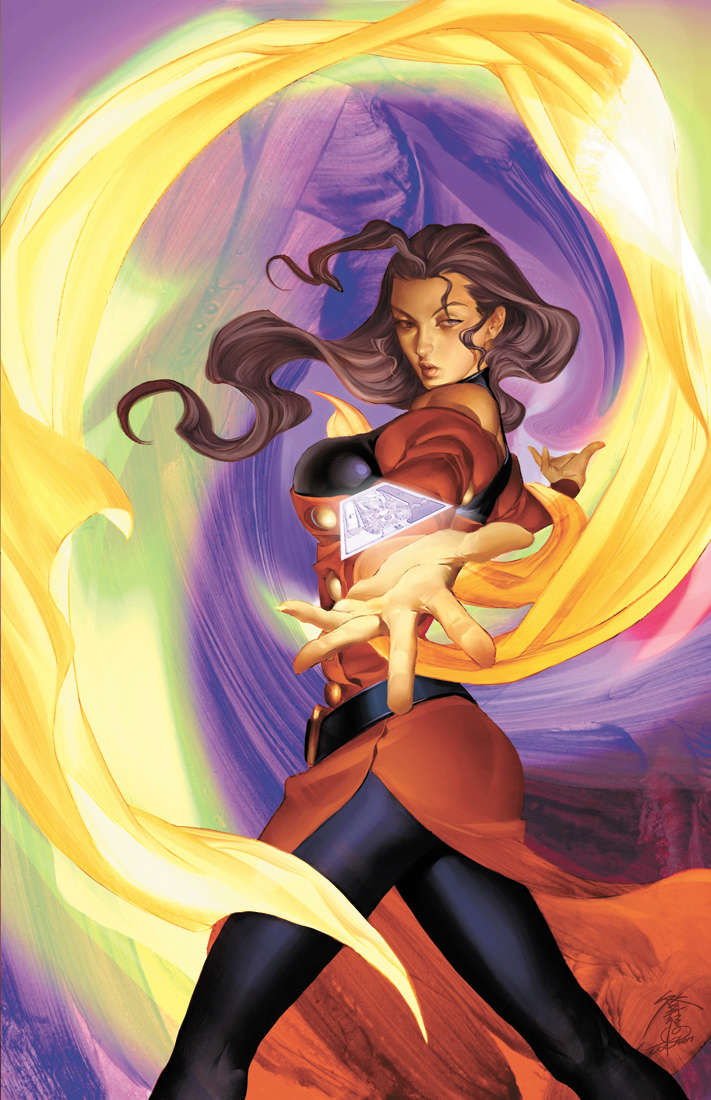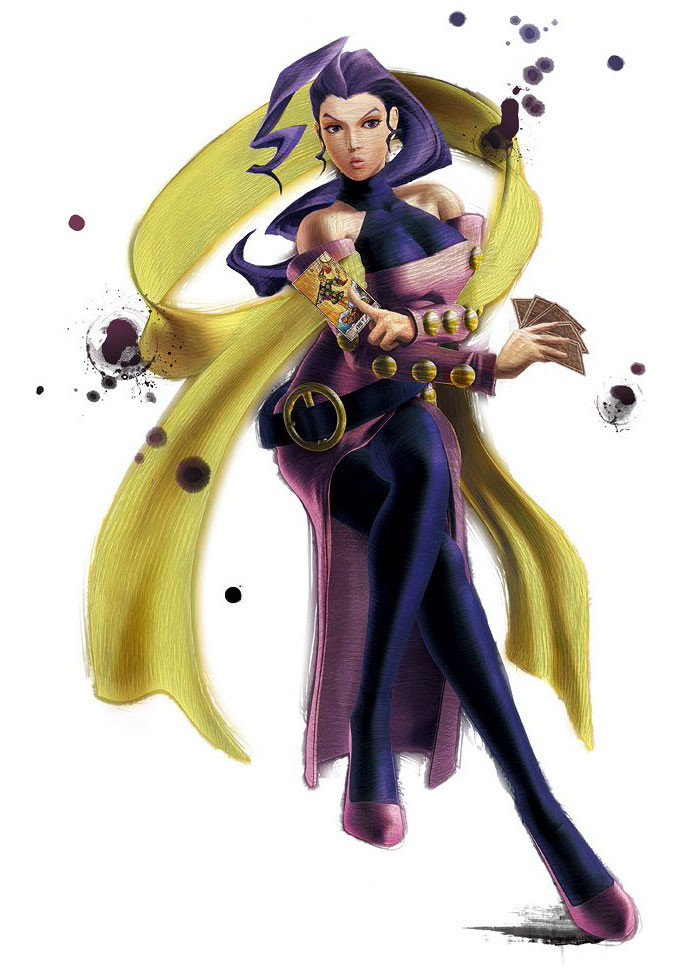 Personality:
- Generally distrustful of people, owing to past mistreatments
- Relatively shy, soft-spoken, and introverted, except when someone is hurting her, in which case she will complain loudly.
- Can endure a lot of pain, just not quietly
- Getting hurt can make her angry and unpredictable
- Took up fighting to help her channel her inner rage
Past/History:
A clone of Rose created by the evil Shadaloo corporation from Rose's blood, collected after a particularly vicious fight between Rose and Vega. Shadaloo had desired to clone all of Rose's supernatural abilities, but ended up with just a woman who looked, talked, moved, fought and acted much like Rose, but possessed absolutely none of Rose's supernatural abilities. Furious, Bison had the creature, codenamed F.L.O.R.A., locked in a dungeon and tortured, hoping that the pain and stress would unlock the clone's supernatural abilities. Flora screamed and screamed in pain, but remained otherwise completely and utterly ordinary.
Rose was horrified to hear that she had been cloned by Shadaloo, and that her clone was enduring unspeakable torture. Rose broke into the dungeon where Flora was being held, with the intent to end her clone's unholy existence, but finding Flora passed out from the pain, Rose could not bring herself to harm the pitiful, unconscious woman who looked exactly like her. Rose teleported herself and the unconscious Flora away from the dungeon.
After Flora awoke, it did not take her long to piece together the identity of her savior. Blaming Rose's supernatural abilities for her torturous experiences, Flora flew into a rage, and lashed out viciously at Rose. Rose, feeling compassion for this poor woman and understanding the source of her anger and pain, did not fight back, and simply accepted the punishment with the occasional involuntary grunt of pain. Flora quickly spent her anger, and fled into the night, sobbing, with Rose too hurt to chase after her.
Flora wandered aimlessly for some time, before noticing an ad for the AFW. Figuring that this would be a good outlet for her anger and aggression, and possessing significant innate fighting abilities, she signed herself up.
Wrestling Attire:
Rose's outfit from SF4.
Fun Facts:
- Would love to learn how to throw a soul blast or a hadouken, but there's little chance of that ever happening.
- Has no idea whether a rose by any other name smells as sweet.
AFW Information
Record:
Wins:
Losses:
Draws:
Championships/Accomplishments:
Friends:
Allies:
Rivals:
Enemies:
Crushes:

peek6




Posts

: 272


Join date

: 2016-12-11



---
Permissions in this forum:
You
cannot
reply to topics in this forum