Champions & #1 contenders
Poll regarding the possibility of Mods booking PPV matches.
Sat Oct 24, 2020 1:43 am by Old_Man_Tai
So, basically, was wondering all of your thoughts regarding the possiblity of mods booking ppv matches.
The thought was, since people often seem to have trouble finding partners for ppv matches until the last minute or so, what if the mod team was to step in and, well in advance of the show, book the show ourselves, and try to put together the best matches we can, including title defenses, no.1 contender matches, and so on and so forth?
While I doubt our more popular members need such a …
[
Full reading
]
Comments: 8
Need Debut matches/Simply looking for more
Tue Sep 08, 2020 11:19 pm by Void Effect
Comments: 11
General Avalanche Reminder
Fri Oct 23, 2020 9:21 pm by Old_Man_Tai
General Reminder: Friction PPV Avalanche goes live on December 1st: So if you need to do any promos or build up for your Avalanche matches, you should be focusing on that now. You are allowed to do such things over Discord and then post them after if it helps get them done faster so matches have proper build up.
Also, if you are looking to get on the ppv, and have a partner and match set up, (or can do so quickly), contact me to let me know what match you are doing on the show.
If you have …
[
Full reading
]
Comments: 0
Page 1 of 2 • 1, 2
Match Type: StandardWin Condition: Pinfall, Ko, or Verbal Submission.
__
Eiko:
Tonight was a rather unexpected surprise. Eiko had just recently been told that she would soon be having a match with a relatively new face at the AFW. Not only that, but this new face was supposedly a man who went by the name
Torra Shinjiro.
While Eiko was always up for some fun, she didn't quite understand why they were having her fight the new guy. Weren't there veterans better suited to teaching people the ropes than her? After all, she was still relatively new to the league herself.
Well, at the end of the day it was all just fun to her anyways!
Soon, her theme Music
Would begin to play over the speakers, the purple punk strolling out into the open a posing for the fans in the audience, her trade mark grin wide and ready for all to see! Many of her fans were in the male demographic, and it was not just because of her choice of attire. Eiko had power, charm, and an attitude that made it so she just wouldn't quit no matter what! Pack all of that in with a face and body that seemed to be created by Aphrodite herself, and she had a rowdy crowd cheering her on!
She jumped up into the ring, waving to a few different corners of the audience before leaning in her red corner, peering up at the entryway ramp her foe was supposedly going to come in from. Her Cheshire grin never left her face, the woman excited to see what her first male opponent in the AFW would be like!

Tarantulust




Posts

: 1254


Join date

: 2018-04-18



8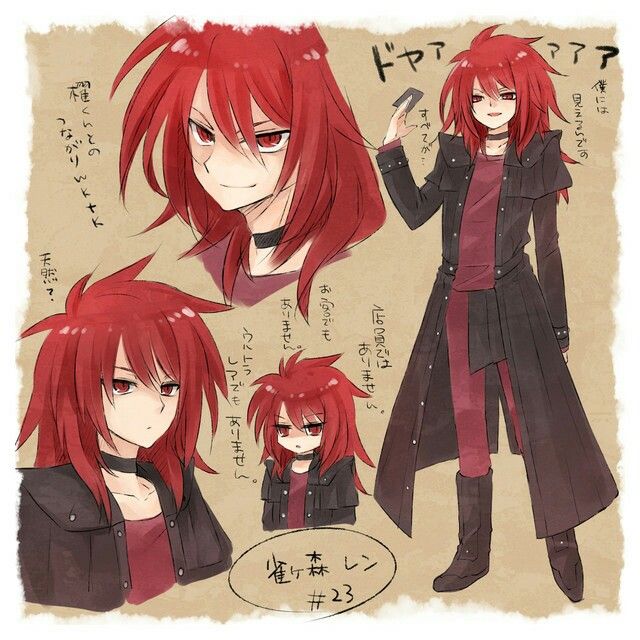 Torra Shinjiro was doing some last minute stretching in the locker room when he was called down to the ring, he nodded and began to walk down to the ring. His theme played As he was walking his theme was playing and he waved to the crowd while the A.C of the ring was blowing his long red hair making him look majestic, (his outfit is the same as this pic but he's shirtless.) He decided to give the nice people a good before the match show, he did some fancy flips towards the ring, and he landed right into his corner after his 5th flip.
He looked and saw his opponent and she was pretty cute and attractive he couldnt help but blush a bit. But the slender fighter snapped out of it and decided to have a little friendly chat with her before the match, wanting to show that while they are opponents they are still people nonetheless. He walked up to her and offered his hand for a friendly handshake.
"Hello there you must be eiko, it's nice to meet you I'm torra and I hope we have a good match, may the best fighter win."

*torra shinjiro17




Posts

: 437


Join date

: 2019-08-26


Age

: 21



Eiko wasn't really sure what she was expecting in her opponent. To be honest, most of the guys she had seen around the gym were a bit shrimpy. There were a few interesting ones, but none she ever approached. It was a bit of a hassle getting to spar with guys, since they always seemed to have one thing on the mind.

Of course, she didn't really blame them. Leaning back into her corner, she was surprised to find a rather interesting looking individual step out onto the ramp. She couldn't quite tell his age, but he looked like a young one…energetic as well. He easily cartwheeled down the ramp and jumped onto the ring with ease.

"Well well wellll, Torra, eh? You seem like you could be a load of fun…I'll try to be careful with you. Hey, are you the speedy type?"

With a quick twist, she cracked her neck and rolled her shoulders, limbering up for the battle to come!

Tarantulust




Posts

: 1254


Join date

: 2018-04-18



Torra smiled a bit "no need to hold back, I may not have a lot of muscles but I got speed and agility, also techniques and I'm know how to give a few punches, don't judge a book by its cover" he said playfully and then went to his corner waiting for the bell to ring, after a few minutes it did and torra slowly walked around her waiting for a chance to attack.

*torra shinjiro17




Posts

: 437


Join date

: 2019-08-26


Age

: 21



Sounds like Eiko hit the nail right on the head. Torra was more a speedy-tech guy rather than a straight up fighter. She had seen a few smaller guys take up things like kickboxing or MMA, and rather than try to be sneaky, she found just being upfront and asking them about it was often an effective way to learn about them. Torra was nice enough to confirm the Purple Punk's suspicions, and she shrugged when the bell finally rang.

"Well, always fun fighting new people. Hopefully you got some tricks up your sleeves to make this fight one I'll remember!"

As the bell rang, Eiko would circle Torra for a few minutes, sizing him up and reading his movements for a few moments. Finally, once she figured she had a good idea of his strengths, she moved in, arms raised, a silent challenge to lock up with her as she smiled playfully at the red haired boy.

Tarantulust




Posts

: 1254


Join date

: 2018-04-18



Torra saw her smile and circle him and raise her arms, this gave him a idea, he went in for a punch to her stomach but this was a trick right when he was about to punch her stomach he suddenly grabs her arm and tired to put it behind her back in a bend like move and then he would sweep his leg to make her fall and he would put his palm on her chest making her fall faster if this all worked then she would fall on her back.

*torra shinjiro17




Posts

: 437


Join date

: 2019-08-26


Age

: 21



Eiko silently approached, ready to lock up with the red-haired man whenever he was ready. To her slight surprise, Torra opted to do something else. Rater then wait around and lock up with her, he opted instead to grab her arm and twist it behind her back. She blinked for a split second, only to have her feet swept out from under her! She fell onto her back with a surprised grunt. She was quick to sit back up, rubbing the back of her head before quickly shooting a kick out to meet Torra's abs. A little punishment for not playing along with her little game.

Tarantulust




Posts

: 1254


Join date

: 2018-04-18



Torra was happy that his attack hit but she suddenly kicked his abs sending him back a bit, this time he got into a defensive position waiting for her to make the next move wanting to see what she can do and how would he be able to counter her.

*torra shinjiro17




Posts

: 437


Join date

: 2019-08-26


Age

: 21



No sooner did Eiko kick Torra's abs then she was on the move! Within seconds she was rushing towards him like a speeding torpedo, her arm cocked and ready to SLAM him to the floor with a powerful clothesline that was sure to send him reeling if it hit! He was a tiny looking guy, and he admitted to being a bit of a speedster. Knocking him down to the floor would be the best place to keep him if Eiko wanted a surefire way of winning this match!

Tarantulust




Posts

: 1254


Join date

: 2018-04-18



Torra was right, she was gonna attack him that kick! Wanting to show that he maybe light weight but he packs a punch, he grabbed her arm when she got close then he spun her around and then Irish whipped her to the turnbuckle.
But this was only step one, when she was being thrown to the corner he quickly followed on pursuit and as she landed on her back, he quickly kneed her stomach pretty hard.

*torra shinjiro17




Posts

: 437


Join date

: 2019-08-26


Age

: 21



Page 1 of 2 • 1, 2
---
Permissions in this forum:
You
cannot
reply to topics in this forum