Champions & #1 contenders
Poll regarding the possibility of Mods booking PPV matches.
Sat Oct 24, 2020 1:43 am by Old_Man_Tai
So, basically, was wondering all of your thoughts regarding the possiblity of mods booking ppv matches.
The thought was, since people often seem to have trouble finding partners for ppv matches until the last minute or so, what if the mod team was to step in and, well in advance of the show, book the show ourselves, and try to put together the best matches we can, including title defenses, no.1 contender matches, and so on and so forth?
While I doubt our more popular members need such a …
[
Full reading
]
Comments: 8
Need Debut matches/Simply looking for more
Tue Sep 08, 2020 11:19 pm by Void Effect
Comments: 11
General Avalanche Reminder
Fri Oct 23, 2020 9:21 pm by Old_Man_Tai
General Reminder: Friction PPV Avalanche goes live on December 1st: So if you need to do any promos or build up for your Avalanche matches, you should be focusing on that now. You are allowed to do such things over Discord and then post them after if it helps get them done faster so matches have proper build up.
Also, if you are looking to get on the ppv, and have a partner and match set up, (or can do so quickly), contact me to let me know what match you are doing on the show.
If you have …
[
Full reading
]
Comments: 0
Name: Emily Tajiri
Alias: Wild Card
Age: 22
Height:5'7"
Weight: 140 lbs
Cup size: DDD cup
Eyes:Blue
Hair:"Blonde"
Nationality: Japanese
Citizenship: Swedish
Alignment: "Face"
Wrestling Information
Strategy:Disarming, dropping the opponent's guard.
Style: Her style varies with the opponent she's against. All her approaches, however, are used to drop the opponent's guard.
Type: Defensive
Preferred Attacks: Strikes, slams, splashes, smothers
Preferred Matches: Everything except matches that are ultra violent.
*Update*
RPG Style Stat spread(out of 5 stars)
Endurance:â
¥â
¥
Strength:â
¥â
¥â
¥
Speed:â
¥â
¥â
¥â
¥
Defence:â
¥â
¥â
¥
Technique:â
¥â
¥â
¥â
¥
Difficulty:Medium/Hard
Finishing Move/s:
Bad Pervert!/â
¥Nap Time!â
¥ - Emily has different names for this move, depending on the act she decides to go with for the match. She'll stun her opponent with a punch or kick to the gut to bend her over, and then she'll grab the opponent's head and guide her back so that the opponent is bending over backwards, and off balance. From there, she'll straddle the opponent's face, fitting the opponents head between her thighs. She might take a second or two to show off, like smacking her own hips, or giving them a little shake for the crowd, depending on her mood, but then she'll drop down to her rear, and slam the opponent's head between her rear and the mat, and keep the opponent buried beneath her skirt. If the opponent is still conscious and she's trying to punish her, she'll follow it up with a few punches to the gut until the opponent has passed out under her skirt, or just wiggle on top of her, and taunt her while sitting atop her face until she passes out or is dislodged.
â
¥Watch This!!â
¥ - Emily will show off in front of a groggy opponent, by doing a handstand right in front of her. From there, she'll do the splits, then suddenly bring her legs up around the opponent's head, and then twist around to throw her over onto her back. From there, she'll move on top of the opponent while her head is still spinning and smother her underneath her skirt, until the opponent is out cold.
â
¥Would You Like A Closer Look?â
¥ When the opponent is down on her back, Emily will unbutton a few buttons on her blouse to open it up, then she'll lay above the head of her opponent, and button her shirt up around the opponent's head, smothering her with her breasts, and trapping her inside her blouse. She'll also hug the opponent's head to her bosom and make it that much harder to escape.
â
¥You're Really Kinda Cute!â
¥ After Emily whips her opponent to a corner, with her opponent facing towards her, she'll run towards her, and wrap her legs around her waist, and the corner post to constrict her stomach. From there, she'll press close, and lean in to lock lips with her opponent, and will reach up to hold her nose with one hand to prevent her from breathing, and will try to get her opponent to pass out in the kiss.
No Means No!! - Emily will grab the opponent by her head while they're both standing, and will start slapping and backhanding the opponent repeatedly, then rear back for one more fierce backhand, to knock the opponent down to her belly.
Lets See What You're
Really
Feeling - This move can only be described as a wild card. It fully depends on the mood she's in, the act she's playing, and how the match has been progressing. When the opponent is down on her back, she'll grab the opponent by her legs, and split them open. If she sees a wet spot, she'll either drop down for a headbutt, or gently press her foot against her sex and start to rub softly. If there is no wet spot, she'll either catapult the opponent across the ring, or just try to split her legs as far apart as she can.
Hentai Moves:
Bad Pervert!/â
¥Nap Time!â
¥(nude)
Lets See What You're
Really
Feeling(nude)
â
¥You're Really Kinda Cute!â
¥ - With this, she'll add an extra hand between her opponent's legs while trapping her.
Entrance Music: Wonderful Life by Ace of Base
https://www.youtube.com/watch?v=sSQi-I3h5y0&feature=youtube_gdata
Characteristics
Visual Appearance: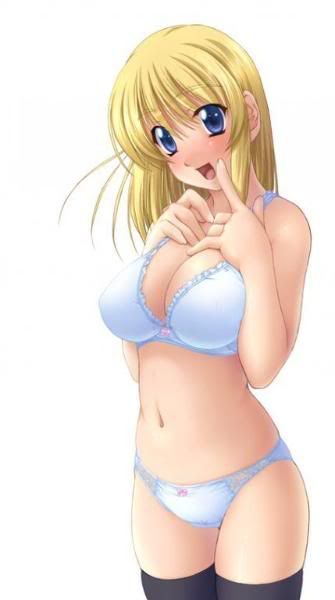 Prefers to wear a school girl outfit to normal matches, complete with a white blouse, blue skirt, yellow scarf, white socks, white loafers, and a pair of glasses for looks.
Personality: No one really knows what Emily is really like. She keeps it a mystery, both inside the ring and outside the ring. She can be flirty, ditsy, seductive, prudish, it all depends on who it is she meets, and what she believe will get the opponent's guard down the quickest, so she can attack faster.
Past/History: Emily's past has been a wild one. It started back to the day when she was born. She was born only a few hours after Masane was born. Her parents, however, were not expecting to support a second baby, and, after a long and hard decision, they gave her away to a foster care corporation. She was left in the care of a couple of Swedish parents, who were happy to have her for a while.
Once she was old enough to talk, and walk, however, they started trying to raise her the way they wanted her to be. They became strict with her, punishing her when she didn't do what they wanted her to do. They wanted her to be friendly, good-natured, polite, just your average girly-girl. They wouldn't even let her have her own hobbies, despite what she was really interested in. Eventually, her parents got to her, and she began putting a fake smile on everything, and kept her real feelings bottled up inside. After a few years, it became like second nature to her. She could easily swallow her real feelings, and act how people wanted her to act.
When she entered high school, she started budding into a beautiful woman, although she didn't really notice it at first. It first occurred to her, however, when a boy got up the courage to ask her out. She was about to turn him down, when he offered to take her to a nice dinner. Despite having no physical attraction to him, she agreed, and from there, she began to realize that her polite act, her looks, and a little playfulness could go a long way in getting what she wanted. She quickly became spoiled, although she hid it well from her parents; hiding all her gifts away in her room.
When she turned 18, her Swedish parents told her about how they weren't her real parents. It didn't really come as a big shock to her, however. In fact, she was happy to hear about it. She promptly moved out of their house, having made quite a lot of money from the poor saps that sought her hand. Eventually, she was able to find out who her real parents were. A japanese family. She also found out about how they already had a kid: Masane Tajiri. She looked through photos of Masane together with her parents, and celebratng different occasions, such as earning her black belt, and winning tournaments. This girl had everything she didn't. She began to hate her.
She discovered that she currently fights in the AFW now, and decided that's where she would go next. For the next 4 years, she began to research and train, mostly just looking for a way to counter her sister's skills in karate and humiliate her in the process. She soon found out that the best way to beat her opponent was to read ahead of her; know her moves before she did. She was puzzled by this at first, but she came to realize the best way to do this, was to make her opponent's emotions become an open book. If she did that with enough training, she could kick ass there no problem.
By now she had turned 22, and decided she was ready to test her skills against the other fighters at the AFW, with her main goal being to torment and humiliate Masane... once she found her.
Attire: Prefers to wear a school girl outfit to normal matches, complete with a white blouse, blue skirt, yellow scarf, white socks, white loafers, and a pair of glasses for looks. She'll go without, however, for hentai matches.
Likes:
Jewelry
Money
Manipulating people to her will
Dislikes:
Martial arts
People who take wrestling seriously
Worms
Fun Facts:
She gets her alias 'Wildcard' because her style in the ring is nearly unpredictable from one opponent to another.
It is rumored that her natural hair color is not blonde.
AFW Information
Championships/Accomplishments:
Friends:
Allies:
Rivals:
Enemies:
Masane Tajiri
Crushes:
Won Against:
None.
Lost Against:
None.
Draws:
None.
Last edited by 145 on Sun Sep 19, 2010 5:03 am; edited 21 times in total

Psychopatrick88




Posts

: 6476


Join date

: 2008-04-30



It's finally complete! =D

Psychopatrick88




Posts

: 6476


Join date

: 2008-04-30



Congratulations! She looks fun!
_________________
ACTIVE:
Friction:
Momoko "The Sumo Fan" Hanayama
INACTIVE
Friction:
Yatori;
Kawaii:
Haruka, Ort;
Alternative:
Harumi;
Tension:
Shizuka, Rena, Taka
RETIRED
Nina & Anna

Yatori




Posts

: 2967


Join date

: 2008-04-12


Age

: 35


Location

: Philippines



---
Permissions in this forum:
You
cannot
reply to topics in this forum