Who is online?
In total there are
55
users online :: 4 Registered, 0 Hidden and 51 Guests :: 2 Bots
Cicilia
,
Nelv
,
Scourger X
,
Teenwrestler
Most users ever online was
418
on Tue Jul 30, 2019 9:51 am
Champions & #1 contenders
Need Debut matches/Simply looking for more
Tue Sep 08, 2020 11:19 pm by Void Effect
Comments: 8
Poll regarding Kayfabe rules of hentai in non-hentai matches.
Sat Oct 17, 2020 9:03 pm by Old_Man_Tai
So, one of the various different things we are looking to bring to the board soon, is an official list of "In-World Rules", to help with world building and such and just make clear what the in-story rules of the Friction and Tension leagues are.
One thing I've noticed that people seem to handle differently, is the idea of using hentai, as in fucking, groping, stimulation, anything actually involving touching privates and beyond just flirting/kissing/rubbing in non-hentai matches. Some seem to …
[
Full reading
]
Comments: 31
Looking for a match.
Thu Oct 08, 2020 10:11 pm by Old_Man_Tai
Simply put, looking to get Silver Ace two or three short, quick matches to set up her story for her Avalanche match.
Also if somebody knows how to use photoshop, have a favor to ask.
Contact me on Discord or PM if you are interested.
Would be willing to offer proper matches with other characters in trade if that's acceptable.
Comments: 0
Name: Leila Lockhart
Alias: None
Sex/Gender: Female
Age: 18
Eyes: Sapphire blue
Hair: long silver freeflowing
Height: 5'2"
Weight: 112 lbs
Nationality: Japanese/ American
Citizenship: Japanese
Wrestling Information
Strategy: Offensive/Acrobatic
Style: Striker/brawler
Type: Roughhouse
Preferred Attacks: Punches, kicks, elbows, whatever she can use.
Preferred Matches: Standard matches.
Fighting style: She is a striker who likes to use her fist instead of techniques. However she is also very acrobatic in the sense that she rolls around and even does cartwheels in order to avoid attacks.
She has very weak knowledge and skills about grappling techniques, and the only grabble technique she knows of is the suplex and nothing more.
However she is very good at dishing out submission moves, and can also take them as well.
Her weakness is that she can't take grabble moves and powerful moves like DDT and powerbomb really well. She is easily taken apart by them easily.
She likes to think two to three steps ahead. Like how to opponent would dodge her attacks, or how they would counter them. Sometimes she likes to pretend that she's more injured than normal to pull her opponent closer.
And if an opponent fights dirty, she would glady return the favour. "An eye for an eye!" She would declare.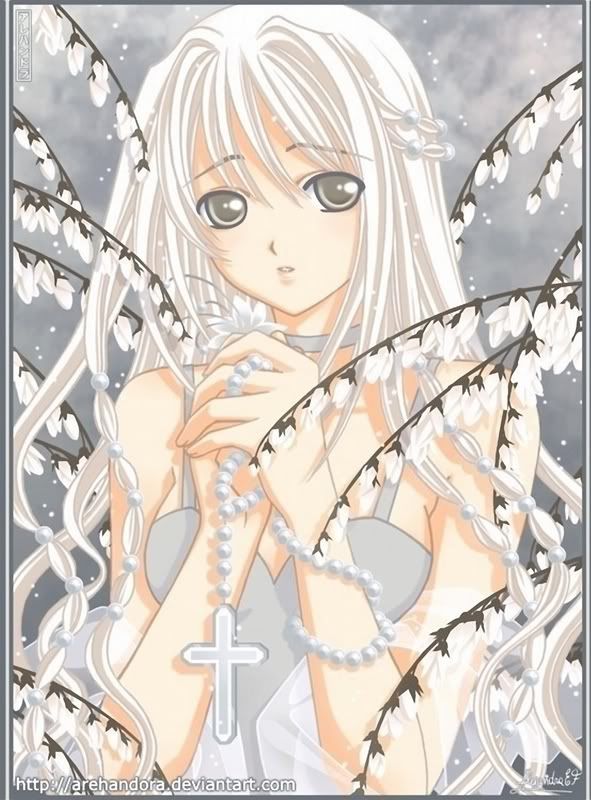 *Update*
RPG Style Stat spread(out of 5 stars)
Endurance:★★
Strength:★★★★
Speed:★★★★★
Defence:★
Technique:★★★★★
Finishing Move/s:
Silver beat: She does a handstand forward and pushes herself into the air, where she crash lands on the opponent. She stretches her legs out and slams them onto the opponents arms, preventing their movement. She then continues to rain punches down onto her opponent's face while their defenceless.
She keeps attacking until either she thinks it's enough, or that the opponent is knocked out.
Last fall: She kicks or punches her opponent in the gut, and while their doubled over, she then raises her right leg all the way to the top and slams it down with all her might onto their head, forcing them to crash violently headfirst onto the ground.
Silver edge: When an enemy is running towards her, she immediately shoots her leg out like a bullet. She would either aim it at either their jaw or their throat, the impact is strong enough to either knock them out, or leave them breathless and stun.
Personality: Meek, and quiet. She is easily frightened by many things, however at the same time, she is reclusive and likes to be alone. When alone, she is childish and likes to collect cute things. She has a serious brother complex.
Past/History: Her family grew up in poverty. Everyday they struggled to make ends meet. As a result, she grew having a difficult life. But she didn't mind it, not as long as she had her twin brother by her side. Everyday was filled with happiness for her. However apart from poverty, she too suffered quite a lot. Her brother who was always by her side, was born with very famine looks, and was the splitting image of her, as a result, many people constantly picked on him, and on her when she was nearby. Eventually, the two of them got sick and tired of everyone bullying them and thus decided to fight back. They spent most of the life getting involved with street fights and brawls.
Years later, they still constantly get involved with fights, however one terrible day. After beating up several people for bullying them, the two of them were on their way home, when a traffic accident happened. There was a drunken driver who couldn't control his car, and spun out of control. Her brother Linear shoved her out of the way, however in exchange his legs were crushed by the car.
They rushed him to the hospital, where they learnt that a large amount of money was needed to pay for an opperation, however being born in poverty, there was no way to afford it. That was when she heard the news about the AFW.
She knew the risk and dangers but also the pay involved and decided to take part in it.
Likes: Her family, cute things, people who try their hardest.Animals, and most important of all, her brother.
Dislikes: Two face liars. People who give up easily. People who make sexist remarks. Girls who go around screaming girl power. Loud and boasterious girls.
Wrestling Attire: A plan white bikini.
Fun facts:
She spents all her free time visitng her brother in the hospital. There she might get a little intimate with him, even though he's injured.
She doesn't really like interacting with people. As she feels that even though she can make friends, it also's an invitation for trouble.
She likes to colllect cute things when no one is looking.
She likes surfing the net.
Her realtionship with her brother goes beyond regular brother/sister relationship.
==========================================================
AFW Information:
Wins: vs Black Feather
Loses: Vs Duffy (knockout)
Draws:
Accompishments:
None at the moment.
Friends: Feather sisters
Enemies: none
Last edited by 1169 on Sun Jan 30, 2011 7:20 am; edited 4 times in total

Missingkeys




Posts

: 2990


Join date

: 2010-10-14



---
Permissions in this forum:
You
cannot
reply to topics in this forum