Champions & #1 contenders
Poll regarding the possibility of Mods booking PPV matches.
Sat Oct 24, 2020 1:43 am by Old_Man_Tai
So, basically, was wondering all of your thoughts regarding the possiblity of mods booking ppv matches.
The thought was, since people often seem to have trouble finding partners for ppv matches until the last minute or so, what if the mod team was to step in and, well in advance of the show, book the show ourselves, and try to put together the best matches we can, including title defenses, no.1 contender matches, and so on and so forth?
While I doubt our more popular members need such a …
[
Full reading
]
Comments: 8
Need Debut matches/Simply looking for more
Tue Sep 08, 2020 11:19 pm by Void Effect
Comments: 11
General Avalanche Reminder
Fri Oct 23, 2020 9:21 pm by Old_Man_Tai
General Reminder: Friction PPV Avalanche goes live on December 1st: So if you need to do any promos or build up for your Avalanche matches, you should be focusing on that now. You are allowed to do such things over Discord and then post them after if it helps get them done faster so matches have proper build up.
Also, if you are looking to get on the ppv, and have a partner and match set up, (or can do so quickly), contact me to let me know what match you are doing on the show.
If you have …
[
Full reading
]
Comments: 0
Name: Megurine Luka
Sex: Female
Age: 20
Eyes: Blue
Hair: Pink
Height: 162cm / 5'4"
Weight: 45kg / 99lbs
Nationality: Japanese
Favoured moves: while she doesn't have any perferred moves, she loves to make her opponents in uncomfortable or embarrasing positions
Finishing move/s:she loves to force her opponents face into her breast, and after humilating them, bends back and slamthem onto the mat
Entrance music: Rip=Release:
https://www.youtube.com/watch?v=07xDMRkym9o
Apperance: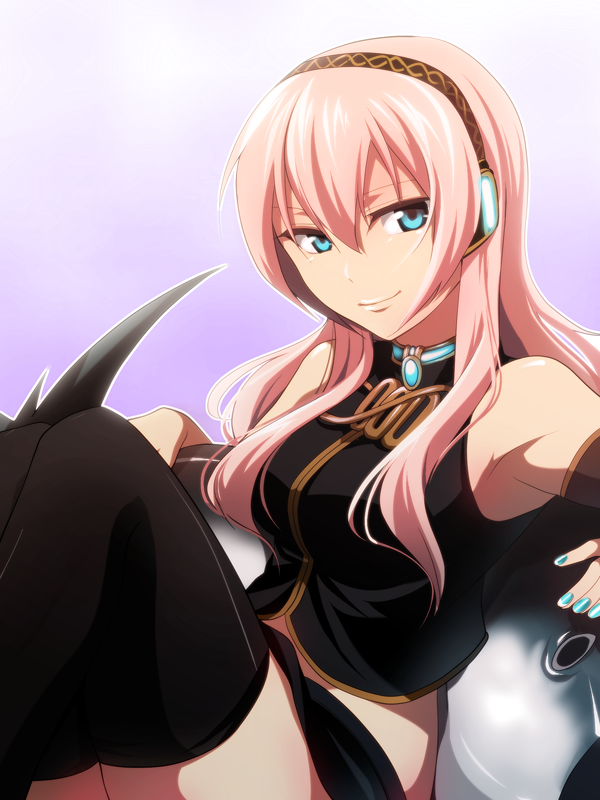 Personality:she is a very fun person to be around. She loves to drink and fight. She usually is kind to people, unless she feels like being a jerk just to tease people. She enjoys picking on girls smaller than her, not to be mean, she just finds it funny when they get mad. She always lends a helping hand when she can, but she takes care of herself first. She makes sure all her priorities are taken care of before she helps someone else.She has a potty mouth though, and it usually gets her into trouble with people when she is drunk and saying the wrong things. She likes kids but doesn't want any of her own. She loves to dance and sing all the time, and is known for singing in the shower in the locker room all the time. She is not a modest person, she was use to being with her 4 brothers growing up so she is a tough gal who does not mind being topless around people, seeing as she spent most of her childhood without a shirt on playing sports with her brothers.
Past: Luka, before getting into the wrestling scene, was a famous pop singer. She decided to retire her singing career to take some time off and relax and have fun.She always enjoyed wrestling with friends and having fun, so when she found out about AFW, she was ready to sign up and just have fun! She plans to one day take up singing again, just for now, she wants to forget about her worries and just have fun in the ring. She grew up in a house with her 4 brothers, her being the youngest, so she grew up as a tomboy. Her mother died giving birth to her so her only role model was her father, who raised her like a boy. She only really started to act like an actual girl when she was 13 when she was starting to crush on boys. She always enjoyed singing. She spent her childhood singing in the church choir and at this small jazz club downtown. it was here where a manager saw her and signed her up. she was an overnight sensation. she is a famous singer all over japan, with some success in other parts of the world. She now decided to give it all a break. She has a past of being a drunk, though she isn't as bad as she use to be. She now just wants to enjoy her self and fight
Attire: (
----------------------------------------------------------------------
Luka's record
Wins: 1
Losses: 1
Draws: 0
Beat [url=http://afwrpg.informe.com/forum/friction-roster-f10/miko-t3392.html:3pplxsv0]Miko Amaterasu[/url:3pplxsv0] via pinfall
Defeated by [url=http://afwrpg.informe.com/forum/post120557.html#p120557:3pplxsv0]Keira Fisher[/url:3pplxsv0] via orgasm
Last edited by 6317 on Thu Sep 15, 2011 8:38 am; edited 5 times in total

guardconvoy




Posts

: 178


Join date

: 2011-07-28



What you've got meets the minimum requirements, but I think you could improve by expanding on the personality and past fields to give her a little more depth. Also leave a line break between the personality and Past fields.
_________________
The new and improved:
Kelsea's Karacters
Spotlight
characters:
Prepare your face for ThE BRaT PaCK
updated
" title="Smile" />

guardconvoy




Posts

: 178


Join date

: 2011-07-28



very good, you can go ahead and start playing
" title="Smile" />
_________________
The new and improved:
Kelsea's Karacters
Spotlight
characters:
Prepare your face for ThE BRaT PaCK
thank you
" title="Smile" />

guardconvoy




Posts

: 178


Join date

: 2011-07-28



---
Permissions in this forum:
You
cannot
reply to topics in this forum