Champions & #1 contenders
Poll regarding the possibility of Mods booking PPV matches.
Sat Oct 24, 2020 1:43 am by Old_Man_Tai
So, basically, was wondering all of your thoughts regarding the possiblity of mods booking ppv matches.
The thought was, since people often seem to have trouble finding partners for ppv matches until the last minute or so, what if the mod team was to step in and, well in advance of the show, book the show ourselves, and try to put together the best matches we can, including title defenses, no.1 contender matches, and so on and so forth?
While I doubt our more popular members need such a …
[
Full reading
]
Comments: 8
Need Debut matches/Simply looking for more
Tue Sep 08, 2020 11:19 pm by Void Effect
Comments: 11
General Avalanche Reminder
Fri Oct 23, 2020 9:21 pm by Old_Man_Tai
General Reminder: Friction PPV Avalanche goes live on December 1st: So if you need to do any promos or build up for your Avalanche matches, you should be focusing on that now. You are allowed to do such things over Discord and then post them after if it helps get them done faster so matches have proper build up.
Also, if you are looking to get on the ppv, and have a partner and match set up, (or can do so quickly), contact me to let me know what match you are doing on the show.
If you have …
[
Full reading
]
Comments: 0
Name: Inoue Ritsuko
Sex: Female
Age: 22
Eyes: Brown
Hair: Black
Height: 5'7
Weight: 125 lbs
Nationality: Japanese
Alignment: Heel
Entrance music: [url:op6kkr9s]http://www.youtube.com/watch?v=K3BgNPoU2uU[/url:op6kkr9s]
Wrestling Information
Strategy: Beating her opponent down and inflicting pain as quickly as possible. Once she has a clear-cut upperhand, her ego influences her to toy with her wounded opponents.
Style: Quick, painful strikes and holds are Inoue's specialty. She was trained to be aggressive, and her style reflects that with brash moves. In grapples she is still dangerous given her surprising, well-hidden, strength. She tends to prefer being upright and striking the most though, a left over habit from her martial arts and boxing training.
Type: All
Preferred Attacks: Strikes
Preferred Matches: Inoue always accepts challenges and often finds more satisfaction in beating someone at their own game. The more violent, yet simultaneously sensual, the more interested Inoue will be.
Endurance:★★
Strength:★★★★
Speed:★★★★★
Defense:★★★
Technique:★★★
Wrestling
Strikes: 90% - Inoue's strikes are likely the most devastating part of her repertoire
Submissions: 70% - Given her martial arts training, Inoue is no stranger to submission maneuvers. She tends towards unorthodox methods, but they're uniquely painful and force her opponents to adapt.
Powerhouse: 30% - Inoue is strong, but she isn't the kind that can afford to go charging in, given her lower endurance
Aerial: 50% - On occasion, Inoue will go to the skies and hit big aerial manuvers, but she's much to cautious to do one unless she's sure she will succeed.
Counters: 70% - Where Inoue's defense shines. She's quick to dance back and do a great deal of damage on counters when the opening is present.
Hentai
Endurance: 45% - Inoue isn't one for romance, and seldom focuses on it, making stimulation foreign to her. In the heat of combat she's often aroused and somewhat easy to get off.
Defense: 50% - She often leaves herself exposed in her near constant attempts to get to her opponent.
Arousement: 80% - Depending on how her opponent is faring against her, Inoue can end up very aroused if she's got her hands full.
Technique: 75% - Naturally, Inoue spends enough time reading her opponents that she can generally tell what will set them off.
Pacing: 80% - Inoue's physical stamina allows her to follow any pace, so long as she's staying evasive.
Favored moves: Juji (armbar), Heavy punches, High Kicks, Spine-buster
Finishing moves: Soaring Flag - A move which begins as a generic pile driver, but upon the opponents head hitting the mat, Inoue executes a quick, harsh, kick to her opponents ribs while they are still on their head.
Triangle Choke - A basic triangle choke, a hold which Inoue excels at.
Silence[Hentai] - Breast smother to the point of unconsciousness.
Characteristics
Physical Appearance:
Personality: Inoue isn't an easy girl to impress. She often times, has a silent, albeit cocky attitude. She refuses to acknowledge most people, except for her maniacal gauging of everyone around her. She is constantly calculating and isn't known for her trustworthiness. You'd be hard pressed to catch her at a time when she isn't sizing someone up. Many doubt she has an ounce of humanity, she doesn't smile until she is standing over the broken body of an opponent or when she's thoroughly aroused by a challenging opponent. She's generally the strong, silent type, with a horribly vindictive drive to destroy anyone that is dumb enough to challenge her.
She has a strict honor code, but is so incredibly ruthless that most don't even notice that she has basic morals.
Past/History: Inoue was born in rural Japan to a home with fairly traditionalist values. She grew up around her seven brothers, constantly trying to keep up with them. Her father had expected Inoue and her sister to fulfill the role of maid, a boring sedentary life which didn't appeal to Inoue. And so, as soon as she was old enough to walk, she followed the boys everywhere. Each of her brothers were educated, trained in sports and martial arts, they were the pride of her father, but she wouldn't accept it. As a young girl, she did her house work, doing the men's bidding, but she observed her brothers in secret. She continually watched how they fought and practiced in the fields at night. She trained vigorously for two years, being caught doing so by age 15. Her father disapproved and thought to punish her by forcing her to face her eldest brother. He had beat her, but she had held her own and proved to be better than the other six brothers. Once she became a prospect to her father, he encouraged her to fight, and she trained even harder. Eventually, she bested her eldest brother, and even her master in their dojo. As she was nearing mastery herself, she grew anxious and bored however... Then frustrated. The way her older sister was treated had irked her. Her sister was treated poorly still, as a slave due to her gender. Inoue had a falling out with her family over this, and was kicked out from her only home.
From there, Inoue found herself starving in the streets. Fighting still had it's appeal, and so the only thing she was qualified for, she did. Seedy, underground boxing. At the time, she had a limited understanding of the sport, and she spent a good year making a minimal income and getting beaten up for the most part. It was when she adapted to it, that she chose it as her favorite style. She became something of a legend, boxing there from age 19 to 21 with a perfect record. It was when her legacy as a boxer had been solidified, that she got bored. Anxious, and ready for a new challenge. One day, walking back to her slummy apartment, she found herself passing a bar, an AFW match on the screen. She watched from the outside, a sly smile spreading across her features. She found her new challenge. Once again, the fighting prodigy set off to train herself, watching every match that was shown with the utmost attention. By now, her ego was so well founded that she assumed she would have no trouble wrestling against the experienced girls. When try-outs rolled around she found out otherwise, but something had appealed to the talent agents, regardless of her mediocre performance. She found herself being drafted, the money had it's appeal, but she was the most excited to dominate in a new field of combat.
Wrestling Attire: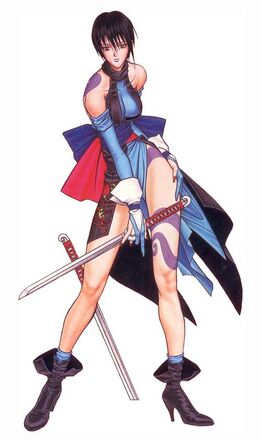 AFW Information
Record: 1-0
Wins: 1
Losses: 0
Draws: 0
Championships/Accomplishments:
Friends:
Allies:
Rivals:
Enemies:
Crushes:
Last edited by 8771 on Sat Jan 28, 2012 10:17 pm; edited 2 times in total

_________________
[Characters]
[url=http://afwrpg.informe.com/forum/friction-roster-f10/inoue-ritsuko-t5575.html:14cr887u]Inoue Ritsuko[/url:14cr887u]
[url=http://afwrpg.informe.com/forum/friction-roster-f10/the-dark-moon-tsukiyo-nara-t5992.html:14cr887u]Dark Moon • Tsukiyo Nara[/url:14cr887u]
[url=http://afwrpg.informe.com/forum/friction-roster-f10/zohara-antiv-t5705.html:14cr887u]Zohara Antiv[/url:14cr887u]
[url=http://afwrpg.informe.com/forum/boxing-federation-roster-f53/clare-o-doherty-t5687.html:14cr887u]Clare O'Dohtery[/url:14cr887u]

Darkmoon




Posts

: 214


Join date

: 2012-01-08



Approved! You may rp and set up matches as you like.

Tatyina




Posts

: 27237


Join date

: 2009-04-02


Age

: 100


Location

: VIP Box inside the AFWDome



---
Permissions in this forum:
You
cannot
reply to topics in this forum