Who is online?
In total there are
44
users online :: 12 Registered, 0 Hidden and 32 Guests :: 2 Bots
acuya
,
BritBrat
,
Diesel_Electric_Razor
,
Edmund
,
LARIATO
,
Mart-Kos
,
Old_Man_Tai
,
Ringropes98
,
Serpon
,
SimplyMoon
,
Teenwrestler
,
Void Effect
Most users ever online was
418
on Tue Jul 30, 2019 9:51 am
Champions & #1 contenders
Poll regarding the possibility of Mods booking PPV matches.
Sat Oct 24, 2020 1:43 am by Old_Man_Tai
So, basically, was wondering all of your thoughts regarding the possiblity of mods booking ppv matches.
The thought was, since people often seem to have trouble finding partners for ppv matches until the last minute or so, what if the mod team was to step in and, well in advance of the show, book the show ourselves, and try to put together the best matches we can, including title defenses, no.1 contender matches, and so on and so forth?
While I doubt our more popular members need such a …
[
Full reading
]
Comments: 8
Need Debut matches/Simply looking for more
Tue Sep 08, 2020 11:19 pm by Void Effect
Comments: 11
General Avalanche Reminder
Fri Oct 23, 2020 9:21 pm by Old_Man_Tai
General Reminder: Friction PPV Avalanche goes live on December 1st: So if you need to do any promos or build up for your Avalanche matches, you should be focusing on that now. You are allowed to do such things over Discord and then post them after if it helps get them done faster so matches have proper build up.
Also, if you are looking to get on the ppv, and have a partner and match set up, (or can do so quickly), contact me to let me know what match you are doing on the show.
If you have …
[
Full reading
]
Comments: 0
[align=center:1e0jvjqu]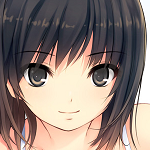 " Don't worry.. I WILL bite! "
[/align:1e0jvjqu]
[size=160:1e0jvjqu]
Personal Details
_________________________________________________________________________________________________________________________________________________________Full Name:
Aoyama Sumika
Alias:
The Ero Princes
Gender:
Female
Date of Birth:
4th January 1992
Color of Eyes:
Brown
Color of Hair:
Dark Brown with lighter brown highlights
Height:
5'6
Weight:
126 lbs
Origin:
Japan
Alignment:
Neutral
Entrance Music:
[url=http://www.youtube.com/watch?v=4ZogV-XvBcc:1e0jvjqu]2NE1 - Can't Nobody[/url:1e0jvjqu]
_________________________________________________________________________________________________________________________________________________________
[size=160:1e0jvjqu]
Combat Information
_________________________________________________________________________________________________________________________________________________________Combat Attitude:
Naughty, she likes to tease her opponent with words and actions
Offensive Strategy:
Strong submission holds with the ability to touch her opponent or turn them on.
Fighting Style:
Wresting/Sensual/Massaging
Attribute Type:
Technique
Usual Attacks:
Bearhugs, Abdominal Stretch, Dragon Sleeper, Tree of Woe
Usual Matches:
Any except Hardcore
Combat
- ★★★★★
Endurance
: ★★★★
Strength
: ★★★
Speed
: ★★★★
Defense
: ★★
Technique
: ★★★★
Wrestling
- ★★★★★
Strikes
: ★
Submissions
: ★★★★★
Powerhouse
: ★
Aerial
: ★★★
Counters
: ★★★
Hentai
- ★★★
Endurance:
★★★★★
Defense:
★★★★
Arousement:
★★★
Technique:
★★★★★
Pacing:
★★
Difficulty
: ★★★★
[size=120:1e0jvjqu]
Offense Types:
Wrestling:
Not the first style she used to defeat her opponents with but it did help strengthen her ability in fights. She likes to use a submission hold that leaves her opponent tangled and with Sumika having the ability to touch her opponent either sensually or sexually, whichever will entertain her. She likes holds where she put in a squeeze aswell, it will show her physical prowess over her opponent, though she never squeezes too hard.
Sensual:
This was the basic way of Sumika to take someone down, using her soft hands and body all over her opponent to start weakening them through soft touches that never truly become erotic, sure it will turn her opponent on but she will never actually touch their private parts. This it was makes Sumika dangerous because she isn't someone who directly goes for her opponent's private parts, instead she will soothe them, make them succumb to her touch.
Massaging:
Perhaps close to sensual, she uses this to ease her opponent's muscles and make them enjoy her massage. All she needs to do is to make sure her opponent won't fight back while she works them over. It allows her to feel her opponent up during the massage but also to loosen the muscles of her opponent and letting them rest against her. Sure it's a match but she does enjoy making her opponent succumb to her, even if it's just with massaging them.
_________________________________________________________________________________________________________________________________________________________
[size=160:1e0jvjqu]
Attack information
_________________________________________________________________________________________________________________________________________________________
[size=120:1e0jvjqu]
Favorite Attacks:
Bearhug
- Leaning into her opponent, she wraps her arms around her opponent's waist and hugs them tightly against her, then slowly lifting them off their feet to squeeze them mercilessly!
Baby Swing
- Collecting her opponents feet and holding them inbetween her arms and sides, she will grab her opponents wrists and lift them off the mat,pulling back and forth to force her opponent's body to rock with the motions of her strength.
Schoolgirl pin
- Always enjoying a good dominant position on her opponent, she will use one of her favorite moves on her opponent, she will straddle her opponent just above their chest and pin their arms underneath her knees, she'll squeeze her thighs against her opponent's cheeks and giving them a seductive smile.
[size=120:1e0jvjqu]
Hentai Finishers:
Tree of Sweets
- Guiding her opponent to the nearest turnbuckle, she will lift them up and turn them so she could hook their legs over the top ropes and keeping them upsidedown agains the turnbuckle in a tree of woe position. She will lower herself onto her knees, carefully slipping her own top off before removing her opponent's top, using them both to tie her opponent's arms against the bottom ropes. She then bends down to press her breasts upon her opponnet's face to smother them while her lips press repeatedly upon her opponent's chest, giving a few kisses and licks to get a good taste of her opponent, lifting up from the smother to she could start caressing the rest of her opponent's body with her warm lips and nimble tongue.
Throne
- After her oppoennt is on their back, she will grab their legs and hold them up. She them carefully steps forward and over her opponent, forcing her opponent's body to fold in half before she drops down onto her opponent's face, pinning her opponents arms and legs under her knees and uses her free hand to start stroking her opponent's body everywhere, only touching their private parts once she herself starts to feel wet from arousal but usually makes her opponent crazy with her sensual touch that they will eat her out for their own sexual release.
Lap Dance
- Forcing her opponent on their knees, she will use their own clothing to bind their ankles and wrists together. She will then undo her own clothing, using her top to blindfold her opponent and her panties to gag her opponent. She will then start her seductive lap dance, rubbing and pressing her crotch repeatedly against her opponent's own naked sex, thighs and stomach, often tracing her breasts up and down her opponents body ad her tongue to drag along their neck and face, planting soft kisses here and there, a seductive moan into their ear. With her opponent not being able to see what was coming next nor say anything, they are often left in a complete mystery what will happen next.
Succubus Mark
- Tackling her opponent onto their back, she will pin their wrists above their head and hold them there with one hand, using her free hand to lift up her opponent's top and expose their chest for Sumika to launch her finisher. She leans down to give a simply kiss on each breast, then using her free hand to push asside one breast to expose her cleavage for her lips to kiss, then biting gently upon it, increasing the pressure of the bite for a few seconds before starting to suckle upon it, occasionally using her tongue to stroke over it and make it wet so she can continue the rather rough sucking and biting process. She then moves back and releases her opponent's breast, the hickey inbetween her breasts obviously showing as it shapes up and shows it's purple color, giving her opponent a grin and leaning over to kiss her on the cheek before getting off her.
_________________________________________________________________________________________________________________________________________________________
[size=160:1e0jvjqu]
Biography:
[size=120:1e0jvjqu]
Appearance: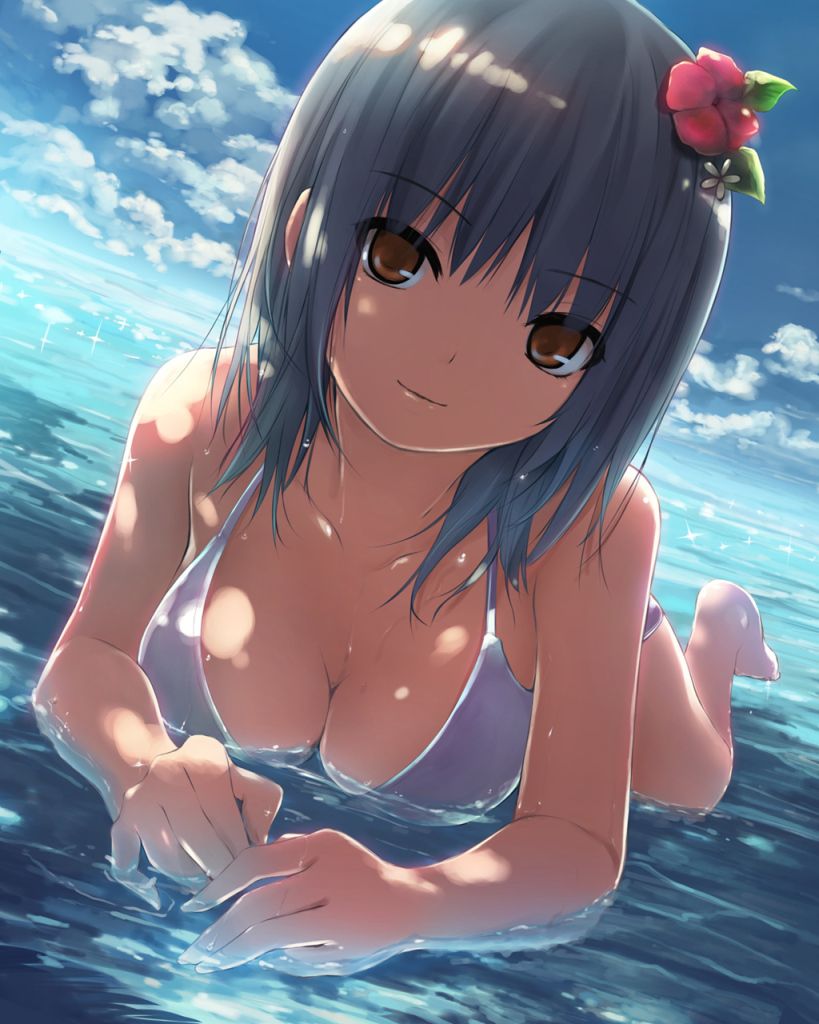 " Want to play with me? "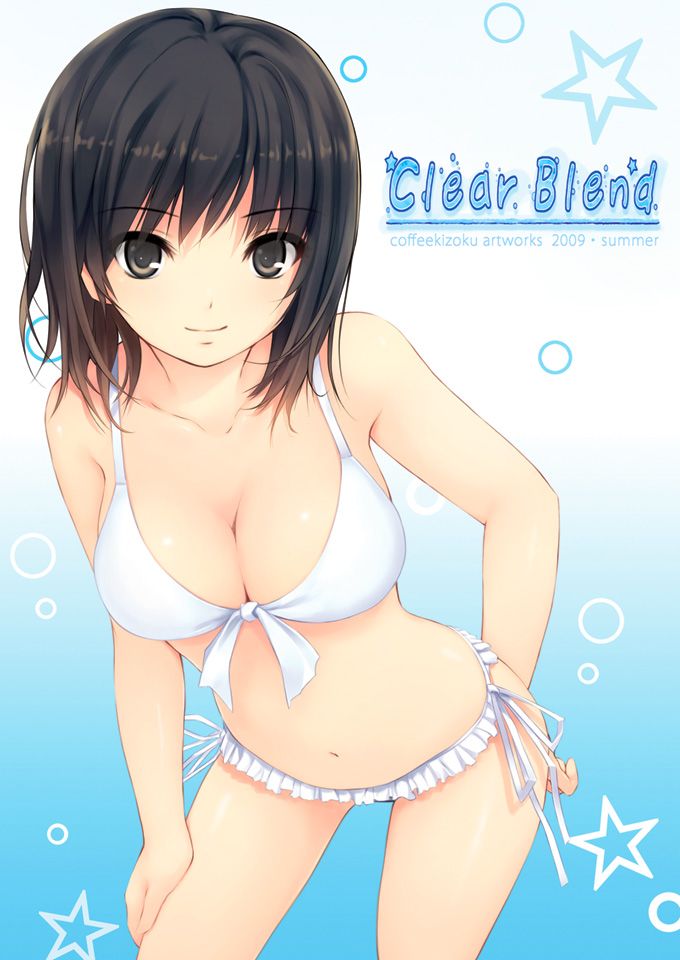 " Mmm, I can do a pose alright. "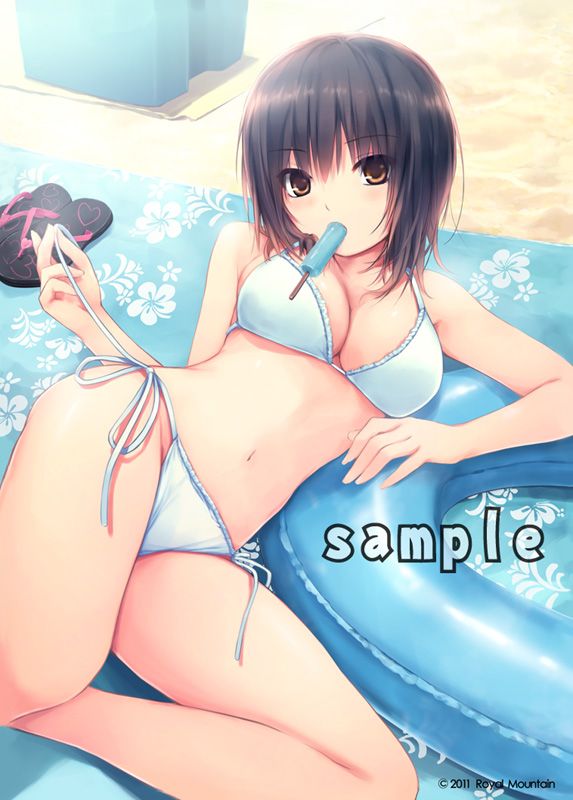 " Might aswell get comfortable.."
" I'm all wet now.. "
" Want a bite? You'll have to do what I say.. "
" Getting rather cold."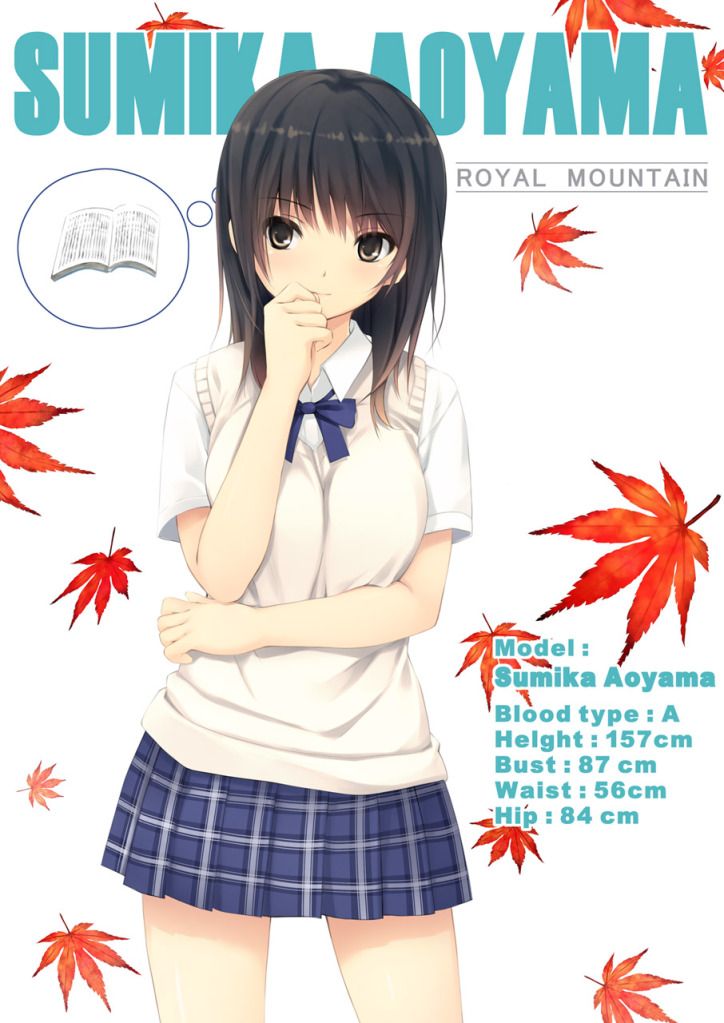 " I wonder what I'll read after this.. "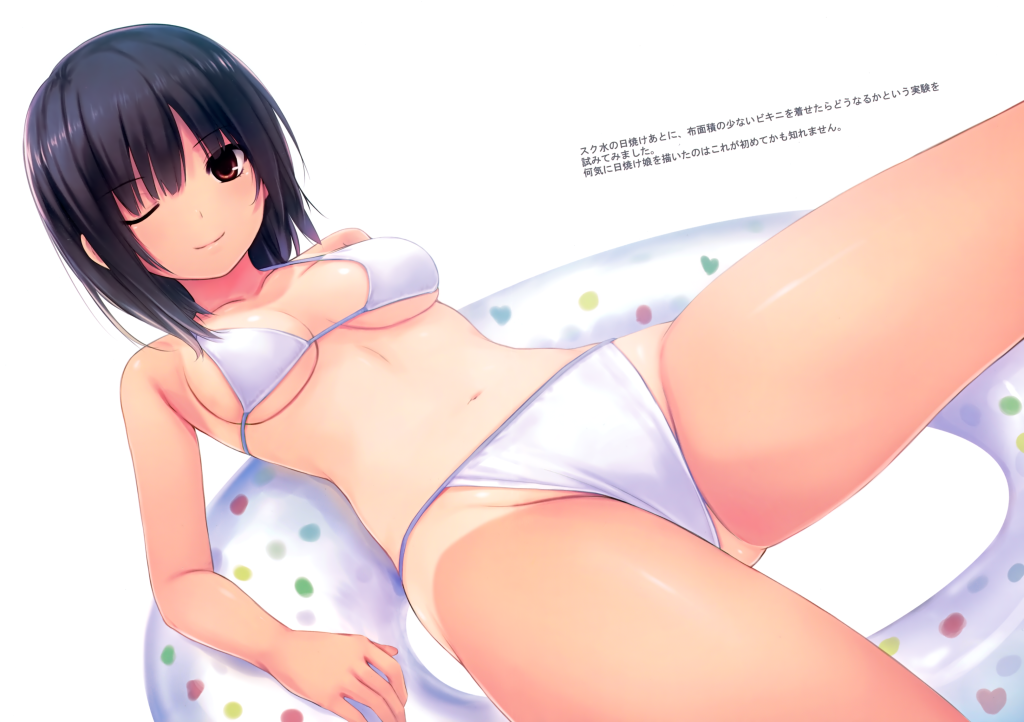 " Ah.. So good.. "
" Whatever shall I do.. "
[size=120:1e0jvjqu]
Personality:
Being naughty is basically her every day thing, even when she doesn't mean it, she attracts people to touch or talk to her just by standing close to them. She has that sort of aura around her that makes people very comfortable around her, even if she is teasing them. She is very kind, always up for a random conversation with a stranger and never one to refuse them unless she's being polite about it or unless they are going o be stalkers.
When it comes to hanging out, she will often tease the ones she's acompanied with, it can go from a playful blow in the ear, to stroke her finger up their thigh when they aren't paying attention. In short, Sumika is never a bore and always likes to spice things up with unpredictable moves, which is mostly just making others blush or freeze up, she just finds that adorable.
[size=120:1e0jvjqu]
History:
She has it all. The young look, busty chest, killer body and seductive personality. It's a deadly combination that got her through school and now in a model work. People did everything just to get her attention and unlike most people who were acting all bitchy and bratty, she was always kind and friendly towards everyone. She always helped out, especially when it came to helping small children find their way back or playing somewhere with no parental vision. There was something that build up inside of her when she was undressing with the other girls in the locker room. She gazed at the marvelous bodies around her and the urge to touch them all rose beyond temptation. She sneaked up towards the girl nearest to her and slipped her hands around her to grope her breasts! Off course the girl screamed at first but Sumika was so gentle and soft, that the girl started to shivver, blush and eventually moan softly. Others watched with curiousity, blushing alike as they couldn't keep her eyes of how Sumika was making this girl moan her name out. Sumika was suprised herself, she hadn't expected the girl to feel this good and she couldn't keep her hands off her, sadly she was forced to stop when the coach came yelling in, everyone quickly going back to their lockers.
After that day, she was often seen getting overly friendly attention from the girls, who led her to some rooms just so they could get the same treatment and taste the other girl in the locker room had gotten, but perhaps even more! Sumika wasn't really into the girls but the more she was doing this, letting her instincts and curiousity roam free with each girl, the more she started to fall inlove with them. She liked touching them, to hear every bit of sound they made and eventually, give in to her touch. Off course there were some dominant girls who wanted to take Sumika instead, which was very hard to do when they were alone but three girls managed to get her, ambushing her in the shower room and having their way with her body. Though they weren't rough, it was still a sign of victory for them. Sumika was't going to say that she enjoyed it, though she still thanked the girl for that little bout and telling them that it wasn't the end.
She had a tough time switching between school and modelling work, and she often fell asleep at school, being taken care off by her favorite girls that wrote down notes and allowed her to rest, she had really become a lover for most of them, caring for them and often making them smile and laugh, even if it wasn't through teasing and just talking to them. Sumika was never a bad person, she never went too far with them, she knew her limits and their limits, so treating them with love, desire, pleasure and proper respect, it was a tight bond she formed with all the girls.
After a while, her modeling career was over so she could spend a year doing nothing but school, a problem was that she had too much time in her hands. While she was walking along with a group of girls, buying them drinks while they bought her food and did her hair all girly like, she stopped at a large building that for some reason, attracted her. She decided to take a peak inside with the girls off course following and they came in right in time to see a hentai match. The girls quite looked away and blushed tremendously while Sumika was all smile, liking the way how that was done and seeing a proper challenge of a girl trying to dominate the other. She turned back to her friends and gave each a kiss before she went inside to sign up, telling them she will still have plenty of time to play with them while getting some money during this gig. She needed a nickname though, and the girls helped her find one. Since she was always so princessy while also being quite erotic with them in private places, they nicknamed her The Ero Princess, which Sumika accepted and wrote her application in, soon enough she was going to be dominating many girls and gaining more experience on how to deal with them!
_________________________________________________________________________________________________________________________________________________________
[size=160:1e0jvjqu]
Additional information:
[size=120:1e0jvjqu]
Facts of Sumika:
- She loves watching princess anime.
- She enjoys each day with her friends, taking them along to go shopping or hang out at the beach.
- Being quite the sweet talker, she often gets discounts or even free stuff.
- She lives in a large house by herself but often has her friends over for a ' sleepover ' .
[size=120:1e0jvjqu]
Likes:
- Girls
- Ben & Jerry's
- Exotic fruit
- The beach
- Books
- Hanging out with her friends
- Looking at the stars
[size=120:1e0jvjqu]
Dislikes:
- Cooking, she's bad at it
- Spending a day alone
- The rain, though it helps her sleep, it's sad to look at when alone
- Dogs, she's a cat person
- Stalkers, oh she has so many of them
- Zombies, though she does love shooter games, zombies scare her
- Idols, they think they're better then her!
[size=120:1e0jvjqu]
Most Used Quotes:
" Hehe.. You look delicious. "
" I can't wait to hear your sounds of pleasure! "
" Come here.. I'll treat you nice. "
" Mmm, wanna dance? "
[size=120:1e0jvjqu]
Record information:
Wins
: 0
Losses
: 0
Draws
: 0
[size=120:1e0jvjqu]
General Status:
Family:
Friends:
Allies:
Rivals:
Enemies:
Crushes:
Alliance:
Last edited by 131 on Fri Aug 24, 2012 3:16 pm; edited 3 times in total

Cirno




Posts

: 11691


Join date

: 2008-04-26


Age

: 32


Location

: Earth




Cirno




Posts

: 11691


Join date

: 2008-04-26


Age

: 32


Location

: Earth



---
Permissions in this forum:
You
cannot
reply to topics in this forum