Who is online?
In total there are
39
users online :: 10 Registered, 0 Hidden and 29 Guests :: 2 Bots
acuya
,
cattlefish
,
Daaharu
,
FairyGirl
,
Nelv
,
Panda
,
pu-level-up
,
Ringropes98
,
Snidey
,
The Riders
Most users ever online was
418
on Tue Jul 30, 2019 9:51 am
Champions & #1 contenders
Looking for debuts and matches.
Mon Jul 27, 2020 8:26 pm by Old_Man_Tai
Looking to be more active around here, which means starting more matches.
Yay more matches!
For those interested:
Cami
(will do hentai, but not for debut match)
Hiromi
(No hentai)
Blazing Kitsune
(no hentai)
All still need debut matches
I'm also accepting offers for matches against:
Kairi
(will do hentai)
Dark Star Chaos
(no hentai)
Grizzly
(no hentai)
Feel free to PM me or find me on the Discord if any of those sound interesting, or if you have another match you want to suggest. …
[
Full reading
]
Comments: 0
Apologies for delays
Fri Jul 24, 2020 11:19 pm by Old_Man_Tai
Hullo!
I just wanted to take a minute and apologies to the many people I am RPing with and my slowness this last month or two. It's been a busy time and I've had trouble with motivation and inspiration to post.
I am going to do better, I promise, and I will have posts up for everybody soon and I will try not to falter again...at least for a while XD.
Thank you for your patience and understanding.
Comments: 4
Specific Debut Match Idea
Fri Jul 24, 2020 10:45 pm by SuckerPunch
Hello friends and fellow AFW'ers! I'm looking for a very specific type of squash for the debut match of
Harmony Harper
, my newest character. If you're interested, please send me a PM on the forums! I'm looking forward to playing with you all!
Comments: 0
Name :
Minako Hasami
Alias :
The Haywire ,
"I earn it because every match that i've done gone haywire at the end"Gender :
"Female of course!!"Age :
"I'm 19 right now but will be turning 20 in 2 months"Eyes Color :
Black but in certain brightness it'll become brown and even hazel said people who had faced her inside the ring
Hair :
Pink ,
"It was actually black a long time ago but i dyed it already"Height :
5'1" ,
"I'm pretty short but that's what an in-fighter needed to be!"Weight :
"Tell you what...since you have dared to ask it ,i guess i'll tell you my weight...it's about 118 lbs , 53,525 kg in other measurement so that makes me a bantamweight fighter"Origins :
"It's like opening an old wound if i tell you that. I'm from Osaka ,that's all i could say"Alingment :
Neutral ,
"I don't give a damn about being a good or bad ass fighter"Entrance Music :
"Well i usually fight in local bar ,warehouse or any other illegal place for fighting and they never provide a speaker to play any song so i guess i would say i don't have one"[size=150:29kwdii1]Boxing InformationUsual attacks :
jabs ,leads ,straights ,hooks and uppercuts.
"I'm an in-fighter so i had to master all of punching combos and stuff as well as bobbing and weaving defense"Favorite attacks :
"I prefer haymaker cause that's mostly how i finished my opponent. I like the feeling of their cheekbones shaking and probably cracking after the impact of my haymaker"Strategy :
"As most in fighter do ,i usually tend to wear down my opponents by attempting to stay close to them, throwing intense flurries and combinations of hooks and uppercuts at them. I also happen to have a strong "chin" because in-fighter always being hit with many jabs when they're trying to get closer to their opponents. All i can say is once i get into that range ,i'll be attacking my opponent with relentless combos until i wear them down and then score a huge shot which eventually will lead to a spectacular knockdown or knockout"Style :
Swarmer/In-fighter
Stance :
The classic boxing stance
Strenght :
"I would say it's fair (3 stars) ,not so powerful and not so weak but it's all different when it comes to a finisher punch. I'll put all of my strenght behind of that punch and scores a spectacular knockdown or knockout!"Speed :
"It's the thing that i'm good at so i'll say that i'm the best (5 stars) when it comes to speed and footwork"Countering :
"Usually i'm the one who gets countered by my opponent but that doesn't mean that i couldn't counter someone. I'll say it's more than average (4 stars) when it comes to countering"Technique :
"Well it's the best of all (5 stars and even more) ,i've mastered almost all of the boxing technique including the famous finisher ,"The Dempsey Roll" "Defense :
"I don't usually put up guards to defend myself ,only relying on the bobbing and weaving defensive so i'll say it's fair (3 stars)" Stamina :
"i'm the best when it comes to stamina (5 stars) cause that's what an in-fighter needs" Preferred matches :
Boxing ,cage NHB matches and bare-knuckle match only ,will refuse to tussle against someone in a wrestling match.
Finisher :
- Everything's going Haywire : Minako will relentlessly pound her opponent once she got her trapped on the corner. She'll keep pounding her opponent until her opponent couldn't feel herself and that's when she'll swinging crosses to her opponent's chest before she scores a huge knockout with a right uppercut ,a powerful one of course.
[size=150:29kwdii1]Personal info :
here she is ,wearing nothing on the top and going to fight in her first amateur bout: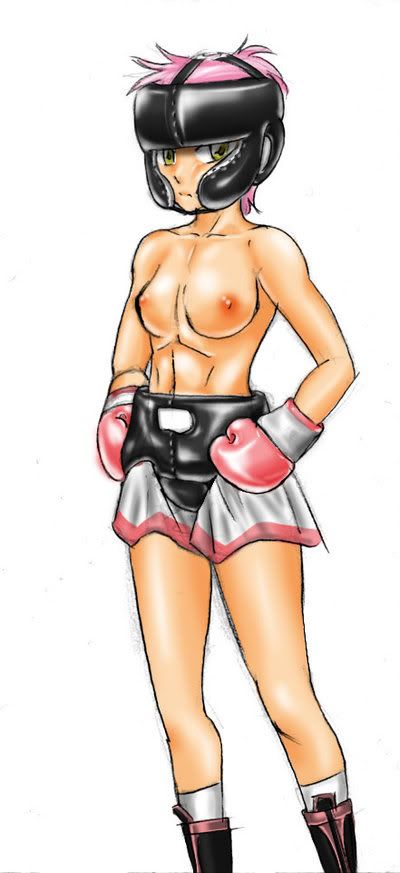 Personality :
Brutal ,cold hearted ,violent ,mean ,psycho...anything bad ,you name it. She used to be a cheerful ,care and loving person but something changed her life completely. She is now just sort of afraid to be kind to anyone ,afraid what happened last time will be happen all over again. She is afraid that her heart couldn't bear that pain even for once more so violence and other bad attitudes will help her to forget for ever being kind to someone again. One more thing ,she's a psycho not all the time ,there'll be a time when she is lust for blood and sexually aroused if seeing any blood spilled from her opponent's face so it's best for you to stay away from her for a while until she is turning normal again.
History :
Let's say she had a wonderful childhood living with her foster parents after being dumped by her own parents in a trash can when she is still 2 months old. Her foster parents really love her and Minako loves them as well and since she was 6 years old ,she had already been taught to box by her foster father who used to be an amateur and professional boxer as well. By the age of 14 ,she starts involving herself in some official boxing bouts but doesn't seem to get enough money from it. She doesn't care about it thought but her parents do care and they...with their own selfish reason begin to force Minako to fight inside the cage in a seedy underground fighting club. She doesn't get to wear anything inside the cage except for the cloth wrapped on her fists and ankles ,killing every single person who dares to face her inside that octagon.
She often comes home heavily bloodied and injured after the cage match but quite making a name in that seedy underground fighting club until one day she decides to end it all. She just came home as usual after the match and taking her clothes off in the living room before she tosses it into the washing machine. Her foster father who is a drunkard and have a severe drinking problem suddenly grabs her from behind ,licking her neck lustfully while groping her small breasts roughly before he shoves Minako onto the couch and begins to taking off his pants.
Minako could only watch in horror as her foster dad who is heavily drunked ,going to rape her. She struggles when her body was pinned by her foster father's but then before she could do anything to stop her foster father lunacy ,she feels something rough penetrates her sex. Her eyes are widening at instance as well as her mouth ,screaming in pain when she knows that she had already lost her virginity. The raping goes for hours until her foster father satisfy and leaving her all alone in the living room...beat up ,crying with her foster father's cement all over her sex as well as her virginity's blood. Her foster mother knew about this and even watched it by herself ,somehow enjoying it as Minako notices her playing with herself during the rape.
Minako lost her mind and eventually ended up killing her foster parents with a knife while they're asleep. There's no need to tell about the process back there cause it's brutal. Anyway ,she escaped after taking an amount of money from her dead foster parents and begins to live on the street ,only relying her fighting skill and that little amount of money to survive. She often participate in bare knuckle matches and cage fighting sometime ,always end in a way she brutally beats the life out of her opponents but not killing them unless there's girl who she fought with ,she was too weak to survive from the beating and eventually died.
The streets know anything about her and afraid of her ,having a respect for her as well and now ,the AFW just approved her to join the league but she needs to behave herself inside the complex and in the ring but that doesn't stop her from being brutal outside the AFW's complex so girls ,better think twice to fight Minako.
Additional Info :Facts of Minako :
-
"I naked all the time at my apartment but don't try to break into my apartment cause i'll literally slit your throat"
-
"I have a fondness to lick my opponent's blood once i give her a beating"Likes :
- Blood (when she is becoming a psycho)
- Powerful opponents ,
"That's completely humiliating them if i show the world how i easily kick their pathetic asses!"
- Weak opponents ,
"I need a "victim" to beat sometimes"
- Underground fighting club ,
"It could be a bar ,unused warehouse or someone's basement cause i like the dim lights and the smell of sweat and blood of my opponent's"Dislikes :
- Death ,
"I hate it but it just won't stop visiting anyone that close to me ,anyone that breaks my heart"
Last edited by 6123 on Thu Jun 07, 2012 4:50 am; edited 6 times in total

Vivian




Posts

: 819


Join date

: 2011-07-18



---
Permissions in this forum:
You
cannot
reply to topics in this forum