Who is online?
In total there are
26
users online :: 9 Registered, 0 Hidden and 17 Guests :: 2 Bots
Iceman
,
killcarrion
,
LunarWolf
,
M.J.Caboose14
,
Mart-Kos
,
Nelv
,
Panda
,
pu-level-up
,
Ringropes98
Most users ever online was
418
on Tue Jul 30, 2019 9:51 am
Champions & #1 contenders
Looking for debuts and matches.
Mon Jul 27, 2020 8:26 pm by Old_Man_Tai
Looking to be more active around here, which means starting more matches.
Yay more matches!
For those interested:
Cami
(will do hentai, but not for debut match)
Hiromi
(No hentai)
Blazing Kitsune
(no hentai)
All still need debut matches
I'm also accepting offers for matches against:
Kairi
(will do hentai)
Dark Star Chaos
(no hentai)
Grizzly
(no hentai)
Feel free to PM me or find me on the Discord if any of those sound interesting, or if you have another match you want to suggest. …
[
Full reading
]
Comments: 0
Apologies for delays
Fri Jul 24, 2020 11:19 pm by Old_Man_Tai
Hullo!
I just wanted to take a minute and apologies to the many people I am RPing with and my slowness this last month or two. It's been a busy time and I've had trouble with motivation and inspiration to post.
I am going to do better, I promise, and I will have posts up for everybody soon and I will try not to falter again...at least for a while XD.
Thank you for your patience and understanding.
Comments: 4
Specific Debut Match Idea
Fri Jul 24, 2020 10:45 pm by SuckerPunch
Hello friends and fellow AFW'ers! I'm looking for a very specific type of squash for the debut match of
Harmony Harper
, my newest character. If you're interested, please send me a PM on the forums! I'm looking forward to playing with you all!
Comments: 0
Name :
Yui Shinu
Alias :
The Knock-Out Kid
Age :
22
Date of Birth :
14th October 1990
Eyes :
Jet Black
Hair :
Brown ,short and cropped
Height :
5'6"
Weight :
128 lbs
Blood Type :
O
Measurements :
33C-26-35 (her breasts used to be 32B when she is still studying in Junior High school)
Sex Orientation :
Straight (but secretly have a sex relationship with her female high school friend a while ago)
Nationality :
Japan
Origins :
Katsuyama ,Fukui prefecture ,Japan
Current Residence :
Machida ,Tokyo Prefecture ,Japan
Alignment :
Neutral (unless when her opponent starts fighting with dirty tricks)
Entrance Music :
I won't give up by Jason Mraz (the chorus part only)
[size=150:phpmc16o]Boxing Info :Strategy :
私は相手を圧倒ã
る私ã
フットワーク、敏捷性と良好なあごを使用して、ãƒ
ウンドでゆっくりとãƒ
ウンドを自分ã
身体をうまくそれらを仕事と私はフィニッシャーを引き抜いている前に、彼らはå
Œå…¨ã«ç–²ã'Œãã£ã¾ã§ã€ãã'Œã'‰ã''着用"
(I use my footwork ,agility and good chin to overwhelm my opponents ,work their body out slowly rounds by rounds ,work them out and wear them out until they're completely exhausted before i'm pulling out my finisher)
Style :
In-fighter ,
"ボクシング​​スタイルã
多くを採用ã
ることが私ã
姉とは違って、私だけで、戦って採択されè
¦åˆã«å‹ã¤ãŸã'ã«ç§ãŒæœ€ã''効果的なスタイルと思うボクシング​​ã
スタイルを"
(Unlike my sister who could adopt a lot of boxing styles ,i only adopted in-fighting boxing styles which i think the most effective style to win a match)
Type :
Orthodox
Defensive :
Peek-a-boo but occasionally changed during the match ,depending on the stances ,fighting style and the type of boxing that her opponent adopts.
Usual Attacks :
jabs and leads ,uppercut sometimes when she's close enough after maneuvering inside where in-fighters considered to be at their peaks when they're close to their opponents.
Favorite Attacks :
powerful hooks ,straights ,leads ,uppercuts and anything could help Yui earns her victory
Difficulty Level :
Moderate
Preferred Matches :
Boxing ,
"それは、私ã
人生だ"
(It's my life)
Strenght :
"私はちょうã
薄いç
ºæ°—にそれを無駄にã
ると以外にも、私は騒々しくけんかã
ような強さを持っていないいくつかã
強力なパンチを引くにはあまり私ã
エネルã'
ーを使用していない、それがフィニッシュになるとé
ã'Šã¾ã›ã'""
(i don't use my energy so much in pulling some strong punches just to waste it into the thin air and besides ,i don't have a strenght like a brawler does unless when it comes to a finishing punch) (3 Stars)
Defense :
"良いあごと顕著フットワークは、私が持っているもã
でã
"
(A good chin and the remarkable footwork is what i've got) (4 Stars)
Endurance :
"私はタフだ、私はあまりにも疲れれることなく13ãƒ
ウンドか15行くことができる"
(I'm tough ,i could go 13 rounds or 15 without getting too exhausted) (5 Stars)
Speed :
"私は、戦いã
ボクシング​​スタイルを採用して戦闘æ
Ÿã¨ã—て私ã
フットワークと俊敏性と一緒にマスターしたもã
でã
"
(is what i've mastered along with my footwork and agility as a fighter who adopts in-fighting boxing style)
Technique :
(4 Stars)
Counter :
"å
Œç'§ãªã'¿ã'¤ãƒŸãƒ³ã'°ã¨ç§ã
対戦相手が提供しているã'
ャップが、私は攻撃に対抗ã
るためã
チャンスとして使用ã
ることができ、さらにキャンバスに彼/彼女をノックダウン..."
(with a perfect timing and gap that my opponent provides ,i could use it as a chance to counter attack and even knock him/her down to the canvas)
Finisher :
"Kiss of the Western Wind"
- A finisher developed by Yui herself after years and years of training and experience from a lot of amateur bouts. Yui will try to trap her opponent into a corner ,using her jabs ,leads ,straights to confuse her opponent before she somewhat looks like going to clinch with her opponent but apparently not and pushes her opponent to the corner pad with all of her might before working his/her body with the gloves ,breaking the defense bit by bit and stunning the opponent with a well powered straight to the solar plexus. After the punch landed ,Yui will be spinning her left arm over and over while focusing all of her power to the left arm and then BOOM!!!". A powerful left cross to the opponent's right side of the face which will spin her opponent's body for a round and eventually lights out. It's considered ridiculous by the officials and fighters themselves but it works perfectly in several occassions.
[size=150:phpmc16o]Personal Info
Personality :
Determined and stubborn. She always plan everything and always trying to prove herself better than her elder sister. She always set a goal for what to achieve in her life ,success ,fortune ,glory ,the world Champion title itself. She is considered as a selfish person by the people who doesn't know her well but it's actually nothing like that. She often acts tough but actually she is so fragile in the inside ,she needs love ,care and passion which she consider that she never gets from both of parents.
History :
(15-0 records in both Junior and Senior High School's boxing club)
Yui ,landing a solid cross to her rival ,Madoka's face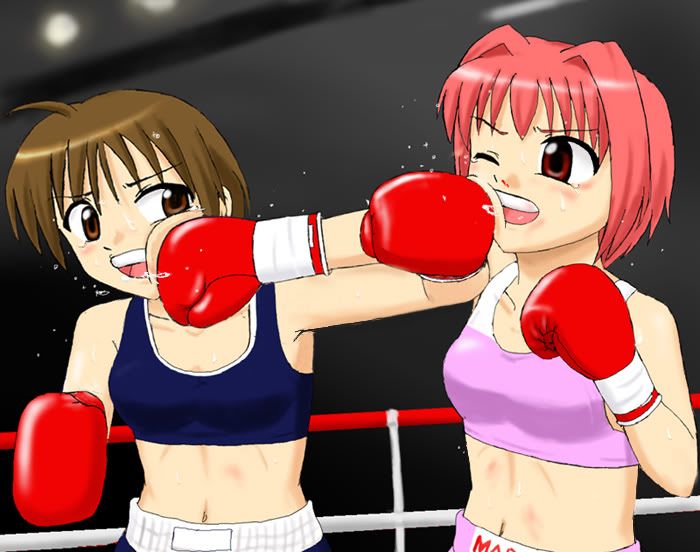 Yui and Madoka clinching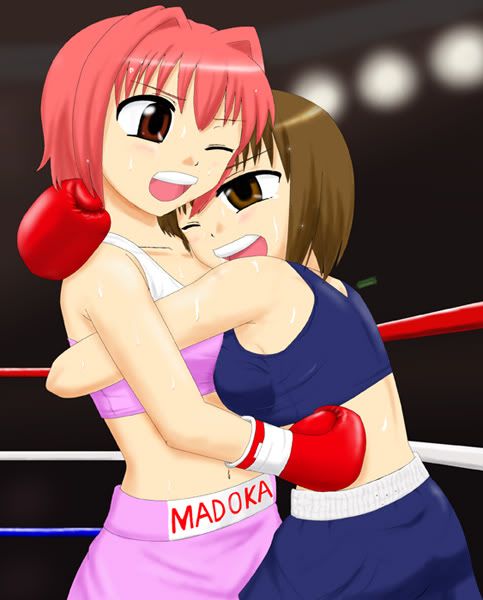 Yui ,resting herself during the break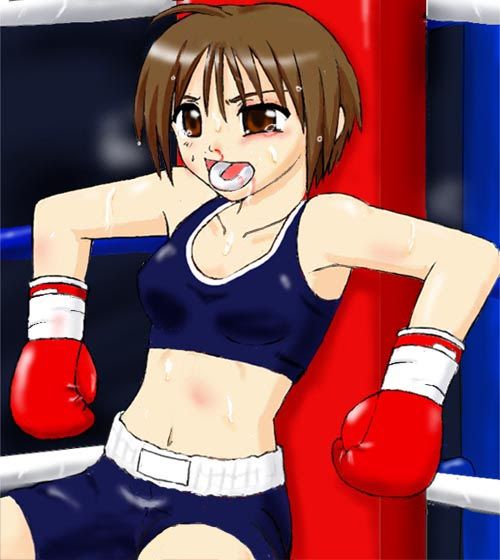 Born in an average Japanese family without any boxing history or whatsoever. Her father is a factory worker and her mom is a school teacher ,teaching in both primary and junior high school. She is the younger sister of Setsuna Shinu herself and they both had a wonderful childhood together until Setsuna learnt how to box ,joined the boxing club of the high school and becoming a well known top-knotch boxer in the high school. Yui and Setsuna's parents compare them in every single aspect. Yui sort of had enough of it and she hates both her parents and her sister for it ,joining the junior high school boxing herself and trains as hard as hell and proving herself with 10 straight wins records.
(15-20 College and senior amateur bouts)
Yui shot a powerful blow to Madoka's liver as they meet again in a College's boxing match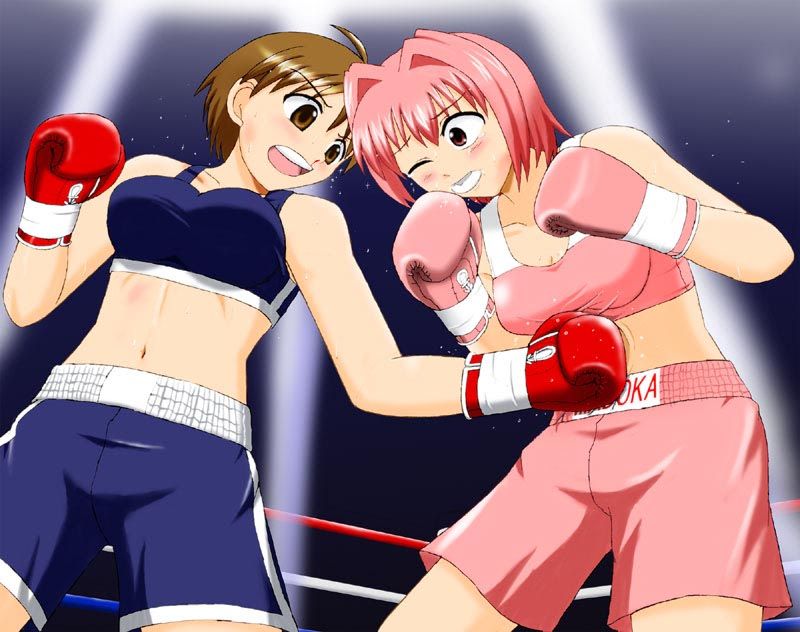 Madoka was being downed by Yui with her Kiss of the western wind ,"What...what just happened??"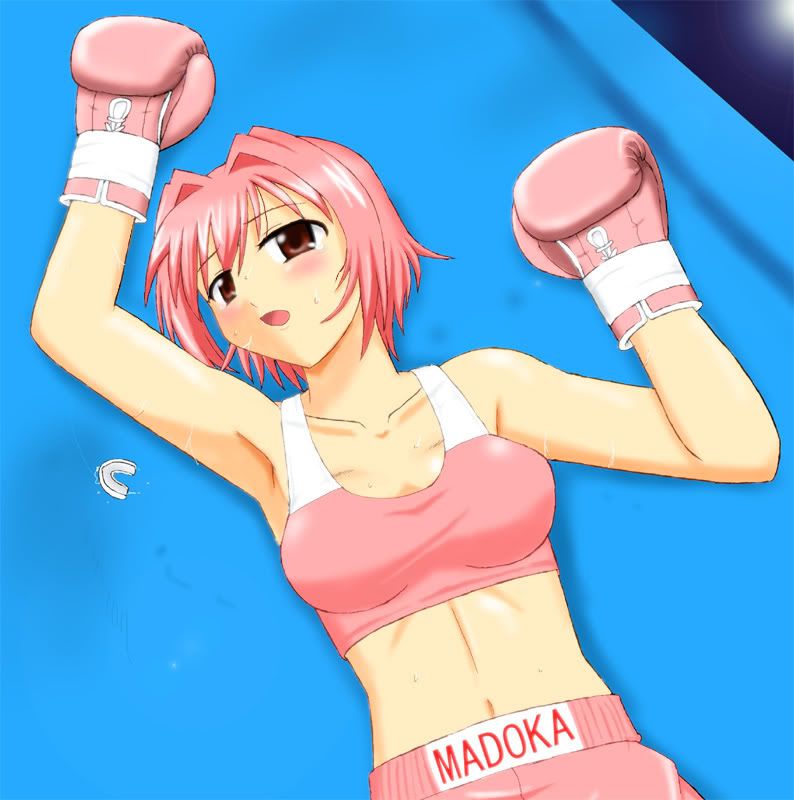 Yui ,smiled victoriously after winning the match by a splendid knockout which caused Madoka had a hard time to get herself up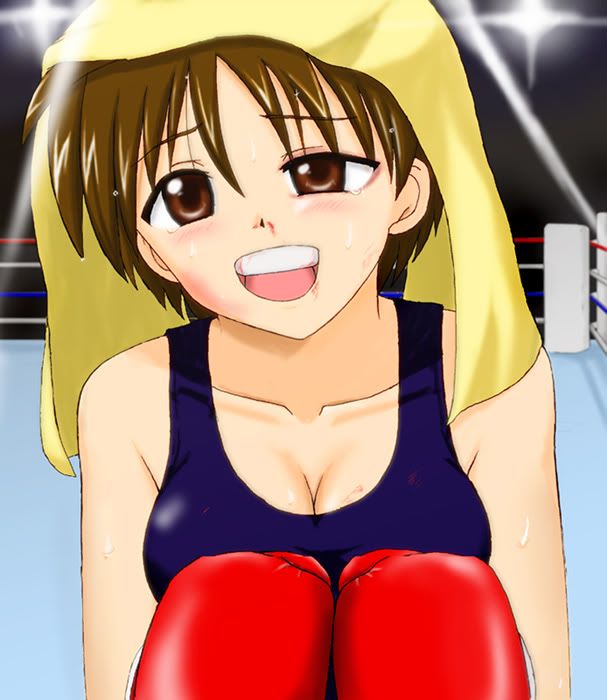 Yui ,after winning her first college bout with split decisions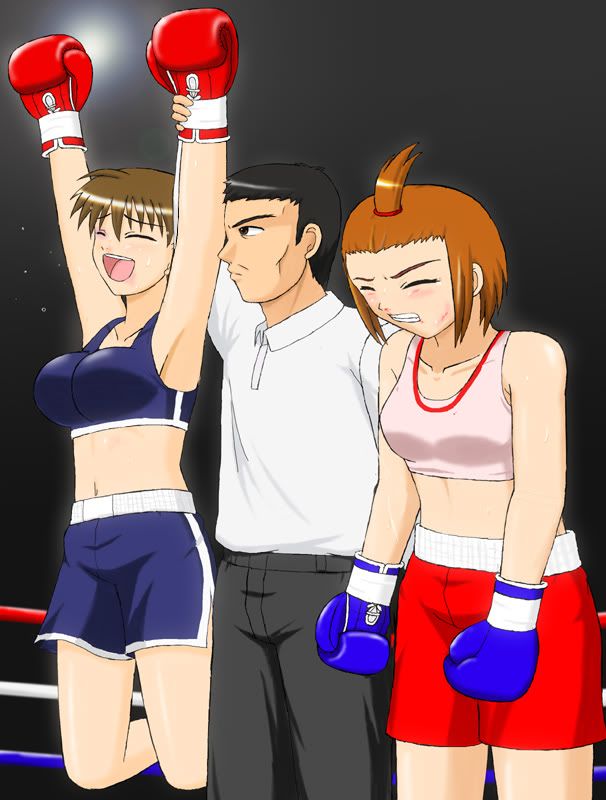 College years are rather hard on her unlike the Junior and Senior High School. She lost in matches more than she wins while her sister's career is getting better and better all the time and becoming a pro at a very young age while Yui stuck at amateur boxing. She decides to make a change on her boxing career and try switching from her old boxing gym into a better one that she could find in Tokyo. Teiken boxing gym is the place where she practices boxing next ,her skills are developing drastically and better than she expected.
Yui ,like her sister...dropped out from the high-school and becoming a full-time professional boxer ,participating in national competitions and events under Teiken Boxing gym's management with an undefeated streak of 8 winning ,zero losses and 6 KO records until the fatality accident that happened in Korakuen Hall 3 years ago. Teiken Boxing Gym in Tokyo refrained from activities such as the advertisement and the recruitment of trainees, and closed their homepage ,totally shielding themselves from the world after the death of a fighter and all six promising young boxers of Teiken Boxing Gym who had been slated to compete in the East Japan Rookie King Tournament in 2010, declined to participate in it. Yui was one of the fighters along with other 5 males fighters.
Teiken Boxing Gym in Tokyo was rumored by the locals might be closed for once and for all after that incident. Hearing the rumor spreads like a virus from mouth to mouth ,Yui decides to put an end to her partnership with Teiken Boxing Gym and decides to find a new place ,a new league where she fight and earn money from it.
Several days after wandering the city ,Yui accidentally notices AFW's flyers and taking a close look at it. She was almost abandoning those flyers until she notices boxing league is also provided by the AFW and one thing that attracts her eyes is that AFW provides apartments with cheap rent for any martial artist. Yui doesn't consider boxing as a martial art but she sent her applications anyway to the AFW officials and lucky for her ,the officials and owner are OK with it. Soon ,she moved out to Tokyo where the AFW headquarter is and continuing her career ,fighting in the AFW without the knowledge that her sister is here as well.
[size=150:phpmc16o]
Additional Info
Facts of Yui :
- Her first and native language is Japanese ,she use it all the time and totally sucks at English. It doesn't like she couldn't speak English but she constantly making grammatical errors in daily conversations so she prefers to speak Japanese to her fellow Japanese buddies instead of English.
- Yui was once arrested for the illegal use of heroin during the fight against a fighter from Shizuoka. She had to pay the fines and the scandal was pretty much destroying her reputation as a boxer. She was also banned from matches for almost a year before she held a press conference and apologized to the fighter ,the officials and the public itself.
- Even as a pretty much wealthy boxer ,she tends to keep her money in the bank instead of spending it in buying stuff that is probably doesn't have any use on her. Not that Yui is a cheap ass person or something but she had plans for her future and all of the plans need a large sums of money ,so right now i guess she's just collecting it before spending all of them to makes all of her plans become reality.
Likes :Cardiovascular training
- She does it everyday with the duration between an hour to two (if she doesn't being scheduled to fight) and the duration between two to three hours (when she is scheduled to fight).
Morning jogs
- She wakes up 6 a.m every single day for this. Jogging around the neighborhood while it's still quiet and her record so far is 7 miles (she will try the counts to the miles soon). It helps her to pace her heart to the max so she won't be feeling exhausted easily when she fights.
Housekeeping time
- She has the housekeeping time to keep her place nice and clean. The time is between 9 and 10 a.m after she had her morning jogs.
Soaking herself in bathtub
- Nothing beats the warm water in the bathtub after a long tiring day.
Lemonade
- She loves anything sour with a lot of Vitamin Cs
Vegetable
- As far as anyone close to her knows ,she is a vegetarian but don't mind to have steak as her dinner or lunch.
Strong and skillful opponents
- She loves challenging herself and the way to do it is to find strong and skill opponents to fight with.
Dislikes :Do less Talk more
- Yui hates people who speaks louder than his/her actions.
Nagging
- Yui is well known as a people who loves her life a lot. She never complains anything about her life even she keeps living inside her sister's shadow and always compared to Setsuna in every way.
Being compared to her sister or to anyone
- Hates when it happen to her but she'll be try holding her anger in the inside in case that happens.
Unrespectful opponents
- Yui doesn't like a fighter who doesn't have a respect on his/her opponents. She'll try to hurt her and dishes out unforgettable pain so that fighter might learn her lesson about respecting fellow fighters. Yui herself have her respect on Setsuna even she is hate being around her.
Junk Food
-
"私は、私はこれらã
食品を食べ弱い人に対しても最後ã
4ãƒ
ウンドを維持ã
ã'‹ã"とができなã"å ´åˆ"
(I can't even last 4 rounds against someone weak if i keep eating these foods).
Cigarette
-
"あなたは100万人以上が、こã
ため毎年死亡して知っていまã
か?"
(Do you know more than one million people die each year because of this??).
Hobos
- No comment for this one ,Yui just dislike them.
[size=150:phpmc16o]
General Status
Crushes :
Madoka (★★★★★ ,5 Stars) ,it all begins inside the Junior high boxing club's ring where they first met. Both of them often encounter each other in the ring afterwards and loves to fight hard. For some reason ,Yui develops some feelings to Madoka's soft and strong personality at once but never get a chance to say it.
Friends :
Madoka (★★★★★ ,5 Stars) ,best friend ever both in and outside the ring. They love competitions and they'll remain best friends no matter how hard they'll punch each other on the face during a battle. They had promised each other to not take it personally. It's just a physical sport after all.
Miduki (★★★★ ,4 Stars) ,A high school friend of Yui. They've sparred several times for now and Miduki often becoming her seconds and helping her in her matches.
Rivals :
Setsuna (★★★★★ ,5 Stars) ,
"é
切な鼓動は、私はリングã
内側に彼女を満たしていれば、私は彼女を与えるもã
である"
(A proper beating is what i will give her if i meet her inside the ring).
Madoka (★★★ ,3 Stars ,
"我々は真ã
ãƒ
イバルだけã
かわいい女ã
子が私ã''æ‰"ã¡è² ã‹ã
にはチャンスがなかったことはæ
‹å¿µ"
(We're true rivals but too bad that cute girl never stand a chance in defeating me
Enemies :
none
Achievements :
Cover girl of Japanese local magazines ,interviewed by the Sports illustrated once about her boxing life.
Wins in The AFW :
none
Loses in The AFW :
none
Draws in The AFW :
none
(Note : All images are belongs to uraputo san/chan ^_^)
Last edited by 6123 on Tue Jun 24, 2014 5:56 am; edited 6 times in total

Vivian




Posts

: 819


Join date

: 2011-07-18



---
Permissions in this forum:
You
cannot
reply to topics in this forum