Champions & #1 contenders
Poll regarding Kayfabe rules of hentai in non-hentai matches.
Sat Oct 17, 2020 9:03 pm by Old_Man_Tai
So, one of the various different things we are looking to bring to the board soon, is an official list of "In-World Rules", to help with world building and such and just make clear what the in-story rules of the Friction and Tension leagues are.
One thing I've noticed that people seem to handle differently, is the idea of using hentai, as in fucking, groping, stimulation, anything actually involving touching privates and beyond just flirting/kissing/rubbing in non-hentai matches. Some seem to …
[
Full reading
]
Comments: 31
Need Debut matches/Simply looking for more
Tue Sep 08, 2020 11:19 pm by Void Effect
Comments: 7
Looking for a match.
Thu Oct 08, 2020 10:11 pm by Old_Man_Tai
Simply put, looking to get Silver Ace two or three short, quick matches to set up her story for her Avalanche match.
Also if somebody knows how to use photoshop, have a favor to ask.
Contact me on Discord or PM if you are interested.
Would be willing to offer proper matches with other characters in trade if that's acceptable.
Comments: 0
Name: Jenna Leslie Mason
Nickname: Jen
Age: 18
Eyes: Blue
Hair: Red
Height: 5'4
Weight: 167 lbs
Nationality: Canadian
Entrance music
Black Flies-
https://www.youtube.com/watch?v=AyRshnwExPU
Wrestler Type
Backbreaker - Direct
Favored moves
Lumberjack Strike- A fierce karate chop
Canadian Backbreaker- Jenna first lifts an opponent up so the opponent's back is resting on her shoulder, with the opponent's head pointing in the direction that she is facing. While being held face up across her shoulder, she then links her arms around the opponent's torso and presses down, squeezing the opponent's spine against the her shoulder.
Permafrost Drop- Jenna lifts her opponent high up above her head and leaps into the air before bending backward and slamming the opponent's neck into the mat.
Finishing Move
Atomic Bombs Away- Flies off the rope sending a hard two-foot kick to the opponent's midsection.
Match Preferences
To her, it does not matter. Jenna will accept any terms whatsoever no matter how ridiculous they sound. Having trained in mountains her whole life, Jenna has a slightly higher advantage on uneven ground.
Physical Appearance
Personality
She believes heavily in honor, so she often tries to be as nice as possible. She takes failure very well and if she wins, she tries her best not to boast about it. When meeting someone new, she'll always try to be as friendly as possible, never judging someone off of how he/she looks.
When wrestling, she'll do the best she can, never trying too hard to impress people. She wrestles for the fun of the sport, not for popularity, trophies, belts or metals.
Background
Jenna was brought up to be socially active all her life. She always made friends with people never believing in violence as a way of solving problems. However, both her parents were badly injured by a group of thugs when she was 10, and this almost caused her to lose her friendly nature. However, her parents told her not to let this one action reflect off of everyone else in the world.
One thing Jenna did desire was revenge on the thugs who had almost killed her parents, so she discovered wrestling and trained under the Canadian champion. After that, she ran into the thugs completely by accident and challenged them immediately. Not taking her seriously, they tried to rush the fight as much as they could. They hadn't expected to be lying on the ground moments later.
Afterwards, the thugs were put in prison for other crimes commited over the past and Jenna was heavily praised for being the only one who could stop them. She felt a thrill from it all, like she had to take this all to the ring.
Hearing about Friction, she realized her destiny and had no choice. She had to join Friction and get the thrill she had been longing for.
Attire
Pretty much what you see in the picture
Note: Yeah, I'm using a female character. Go fig. Also, Jenna is inspired by the Kinnikuman character, Canadianman and I chose that because I, myself, am Canadian.
Record: (Circles represent wins, X's represent losses, T's represent draws)
Shizuka- X (Powerbomb Pin)
Carol- X (Piledriver Pin)
Ashley- O (Atomic Bombs Away)
Kima (With Ashley helping)- O (Double Brain Buster)
Carol (Rematch)- O (Drop Kick --> Pin)
Hanayama- X (Shumukuzori back body drop)
Avryl- X (Piledriver)
Tatyina- O (Premafrost Drop--->Pinfall)
Violet- X (Ninja's Wrath)
Sarah- X (Bow and Arrow Lock Submission)
Dixie- X (Figure-Four-Leg-Lock Submission)
_________________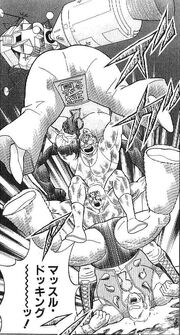 MUSCLE DOCKING!!!!!

nduns




Posts

: 1489


Join date

: 2009-02-10



---
Permissions in this forum:
You
cannot
reply to topics in this forum