Who is online?
In total there are
51
users online :: 9 Registered, 0 Hidden and 42 Guests :: 2 Bots
Agent Hunter
,
BritBrat
,
Deus001
,
Edmund
,
Iceman
,
killcarrion
,
LtLukas
,
Scourger X
,
skip-stop
Most users ever online was
418
on Tue Jul 30, 2019 3:51 am
Champions & #1 contenders
Poll regarding Kayfabe rules of hentai in non-hentai matches.
Sat Oct 17, 2020 3:03 pm by Old_Man_Tai
So, one of the various different things we are looking to bring to the board soon, is an official list of "In-World Rules", to help with world building and such and just make clear what the in-story rules of the Friction and Tension leagues are.
One thing I've noticed that people seem to handle differently, is the idea of using hentai, as in fucking, groping, stimulation, anything actually involving touching privates and beyond just flirting/kissing/rubbing in non-hentai matches. Some seem to …
[
Full reading
]
Comments: 31
Need Debut matches/Simply looking for more
Tue Sep 08, 2020 5:19 pm by Void Effect
Comments: 7
Looking for a match.
Thu Oct 08, 2020 4:11 pm by Old_Man_Tai
Simply put, looking to get Silver Ace two or three short, quick matches to set up her story for her Avalanche match.
Also if somebody knows how to use photoshop, have a favor to ask.
Contact me on Discord or PM if you are interested.
Would be willing to offer proper matches with other characters in trade if that's acceptable.
Comments: 0
Name: Nora Banseru
Alias: Lifeless Melody
Sex: Female
Age: 24
Eyes: Crimson
Hair: Purple
Height: 5â€
9"
Weight: 146 lbs
Nationality: Japanese
Alignment: Heel
Entrance music: [url=http://www.youtube.com/watch?v=lfhNpqYectI&feature=BFa&list=PL0D3B5B1676A6A449:vukcoen0]Ashes - Five Finger Death Punch[/url:vukcoen0]
Wrestling Information
Strategy: Noraâ€
s main goal is to beat her opponent into the ground until they begin screaming, either in agony, pleasure, or as they cry for mercy. She loves the moment where their screams join the dark symphony that is always playing through her mind. She constantly hits with heavy punches, and hard, decisive strikes; but this is usually done to a beat she has playing in her head, so the opponent might pick up on the pattern if they can still fight back after the first few hits. She has no qualms about cheating, she sees it as using the resources at her disposal to get the screams she wants. In fact, there are times when she will wrap the chain from her left arm around a fist augment her already impressive power.
Style: Deadly hits, fluid, song-like movements.
Type: Noraâ€
s method of wrestling uses her unique movement patterns to maneuver herself into positions where she can deal the most damage.
Preferred Matches: Any except for bed (no pain, no screams, no fun)
Combat:
★★★★★
Endurance: ★★
Strength: ★★★★★
Speed: ★★★★★
Defense: ★★★
Technique: ★★★★
Wrestling:
★★★★
Strikes: ★★★★★
Submissions: ★★
Powerhouse: ★★★★
Aerial: ★★★
Counters: ★★★★
Hentai:
â
¥ â
¥ â
¥
Endurance: â
¥ â
¥ â
¥ â
¥
Defense: â
¥ â
¥ â
¥ â
¥
Arousment: â
¥ â
¥
Technique: â
¥ â
¥ â
¥ â
¥
Pacing: â
¥ â
¥
Difficulty:
★★★★
Favored moves:
Clothesline
Lariat
Punches
Finishing moves:
Common Finishers:
Lifeless Melody: Nora wraps the chain from her left arm around her left fist, and delivers three painful punches to the stomach of the opponent until they are bent over, then she throws a resounding uppercut to their chin. Then Nora pushes them to the nearest corner, and begins punching them to the beat of whatever song is playing through her head, she wonâ€
t willing stop this until her opponent is knocked out while they are screaming. Nora tends to take this move a little too far, she gets lost in the pleasure of listening to her opponentâ€
s scream.
Intro to the Requiem: Nora runs in, usually early on in the match and tries to hit her opponent with a few punches, but these are really feints so she can deliver a harsh kick to their chin. Spinning back as she recoils her leg for a follow up kick to the now falling opponents head. As they lay on the ground, Nora will jump off of a nearby rope and jump in the air to deliver a moonsault doublestomp to their head/chest/stomach.
Critical Finishers:
Requiem of Madness: Nora shudders for a moment, then she begins to sing in her beautiful but eerie voice, but it is not any known language, it is one she uses to talk to herself. Then she charges towards her opponent, to begin the "chorus"; which is just her using the screams of others to make a rhythm. Nora will stop just as she gets in front of her opponent, and suddenly switches the move into a painful back kick to their head. Then Nora will throw a barrage of punches to the rhythm she is screaming, and lifts the battered opponent into a Firemanâ€
s Carry, so she can drop them and kick them hard in the ribs as they fall.
End of the Requiem: Nora will attack a beaten opponent, and bring them to the mat with a powerful clothesline. From there she will place one foot on the personâ€
s neck, and the other in their stomach, to completely disrupt airflow. She then giggles madly as she moves back and forth, alternating the foot that would hold all of her weight.
Characteristics
Visual Appearance: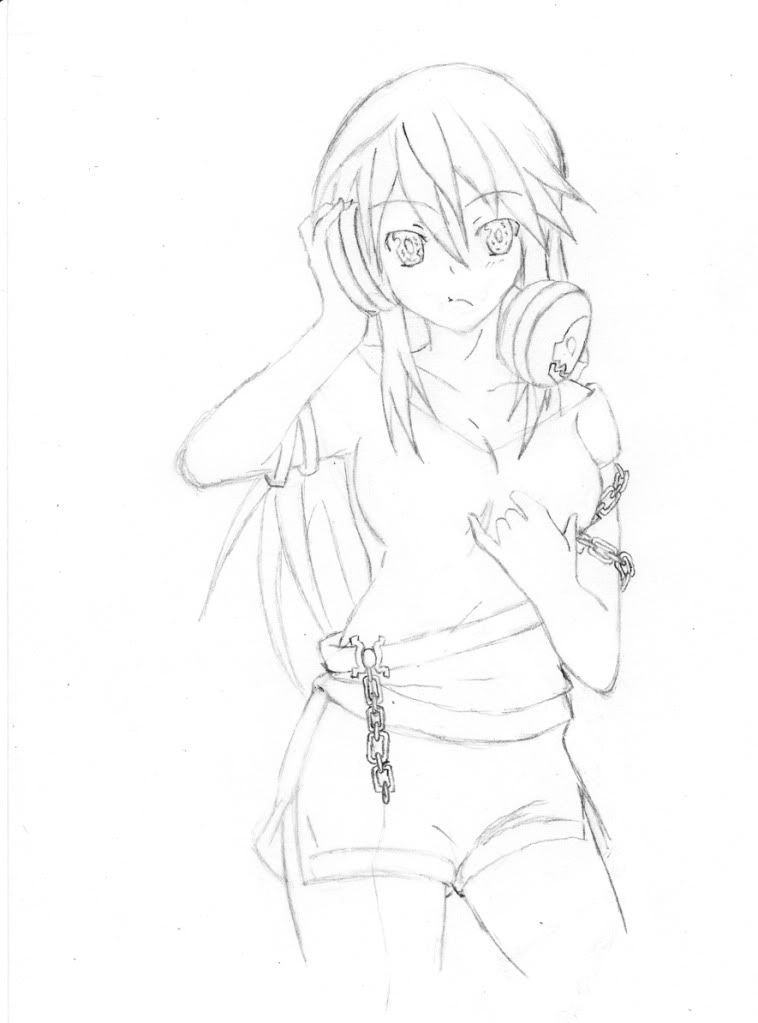 Personality:
While Nora is crazy in the ring, outside of it she puts on her headphones at full volume and is honestly pretty easy to miss. She makes a lot of childish decisions, and becomes extremely unstable when someone takes off her headphones. When the headphones are off, she becomes insane, and bipolar jumping from psychotic violent to sugar sweet and everything in between. She is actually unstable because she is overly dependant on her headphones and many people have picked on this fact (her manager Mike uses it as a control method).
Past/History:
When Nora was born, she was exactly like any other baby, except for her violet eyes. After a few weeks, the color eyes changed color, much to her parentsâ€
concern, going from violet to an almost crimson red. They of course talked to the doctors at the hospital, and they discovered that she was missing pigments in her eyes, and this had lead her eyes to bleed, resulting in the red coloration. The doctors explained how lucky she was, this usually lead to death, but they were going to have to watch and make sure she didnâ€
t go blind later on. It seemed young Nora had dodged a bullet, but her torment had just begun.
In school, her eyes became the focus of bullies, and she was picked on throughout elementary school, and she did get in a few fights, but she always just got beat up. After a while her father explained to her that lashing out is not the way to deal with them. He then tried many ways to convince her of this, but only one stuck: music. She loved it; music was the perfect tool to keep her calm during these situations. And with a little leverage, Noraâ€
s father got the school to allow her to listen to music in school. Her father bought her the best headphones he could and she was never seen without them. But it slowly became an unseen issue, she needed the music to feel strong and safe, and worse, she still heard the insults, while the music stopped her need to fight or argue the anger was still hiding under the surface like a coiled snake. It stayed there, until one of the bullies in high school smacked her across the face in his frustration to her nonchalant responses to him. The smack itself didnâ€
t set her off, it was the fact that her headphones fell off. She turned and looked at him in absolute hatred, and the snake uncoiled. He was in critical condition for months. Nora thought about how beautiful his scream was, and decided, she would use it to write her own song…a requiem.
Later that day, Nora was in the house, and while her parents began panicking trying to think of a way to get the boyâ€
s parents to drop the charges, Nora sat calmly in her room doing her homework, she wasnâ€
t aware she had done anything wrong. In frustration her father came in and pulled off her headphones, trying to tell her how serious the situation was and he noticed she was singing, but instead of words, she was using…screams? After a moment, his eyes widened in shock, she was screaming in the voice of the child she had brutalized. Then she turned and looked at him with hatred burning in her red eyes, "Give. Them. Back." She said angrily. He hesitated for a second, and then he told her he was going to take them away as a punishment. He figured it was the best way to make her understand the seriousness of this situation. Nora jumped at him and began punching him as hard she could, in the face, stomach, and chest until he began screaming in pain, she began to scream back him in his voice. After he was beaten unconscious, she stood up and calmly said "Another singer for the Requiem." She took her headphones, a few necessities and left her home. For a while she was on the streets, hiding from anyone she recognized, and fighting off anyone that approached her to take her food, her headphones or whatever else she had at the moment. Then she was approached by a man promising her a better life if she went with him. She went with him; she figured she didnâ€
t have to lose anyway. The man explained he had seen her beat the men that tried to steal from her, and he wanted her do the same thing in some place she didnâ€
t recognize; AFW. He explained his name was Mike Sando, and he was hoping to be her manager. But Nora didnâ€
t care about any of it, she just asked him a simple question, "Will I be allowed to hear plenty of screams?" When he said "Yes" that was all she needed to hear. But having him as her manager, Nora found out what is was like to be stuck in a hopeless situation. Mike hired a bunch of thugs to enforce what he tells Nora to do, threatening to have them break her headphones and beat her up if she doesn't listen, and as a consequence, Nora has a few bruises on her stomach from not listening.
Wrestling Attire:
Nora usually wears a loose fitting white or purple top, with a black skirt or black shorts. She carries her headphones into every match, and is always wearing her chains.
Fun Facts:
-Nora is ambidextrous
-Noraâ€
s eyes start to bleed in the presence of constant flashes of light
Likes:
Causing pain
Screams
Singing
Dislikes:
Losing
People that wonâ€
t scream for her
AFW Information
Record:
Wins:
Losses:
Draws:
Championships/Accomplishments:
Friends:
Allies:
Rivals:
Enemies:
Crushes:
_________________
I draw. A LOT. Of anime. A LOT.
Friction:
Kurai Nikushima - [url:2hxboint]http://afwrpg.informe.com/forum/friction-roster-f10/kurai-nikushima-t6493.html[/url:2hxboint]
Kuri Nyotei - [url:2hxboint]http://afwrpg.informe.com/forum/friction-roster-f10/kuri-nyotei-the-empress-t6596.html#p159668[/url:2hxboint]
Nora Banseru -
http://afwrpg.informe.com/forum/friction-roster-f10/nora-banseru-t6831.html

InSaNiTyKurai




Posts

: 248


Join date

: 2012-06-27



---
Permissions in this forum:
You
cannot
reply to topics in this forum