Champions & #1 contenders
Need Debut matches/Simply looking for more
Tue Sep 08, 2020 11:19 pm by Void Effect
Comments: 11
Poll regarding the possibility of Mods booking PPV matches.
Sat Oct 24, 2020 1:43 am by Old_Man_Tai
So, basically, was wondering all of your thoughts regarding the possiblity of mods booking ppv matches.
The thought was, since people often seem to have trouble finding partners for ppv matches until the last minute or so, what if the mod team was to step in and, well in advance of the show, book the show ourselves, and try to put together the best matches we can, including title defenses, no.1 contender matches, and so on and so forth?
While I doubt our more popular members need such a …
[
Full reading
]
Comments: 7
General Avalanche Reminder
Fri Oct 23, 2020 9:21 pm by Old_Man_Tai
General Reminder: Friction PPV Avalanche goes live on December 1st: So if you need to do any promos or build up for your Avalanche matches, you should be focusing on that now. You are allowed to do such things over Discord and then post them after if it helps get them done faster so matches have proper build up.
Also, if you are looking to get on the ppv, and have a partner and match set up, (or can do so quickly), contact me to let me know what match you are doing on the show.
If you have …
[
Full reading
]
Comments: 0
Name: Anna Christina
Nickname: Berlin's Red Flame
Age: 19
Eyes: Green
Hair: Green
Height: 6'0
Weight: 173 lbs
Nationality: German
Entrance music
Der Guten Tag Hop Clop
https://www.youtube.com/watch?v=sJKnkTinZEs
Wrestler Type
Variety
Favored moves
Black Fog of Hamburg- Anna performs a handstand on her opponent's head, then she flips forward kicking her opponent in the face.
Uniform Revolution- Anna removed her uniform, wrapping it around the opponent's legs and setting the opponent up for a Stuttgard Depression
Stuttgard Depression- Uses the jacket to trip her opponent then sets up the opponent for a Boston Crab
California Crush- Running Oklahoma Stampede
Camel Clutch- Sits on opponent and pulls on chin
German Suplex- Technically known as a belly to back waist lock suplex, Anna stands behind the opponent, grabs her around her waist, lifts her up, and falls backwards while bridging her back and legs, slamming the opponent down to the mat shoulder and upper back first.
Finishing Move
Bremen Finisher- When an opponent is airborn, Anna leaps up at the opponent going face-to-face then flips upside down divebombing her opponent head-first into the mat.
Berlin's Red Flame- A powerful karate chop with enough force to put cuts in wood.
Match Preferences
Anything that can truly put her might to the test.
Physical Appearance
Personality
Though ruthless and very easy to hold grudges against people, Anna is understanding and knows when one is good of heart. She can sometimes feel envious of others and strives to be as good as her heroes.
Unlike her father, she's respectful towards others and hates people who fight dirty. She has a good heart, but she does lose her temper easily.
Background
Her father was abusive to her always pressuring her to become strong. Her father was a bit crazy in the sense that he was a neo-Nazi. One day, he was killed accidentally in the ring and despite her opposite beliefs, Anna wished to avenge him. She faced this madman in the ring and despite losing, she learned a lot from him about patience and ended up respecting him.
She gave up all thoughts of ever being as strong as her father and only wanted to be better than him, so she joined Friction for head-on experience. She learned most of her moves from watching other wrestlers perform them but learned her finishers from her dad. She has tried time and time again to create her own but is yet to succeed.
Attire
An old German uniform
Record:
Sarah- O (California Crush)
Mina- O (Uniform Revolution-->Stuttgard Depression-->Forfeit)
Nadya- X (Full Nelson Submission)
Nicole- X (Single Fall)
Avryl- X (Cross Body Pin)
Avryl (Rematch)- O (Camel Clutch--->Submit)
Lukretia- X (Powerbomb--->Pinfall)
Tracy- X (Innate Hatred)
_________________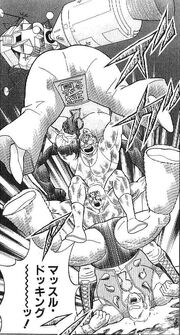 MUSCLE DOCKING!!!!!

nduns




Posts

: 1489


Join date

: 2009-02-10



---
Permissions in this forum:
You
cannot
reply to topics in this forum