Champions & #1 contenders
Poll regarding the possibility of Mods booking PPV matches.
Sat Oct 24, 2020 1:43 am by Old_Man_Tai
So, basically, was wondering all of your thoughts regarding the possiblity of mods booking ppv matches.
The thought was, since people often seem to have trouble finding partners for ppv matches until the last minute or so, what if the mod team was to step in and, well in advance of the show, book the show ourselves, and try to put together the best matches we can, including title defenses, no.1 contender matches, and so on and so forth?
While I doubt our more popular members need such a …
[
Full reading
]
Comments: 8
Need Debut matches/Simply looking for more
Tue Sep 08, 2020 11:19 pm by Void Effect
Comments: 11
General Avalanche Reminder
Fri Oct 23, 2020 9:21 pm by Old_Man_Tai
General Reminder: Friction PPV Avalanche goes live on December 1st: So if you need to do any promos or build up for your Avalanche matches, you should be focusing on that now. You are allowed to do such things over Discord and then post them after if it helps get them done faster so matches have proper build up.
Also, if you are looking to get on the ppv, and have a partner and match set up, (or can do so quickly), contact me to let me know what match you are doing on the show.
If you have …
[
Full reading
]
Comments: 0
Name: Mary Riki
Nickname: Wild Bull
Age: 20
Eyes: Grey
Hair: Black
Height: 6'2
Weight: 180 lbs
Nationality: Spanish
Entrance music
Akuma no Mou-Gyuu
https://www.youtube.com/watch?v=dWOf9MTOmWA
Wrestler Type
Aggressive
Favored moves
Back-breaker- I shouldn't need to describe this
Buffalo Bomb- A slightly more powerful version of a powerbomb
Hurricane Mixer- Uses the buffalo horns attached to her head to knock the opponent into the air, then she runs to where the opponent is headed in an attempt to hit the opponent before she can hit the ground.
Tomahawk Hurricane- Spins around her opponent with her arms out delivering a series of punches to the opponent's sides.
Hurricane Heat- Dives off the ropes jabbing her horns into the opponent. (Don't worry, I have a logical explanation behind why she has horns)
Human Dodgeball- Boost herself off the ropes while curled up like a ball and rams into her opponent.
Finishing Move
Long Horn Train- Used most in tag-team Matches, Mary has her opponent lift her up and run towards the opponent sticking Mary's horns out so when she collides, her horns will create a powerful force sending the opponent flying.
Super Cross Slam- Sometimes a followup of the Hurrican Mixer, while the opponent is airborn, Mary leaps up at the opponent backwards and wraps her arms around the opponent's shoulders, aiming the opponent's head towards the mat. Then she finishes off slamming the opponent's head into the mat while keeping the opponent's body in the shape of a cross.
Human Bazooka- Also used for tag-team matches, Mary lifts up her opponent and hurls the opponent at her team mate.
Match Preferences
Anything as long as it's fun.
Physical Appearance
(Seriously, this was the best editting I could do)
Personality
Mary is agressive and cruel towards everyone, even her own family. She laughs at anyone who dares lose to her and spits on the weak. Nothing about her is in any way caring. She has no good motives and couldn't care less if wrestling fans liked her or not.
Update: Thanks to Shizuka, she is a much more respectful person but still has a bit of villainy in her. (Such as fighting dirty. Formal villains just can't let that go in most anime titles)
Background
Mary always wanted horns while growing up, so her father, caring as he could be, asked a doctor if it would be possible to give a buffalo's horns to his daughter. The doctor said it was possible, but he would have to cut holds in the skin atop her head to make it possible. Surprisingly, no internal damage had been done and the doctor was very relieved when the operation was a big success. However, he made it perfectly clear that Mary could not remove the horns for her skin would never grow back and as a result, she might die if the horns were removed.
Mary had no problem with this until kids started making fun of her. As a result, she became enraged and hated humanity. How dare they not accept the choices she made? So she became a heartless monster dedicated to making people suffer. She joined friction for one reason and that was to make people fear her. She fights for respect and will stomp over every weak little creature to get it.
In recent events, Shizuka was the first to defeat Mary in a match. During this match, seeing herself go overboard and Shizuka's determination taught Mary a valuable lesson about friendship and trust. She realized that villainy was not the path for her and she needed to move on.
Some time later, Mary's horns were shattered in half by an insane Carol giving her no choice but to replace those lost halves with metal horns.
Attire
A black bra and black panties.
Record:
Carol- O (Buffalo Bomb)
Trinity- O (Super Cross Slam)
Shizuka- X (Piledriver)
Taylor- X (Last Bless)
Asuna (With Taylor)- O (Long Horn Train)
Carol- X (End of Show)
Rinko- T (No Contest)
Carol- O (Buffalo Bomb)
_________________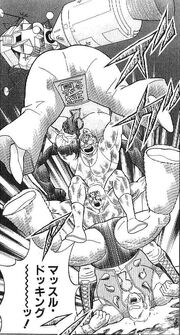 MUSCLE DOCKING!!!!!

nduns




Posts

: 1489


Join date

: 2009-02-10



---
Permissions in this forum:
You
cannot
reply to topics in this forum