Champions & #1 contenders
Need Debut matches/Simply looking for more
Tue Sep 08, 2020 11:19 pm by Void Effect
Comments: 8
Poll regarding Kayfabe rules of hentai in non-hentai matches.
Sat Oct 17, 2020 9:03 pm by Old_Man_Tai
So, one of the various different things we are looking to bring to the board soon, is an official list of "In-World Rules", to help with world building and such and just make clear what the in-story rules of the Friction and Tension leagues are.
One thing I've noticed that people seem to handle differently, is the idea of using hentai, as in fucking, groping, stimulation, anything actually involving touching privates and beyond just flirting/kissing/rubbing in non-hentai matches. Some seem to …
[
Full reading
]
Comments: 31
Looking for a match.
Thu Oct 08, 2020 10:11 pm by Old_Man_Tai
Simply put, looking to get Silver Ace two or three short, quick matches to set up her story for her Avalanche match.
Also if somebody knows how to use photoshop, have a favor to ask.
Contact me on Discord or PM if you are interested.
Would be willing to offer proper matches with other characters in trade if that's acceptable.
Comments: 0
-Name: Juliette "julie" Demarine
Sex: Female
Age: 18
Eyes: Blue
Hair: dark
Height: 5'0
Weight: hey don't ask !!... (107 pound, I think)
Nationality: french
Favoured moves: aerial move, punch, hair pulling (a little), submission hold
Finishing moves: for having this kind of move, I have to win my match first.... but I work on it... maybe a "critical hit"... using the rope, I run toward the opponent, I try to jump over her and catch her hair. like this, I can force her to hit the ground, and pin her more easily
Combat: ***
Endurance:*
Strength:**
Speed:****
Defense:**…
Technique:****
Wrestling: ****
Strikes:***
Submissions:***
Powerhouse:*
Aerial:***
Counters:***
preferred matches: standart match, submission, all match but no hentai
Appearance: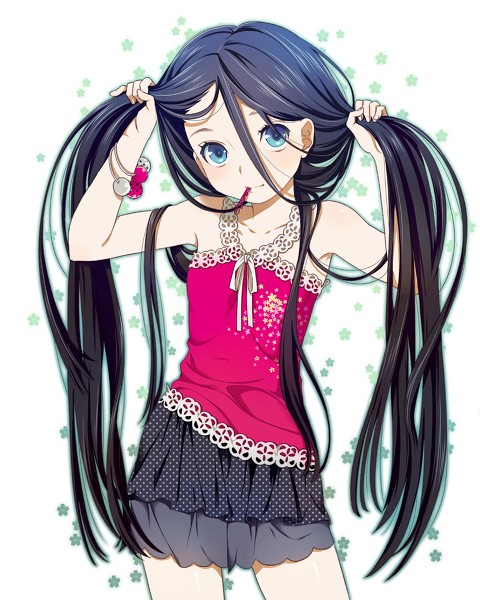 Personnality: julie is a cute little girl, who like many things, and who want to become a famous female wrestler, so she is a little bit naive. But speak about her height and she get crazy, she will kick your ass, or at least she will try it. Serious on the ring, and even a little aggressive, outside she stay polite but a little shy
History: julie born in a family of wrestlers and fighter, so it was normal for her to fight, her idol was her own aunt the "big mama" aline, and she spend many years with her. First she like the way that her aunt play with her opponent, but with the time, she find it disgusting, it was no more wrestling. So juli stop to consider her aunt like a wrestler, and try to train very hard, just by herself. She was a champion in her highschool but now she want more, and start a pro wrestler carrer. She choose the Afw, and hope to show at the entire world, and mainly to her aunt what is the true meaning of wrestling. The league accept her despite her bad result but they really hope that she improve her skill for the future.
fun fact:
_ She is friends with many former students of her aunt, but have a special relationship with louise and nicole, who consider julie as their little sister
_ contrary to her aunt, julie is afraid by the hentai move and the smother,
_ like she was small, she really dislike to face bigger and taller girl, mainly the one who like smother her opponent, but one of her goal here is to kick their ass
_ she has no boyfriend since a long time, that why she still a virgin
like:
_ fight and wrestling
_ watch martial art movies
_ her aunt and her "sisters" louise and nicole
_ strong and cute boy
dislike:
_ losing a match
_ being smothered
_ girl who make joke on her breasts
_ bugs
Last edited by Thestupidgeek on Wed May 13, 2015 10:25 pm; edited 3 times in total

Thestupidgeek




Posts

: 2743


Join date

: 2011-08-26



At least a normal girl ^_^

Thestupidgeek




Posts

: 2743


Join date

: 2011-08-26



---
Permissions in this forum:
You
cannot
reply to topics in this forum