Who is online?
In total there are
49
users online :: 9 Registered, 0 Hidden and 40 Guests :: 2 Bots
acuya
,
Agent Hunter
,
BritBrat
,
kerflubble
,
killcarrion
,
Old_Man_Tai
,
Scourger X
,
skip-stop
,
TiefBlau
Most users ever online was
418
on Tue Jul 30, 2019 9:51 am
Champions & #1 contenders
Poll regarding Kayfabe rules of hentai in non-hentai matches.
Sat Oct 17, 2020 9:03 pm by Old_Man_Tai
So, one of the various different things we are looking to bring to the board soon, is an official list of "In-World Rules", to help with world building and such and just make clear what the in-story rules of the Friction and Tension leagues are.
One thing I've noticed that people seem to handle differently, is the idea of using hentai, as in fucking, groping, stimulation, anything actually involving touching privates and beyond just flirting/kissing/rubbing in non-hentai matches. Some seem to …
[
Full reading
]
Comments: 31
Need Debut matches/Simply looking for more
Tue Sep 08, 2020 11:19 pm by Void Effect
Comments: 7
Looking for a match.
Thu Oct 08, 2020 10:11 pm by Old_Man_Tai
Simply put, looking to get Silver Ace two or three short, quick matches to set up her story for her Avalanche match.
Also if somebody knows how to use photoshop, have a favor to ask.
Contact me on Discord or PM if you are interested.
Would be willing to offer proper matches with other characters in trade if that's acceptable.
Comments: 0
Name: Auriguard Borialus
Alias: Auraborus Borialus
Sex: Female
Age: 27
Eyes: Reddish-pink (Burgundy,maybe...?)
Hair: Brown
Height: 5" 9' (changed from before when I realized how short 5" 3' was...)
Weight: 117 Lbs
Nationality: American
Entrance Music: Pieces Of What by MGMT
Stats (Out of 5):
Endurance:
★★★
Strength:
★★
Speed:
★★★
Defense:
★★★
Technique:
★★★
Overall:
14/25Finisher:
None as of the moment....
Strategy:
Not being very strong,Auraborus uses what she learned in locks and simple submissions to give off the appearance that she knows enough. But other than that, she doesnt know too much on what she is doing.Aurabous will occasionally try to throw out lies about her strength to intimidate her opponent. But she has very little backing to this,unless she gets somehow lucky.
Personality:
Auraborus is,at times,both incredibly smart,but also becomes dimwitted when it comes to many average topics that a normal person would know about,since she was so sheltered by her parents. (Which is why she rebelled and came here to spite them) .Traces of being a snobby,rich girl are present but....She can also try to humble herself if needed.But,she usually doesnt. With having everything she wanted when she was rich, she became very expectant of everyone and anyone. Auraborus is also a bit of a hussy...
Past:
Never to be someone normal, not even seeing the outside world until she was 14. That was the fate of Auriguard Borialus. Born to a high-class, high-profile family, Aurigaurd was constantly put up on a pedistal that she didnt want to be on. Sure,it was nice when she was but a mere adolescent child ,but it became tiresome by the time she reached her teenage years. The over-bearing shadow of having to 'Be the best' or 'Be a proper lady' or 'Upkeeping the family name'. She was sick of it all. The clothes she wore set trends, the toys and games her parents bought for her did just the same.
She wasnt allowed to go to school. Instead,she was tutored. So,she almost never left the house. Auriguard, by 14, became restless with all of the nothingness that was building up. Begging her parents to let her go somewhere (And on her own, for once), they couldnt say no to their only daughter. The next day,Auriguard stepped foot outside her family's mansion 10-foot tall walls for the first time.
Once in town, she was quickly welcomed by the vast and surprising population of others. Most of them were girls, and they were all going somewhere. So,why not go along with them? Seeing a young boy walking by himself, she yelled a greeting to him. Having no idea that's what the other girls were doing (looking for him), she set of a small stampede...
---------------------------------------------------------------------------------------------------------------------------------------------------------------------------------
After that day, Auriguard secretly sent letters by courier to the only person she knew by name since she couldnt really leave home again.
Nick Solem. Praised for his amazing skills with animatronics and mechanics. He had been around the mansion once or twice to help Auriguard's father fix things. The two had never met, or have ever seen each other. Just the talk through the letters. From when she was 14,until she was about 20. Nick's last letter came.It was the last one for sure because he stated:
"Dear Auriguard,
My parents told me that we'd be moving. Im sure we can still play this game together, but....Our mail will take too much time to get to one another. The distance is our town...To Japan. Yes,that's where were moving to. This is the last letter, I need to focus on packing. I hear on the television that your birthday is coming soon. Tabloids know everything apparently....But! I want you to send me your height,and your dress size.I know its odd,but dont ask why..."
Sincerily,Nick Solem"
And so she did. No more mail came,but one final thing did come....A package. The package contained the last animatronic thing that Nick has ever created to date. The tail of the Pokemon Haxorus. It was absolute her favorite one! And she just loved all things related to dragons! And underneath that? A few dresses. They were all the same. Though, they were a bit short (Nick wasnt a good seamstress) but, it made her look just like her favorite Pokemon. They even came with the 'blades' of a Haxorus (Fake of course. Nick couldnt make actual-use weapons with good though or intention...) This was her birthday gift from him...
---------------------------------------------------------------------------------------------------------------------------------------------------------------------------------
Only a year went by and Auriguard wanted out. She wanted out from this disappointing Hell that was this mansion. But,it wasnt that simple. Her still over-protective parents would not allow their 21-year old daughter the ability to go off.....Not on her own,however.They begged her to let them hire someone to watch over her.
They hired a young man who was from the village below,who had turned 17 about a month before.Young enough not to have that sort of interest in Auriguard,but old enough to protect her.She learned his name to be Jay.
Jay taught her to accept everyone and every race.
Even those that were not human....
And thus, she helped him in a war for a race's independence once. (Archive in Jay's profile)
For a long time, Jay protected Auriguard. Jay called her "Auraborus" For his misconstrued name of the Aurora Borealis.(A weak attempt to flatter her by panning to her beauty. Jay was barely educated, which is why he screwed up). Once the two got to the American coast, Jay said his farewells. He told her Jay went back and fought on for freedom for all. Another country was as far as she could get from that horribly boring and restrictive place. It took 3 years to get there. Auriguard kept waiting in different apartments that she would rent with the money she had.In Japan,she finally figured out what this AFW was.
She spent the next year and a half to two years learning the basics of wrestling, going everyday. It took a long tome for her to learn, since she wasnt very strong. She learned to use simple but effective moves and submissions to compensate. All else she had was what she learned from watching Jay (Which wasnt much.)
To avoid becoming known to the tabloids again,Auriguard used the alias "Auraborus",and she decides to give this wrestling thing a go...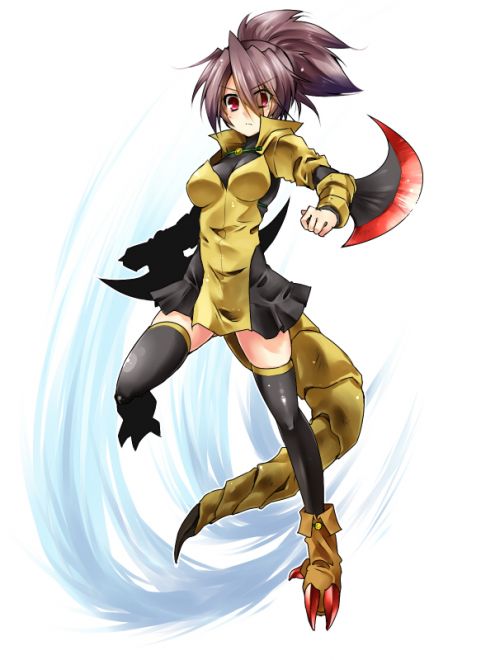 Quick Facts about the Dragon
-Auriguard doesnt flaunt her wealth around physically,but does in the way she speaks.The other way she does this (to those who get to see it) is through her room.Because she has lots of the treasures she has amassed kept with her in her apartment.
-The blades on her arms and the claws on her shoes are absolutely,100%
fake
.Nick Solem could
never
make something like that with good mind.
-Having very little friends prior to AFW,Auriguard both wants to make friends oh so desperately;but also is afraid to make contact with people.And she doesnt even really know where to begin.
-She is a bit slow with social interactions,not having too many friends....
Record:
Wins: 0
Loses: 2 (Catherine: Tap-out) (Nicole: Orgasm)
Friends: Black Cougra
Allies: Xuan Lee
Rivals: -----
Enemies: -----
Crushes: -----
"Ugh,what do you want,money? O-Oh,right.My exploits during my time here...."
Story-line:
1.
Auraborus meets a frisky Cougra
2.
Shopping!~ (Incomplete)
3.
Bed match against Catherine!
4.
After match ice cream!
5.
Auraborus meets xuan to fight Lily and Melody! (Postponed)
6.
Catherine and Auraborus train.
7.
Aura vs Nicole: Hentai
8.
Aura brings great news to a friend in Home 3
9.
Last edited by 11367 on Mon Aug 18, 2014 5:34 am; edited 28 times in total
_________________
Back for RP Goodness, send me a PM -finger guns-
First Year
,
Home 2
,
Home 3
,
Juniper and Sabre
,
Home 4
,
Home 5
,
Home 6
,
Home 7
,
Home 8
,
Home X
*NEWEST*
---
Permissions in this forum:
You
cannot
reply to topics in this forum