Who is online?
In total there are
67
users online :: 9 Registered, 0 Hidden and 58 Guests :: 1 Bot
acuya
,
Harrier
,
killcarrion
,
LARIATO
,
LunarWolf
,
Nelv
,
OmegaVan0
,
Tarantulust
,
Yori
Most users ever online was
418
on Tue Jul 30, 2019 9:51 am
Champions & #1 contenders
Need Debut matches/Simply looking for more
Tue Sep 08, 2020 11:19 pm by Void Effect
Comments: 11
Poll regarding the possibility of Mods booking PPV matches.
Sat Oct 24, 2020 1:43 am by Old_Man_Tai
So, basically, was wondering all of your thoughts regarding the possiblity of mods booking ppv matches.
The thought was, since people often seem to have trouble finding partners for ppv matches until the last minute or so, what if the mod team was to step in and, well in advance of the show, book the show ourselves, and try to put together the best matches we can, including title defenses, no.1 contender matches, and so on and so forth?
While I doubt our more popular members need such a …
[
Full reading
]
Comments: 7
General Avalanche Reminder
Fri Oct 23, 2020 9:21 pm by Old_Man_Tai
General Reminder: Friction PPV Avalanche goes live on December 1st: So if you need to do any promos or build up for your Avalanche matches, you should be focusing on that now. You are allowed to do such things over Discord and then post them after if it helps get them done faster so matches have proper build up.
Also, if you are looking to get on the ppv, and have a partner and match set up, (or can do so quickly), contact me to let me know what match you are doing on the show.
If you have …
[
Full reading
]
Comments: 0
Name:
Wild Thing
Real Name:
Loraine 'Lore' Mizrahi
Sex:
Female
Age:
18
Eyes:
Blue
Hair:
Blonde
Height:
5"3'
Weight:
119 lbs
Nationality:
Germany
Entrance music:
You Are the Wilderness by Voxhaul Broadcast
Wrestling Information
Strategy:
Lore has no strategy - she attacks. She attacks. And then, she attacks some more. Her moves lack any real style; she does attacks that resemble something a wrestler might do, like leaping off the ropes, splashing her opponent's prone form, facebusters - but the resemblance is more coincidence than anything. She's animalistic, unpredictable, and can be downright feral - the fewer rules she has to adhere to, the tougher she is to beat. No rhyme, no rhythm, no reason - just bloody offense. And she likes to slam people's heads into things, too.
Making matters worse - for her opponent, anyway - she tends to hunch, and will even crawl along on all fours from time to time. This makes her difficult to get a hold of. Also, the chains in her pictures are not for show - they're actually cuffs that Johann has had to use to restrain her. She had the key to them and can unlock them whenever she wants, but she likes to bring them into hardcore matches - they're quite useful as weapons.
Style:
None
Type:
Feral Brawler
Preferred Attacks:
Strikes, aerial moves, running attacks
Preferred Matches:
NHB, Hardcore, Hell In a Cell, Cage, Backstage Brawl
Endurance:★★★★★
Strength:★★★
Speed:★★★★★
Defense:★★
Technique:★
Favored moves:
Pounce
- A special variation of the spear she sometimes uses - instead of getting a running start, she crouches down and jumps straight at her opponent like a spring, hitting them with a shoulder tackle and taking them to the mat - at which point she starts furiously beating them, typically.
Yank
- Lore grabs her opponent by an ankle and pulls, putting them on their back. Still holding the ankle, she lift their leg up and quickly jerk it towards their head as much as she can, as fast as she can, forcing them to overextend it. If she's in a particularly bad mood, she'll stomp them in the face to finish it.
Finishing moves:
Wolf Claw
- When the opponent is laying face down on the mat, Wild Thing leaps on their back, and applies a vicious double Clawhold, digging her fingers into their skull - especially painful, since she keeps her fingernails rather long and sharpens them periodically. To make matters worse, she repeatedly slams her opponent's head into the mat, doing so until they either power out of it, give up, or get knocked out from the abuse.
Diving Pounce
- Similar to her normal pounce, only done from the top of the turnbuckle. Or from the top of a rope, in a springboard. Or from a ladder. Or any elevated position.
Running Faceplant
-When her opponent is dizzied and brought to their knees, Wild Thing will back off, get a running start, jump past them and grab their head as she goes, and slam them face first into the mat as she crashes flat on her chest, slamming them down with all her weight and momentum.
Characteristics
Visual Appearance: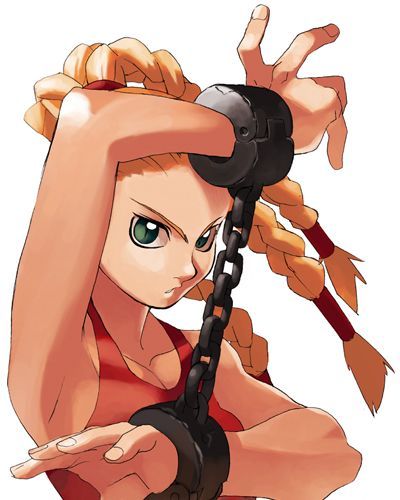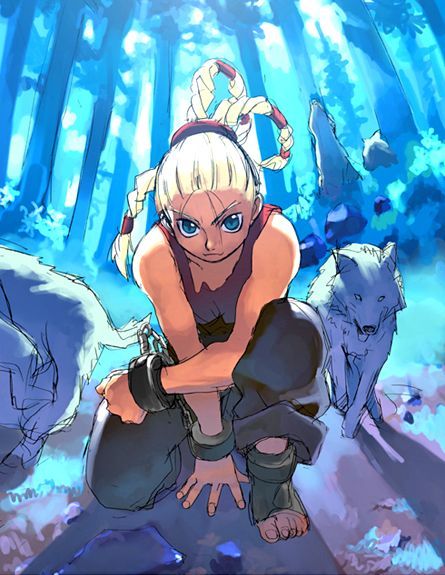 Loraine and her wolf pack.
Personality:
Though it might not seem the way in the ring, Loraine can be a very friendly person, if a bit quiet and reserved. Though she's been living among people for some time now, she always feels agitated, confined indoors - she wants to roam free. Living indoors always feels unnatural to her, and it can make people when she's around. It doesn't help that she still has vestiges of her feral upbringing - she tends to sniff people and interesting things, she has poor hygiene and no sense of decorum, and it's not rare for her to bark, growl, and even howl every now and then.
If she can make a friend, though, she can be incredibly loyal - a trait she picked up from her pack, no doubt. She understands the value of teamwork, and is good coordinating with others, excellent as a part of a unit.
In the ring, though, it's a completely different story - though it's not jungle, she loves that she's allowed to sate her bestial side in matches - the less rules, the better. She's brutal, and the longer a fight goes on, the more she unleashes her wild side, reaching a point where she becomes a merciless animal, attacking her opponents with reckless abandon and ferocious fury. She'll batter an opponent with her knees, pummel them endlessly in the face, smack them against the turnbuckle - anything and everything she can get away with. She won't cheat, though - at least not on purpose. In more mundane matches, she tends to suffer, either disqualifying herself by accident or suffering because she has to water down her tactics.
History:
Not much is known about the girl called Loraine - not much prior to when she was found, living with a Ethiopian wolf pack deep in the forests.
She was found living among them - hair unkempt, unwashed, dirty, completely unused to contact with normal humans. She was thirteen at the time, and the officials had a crazy time trying to catch her - she was quick and wild, difficult to get control, impossible to reason with. She managed to beat around three officers before one of them had the sense to hit her with a tranquilizer dart.
Brought into civilization, a psychologist named Johann Mizrahi adopted her and took on the task of educating and raising her. Her case interested him and he wanted to study her more in-depth, but he also wanted to see that she was properly taken care of. It was hard at first - raising a fifteen year old girl is difficult even when she doesn't think she's a wolf - but Johann persevered, and by the time Lore was seventeen, she was able to go out in public and interact with other people.
Even still, thirteen years of living in the wild would not be so easily suppressed - she still had fierce, animalistic tendencies, always boiling beneath the surface. They found this out the hard way when a girl at her school made the mistake of trying to pick a fight with her - Lore came at her like a rabid animal, beating her to a bloody mess, and it took several of the staff members to hold her down.
Realizing that she needed to curb her tendencies, Johann felt it would be best to give her a place where she could vent in a relatively controlled manner, where she could fight and give the beast inside of her room to breath. The AFW seemed like a natural step - the fights there could get quite brutal, and while he was hesitant to put her in such situations, he knew it would be better for her to unleash in the ring than outside of it.
Needless to say, she loved the idea.
Fun Facts:
-Some people think she has superpowers, because she's able to hear things and smell better than most people - but that's not strictly true. Her abilities aren't superhuman, she's just attuned to her other senses than most. A normal human relies mostly on his sight, falling back on the other senses when that fails. The way Lore was raised, she learned to use her senses equally, and is capable of picking up on things that other people would miss.
-Because of her upbringing, she's deficient in certain vitamins. and has to take supplements. She absolutely hates taking pills.
-She's smarter than you might think - in the span of a few years, she was able to catch up to her age level in class. She has a penchant for reading - it's her favorite hobby, and she gets a kick out of reading anything, even cookbooks. Hates math with a passion.
-After the fight at school, Lore did feel genuinely bad about what happened - she visited the girl, Amanda, in the hospital and kept her company. The two are good friends now, and keep up with each other over Skype often.
-Her ring name comes from a little taunt people used to call her in school - Wild Thing. She hated it at first, but it eventually grew on her and she owned it.
AFW Information
Record:
Wins:
Losses:
Draws:
Championships/Accomplishments:
Friends:
Allies:
Rivals:
Enemies:
Crushes:
Last edited by acuya on Thu Oct 09, 2014 8:10 am; edited 4 times in total

acuya




Posts

: 17674


Join date

: 2014-02-14


Age

: 34


Location

: Charlotte, North Carolina, WOOOO!



|Wild Thing's Timeline|
Record: 1-1-0
1.
Wild Thing vs. Miyabi Takiyama
- LOSS
Wild Thing makes her debut in the AFW at the Friction World Cup, against another newcomer - the inexperienced yet energetic would-be sumo, Miyabi Takiyama!
2.
Wild Thing vs. Alouette Lebeau
- ONGOING
Lore's second match is a real doozy - taking on the newcoming giant, Alouette, in a brutal hardcore match!
3.
Wild Thing vs. Katsuko Himura
- WIN
In action once again, fighting the strange masked judo wrestler, Katsuko.
Last edited by 12547 on Mon May 12, 2014 4:23 pm; edited 5 times in total

acuya




Posts

: 17674


Join date

: 2014-02-14


Age

: 34


Location

: Charlotte, North Carolina, WOOOO!



---
Permissions in this forum:
You
cannot
reply to topics in this forum