Who is online?
In total there are
36
users online :: 9 Registered, 0 Hidden and 27 Guests :: 2 Bots
Diesel_Electric_Razor
,
Harrier
,
Iceman
,
Jstruggs716
,
LunarWolf
,
M.J.Caboose14
,
Nelv
,
Snidey
,
Teenwrestler
Most users ever online was
418
on Tue Jul 30, 2019 9:51 am
Champions & #1 contenders
Looking for debuts and matches.
Mon Jul 27, 2020 8:26 pm by Old_Man_Tai
Looking to be more active around here, which means starting more matches.
Yay more matches!
For those interested:
Cami
(will do hentai, but not for debut match)
Hiromi
(No hentai)
Blazing Kitsune
(no hentai)
All still need debut matches
I'm also accepting offers for matches against:
Kairi
(will do hentai)
Dark Star Chaos
(no hentai)
Grizzly
(no hentai)
Feel free to PM me or find me on the Discord if any of those sound interesting, or if you have another match you want to suggest. …
[
Full reading
]
Comments: 0
Apologies for delays
Fri Jul 24, 2020 11:19 pm by Old_Man_Tai
Hullo!
I just wanted to take a minute and apologies to the many people I am RPing with and my slowness this last month or two. It's been a busy time and I've had trouble with motivation and inspiration to post.
I am going to do better, I promise, and I will have posts up for everybody soon and I will try not to falter again...at least for a while XD.
Thank you for your patience and understanding.
Comments: 4
Specific Debut Match Idea
Fri Jul 24, 2020 10:45 pm by SuckerPunch
Hello friends and fellow AFW'ers! I'm looking for a very specific type of squash for the debut match of
Harmony Harper
, my newest character. If you're interested, please send me a PM on the forums! I'm looking forward to playing with you all!
Comments: 0
Name:
Mikhail Donovan
Nickname:
Devil
Age:
24
Eyes:
Grey
Hair:
White
Height:
6"0'
Weight:
158 lbs
Nationality:
Volgograd, Russia
Entrance music:
Wake Up The President
by Carpenter Brut
Wrestling InformationStrategy:
Devil's basic philosophy is to wear an opponent down to the point where they can't fight back, either by using his strikes to batter them senseless or his submissions to sap their strength. Once they're sufficiently weakened, he either picks them apart at his leisure on the ground, or, more often, lets Angel come in and have her way.
Style:
Hardcore Hentai Specialist
Type:
Mixed Martial Arts/BJJ
Preferred Attacks:
Knees, Elbows, Chokes - moves that aim for the head.
Preferred Matches:
Handicap, POW, Hardstyle Hentai, Trophy Matches
Physical Statistics
Endurance: ★★★ - A tough competitor, capable of taking what he dishes out.
Strength: ★★★- Not the strongest, but goes 100% with what he does have.
Speed: ★★★★ - A quick striker, deadly at a range.
Defense: ★★★ - Does his best work on the offense, but tends to falter when the tables are turned.
Technique: ★★- More a brawler, really. Lacks finesse.
Wrestling Statistics
Strikes:
★★★★★ - A gifted striker, breaking down opponents with a variety of blows.
Submissions:
★★★★ -  Wears down opponents with effective submissions when the openings arrive.
Powerhouse:
★★ - Prefers to get it done with his strikes and ground game.
Aerial:
★★ - While he's nimble, his strategy doesn't rely much on air attacks.
Counters:
★★ - Doesn't have the right mindset for counters.
Favored Moves:
Uppercut, Lariat, Big Boot, Brainbusters, Savate Kick, Chokes, Sleepers
Signature Moves
Liver Blow:
What it says on the tin - a targeted, precise shot to the liver, delivered with power and speed. It's enough to take the fight out of an opponent quick if Devil can find the opening to use it, which sets them up for his more sensual moves.
Brute Force:
Devil's go-to submission. While he rarely clinches it tight enough to get a win, it's usual for leaving opponents vulnerable, allowing him to strip and grope them.
Finishing Moves:
Pitchfork:
A spinning hook to the face, and what he uses to finish off more troublesome opponents. It comes out fast, often knocks opponents clean out, and he's quite good about connecting with it out of nowhere.
The Divide:
The Banana Split - when an opponent is sufficiently worn down, Devil wraps his legs around their thigh, his arms around their leg, and pulls them apart, forcing them to split. This would be a deadly enough move on its own, but he can often use one of his hands to work at their exposed crotch area while he torments them, and heaven help the opponent if Angel is able to participate.
Characteristics
Personality:
Mikhail is a simple man who follows simple rules: first and foremost, what Angela wants, she gets. He doesn't talk much, figuring that Angela does more than enough talking for both of them, and likes to express himself in the ring, which is one of the few places where he's able to dominate in the ways he truly enjoys. He likes to fight. Like to watch his wife be in control. Likes to take apart foes, with or without her. Likes the idea of being her 'tool', beating down opponents so she can tear into them.
History:
Growing up poor, it seemed like Mikhail was bound for a violent life right from the start. Whether or not he would be able to have three meals a day often depended on how well he would be able to steal his food that day, and he often found himself scrapping with other boys in the street to get what he needed. The more he did this, the better he'd became at it, until his fighting skills gained the attention of a coach at a local MMA gym.
Seeing natural talent in the boy, he was taken in and given proper training, in the hopes that it would not only give him a career, but also foster some discipline. It was a noble effort, but it never really took with Mikhail. He followed the rules as much as he had to, tried not to push things, but the more he fought, the more he liked fighting for the sake of it, and the more he enjoyed dominating his opponents.
This continued into adulthood, as he went professional and started racking up wins. While he had great success, he gained a reputation for being brutal and taking shots even after opponents were clearly defeated, ignoring the referee's attempts to pull him away. This sort of behavior was bound to cause him trouble one day, and it eventually wound up with him being banned from competition.
Luckily for him, he'd caught the eye of Angela St. Croix, a fashion designer and wrestler who'd taken an interest in him. She convinced him to join her as a mixed tag team in  SAW (Sexual Anarchy Wrestling) an American promotion that was trying to establish itself as the USA's AFW equivalent, and the two of them had immediate success, with Mikhail serving as the cruel enforcer to Angela's sadistic whims, and working up a taste for sensual domination himself. They grew into sexual partners as well, and were married after a year.
It was shortly after this, however, that RAW finally folded, in large part because of them and their violent and lewd matches. While Angela's modeling work kept them financially stable, they wanted an outlet to continue their kinks, and the AFW was the logical choice.
Appearance:
Usual Attire:
Posing:
Ready to pounce…:
Some of Angela's alternate designs…:
Fun Facts:
-Something of a sunglass aficionado. He has a collection.
-Because he's foreign, doesn't speak much, and tends to speak Russian when he does, people tend to assume it's the only language he knows. Devil is, in truth, fluent in Japanese and English, but likes to keep quiet. People say interesting things when they think you can't understand them, he finds.
Championships/Accomplishments:
Friends:
Allies: Angela St. Croix
Rivals:
Enemies:
Crushes: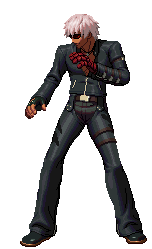 acuya




Posts

: 17235


Join date

: 2014-02-14


Age

: 34


Location

: Charlotte, North Carolina, WOOOO!



---
Permissions in this forum:
You
cannot
reply to topics in this forum