Champions & #1 contenders
Killer King
Sat Jul 04, 2020 5:58 am by KillerV
Looking for female opponents to lose against Killer King, willing to discuss about it...
Thanks in advance.
Comments: 0
Summer Splash start date reminder
Tue Jun 30, 2020 7:13 pm by Old_Man_Tai
Summer Splash starts on July 15th this year.
After the poll that was taken, we decided to push SS back a little this year, to give people more time to get stories together given the pandemic.
With July around the corner, we decided to give a couple extra weeks and start SS halfway through July, just to give people some more time.
Comments: 0
Coming Back?
Wed Jun 24, 2020 7:38 pm by Lotuswarrior
I've been thinking of coming back, but I want to focus on a single character to promote some development. Looking back at what I've done, I've been thinking about how I did things and how I've could've made them better.
Not saying I've greatly improved while I've been away, but I think that most people will at least notice some improvements in my future matches or roleplay events. I have a few characters that I want to truly focus on using, but the others will probably be deleted or turned …
[
Full reading
]
Comments: 0
Page 1 of 4 • 1, 2, 3, 4
Preceded By:
Kyo Akamatsu Vs. Kara Vela
Followed By:
Tag Elimination: The Valkyries Vs. Blaise Cameron, Amy Poford & Mariko Ishii
Domino:



Vs.
Hana Fujioka: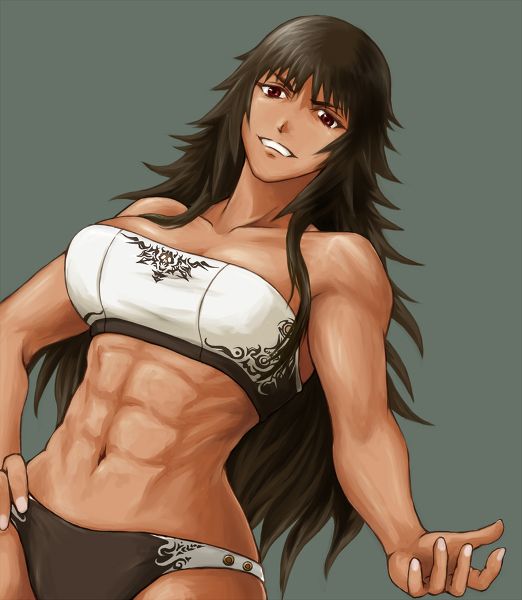 Match Type: Standard
Winning Condition: Pinfall, Submission or Knockout
Special Conditions: None

Tatyina




Posts

: 27237


Join date

: 2009-04-02


Age

: 100


Location

: VIP Box inside the AFWDome



Hana's heart pounded against her chest, as she sat on a bench in the locker room, anxiously waiting for the right time to make her way to the ring.
She could hardly believe this was happening. Somehow, for her second match in Tension, her second match in the AFW
period
, she had snagged herself a pay-per-view match. Not only that, but it was one against the
number one contender
for the Tension title. Needless to say, she was a little nervous.
She stood, pacing to her locker, popping it open to glance down at her phone, not for the first time that night. It was nearing time to begin, and she still couldn't wrap her mind around what was happening.
With a few quick motions of her fingers, she sent off a text to Carmen, then shut her locker and left the room, heading down the hallways towards the waiting area.
still cant believe this is happening. what strings did u pull for this to get me this match???
As she walked down the halls of the AFW arena, she breathed slowly, deeply, trying to calm herself, trying to steady her nerves. It was hard though. She was anxious, but she was excited too! Only her second match, and it was already the most important one of her career!
She couldn't help but think about what it would mean if...
when
...she won. The thought thrilled her, but she knew better then to get too excited before the match had even begun.
By the time she reached the waiting area in the arena entrance, the backstage officials were already ready for her. They gave her a nod, signalling the giant Okinawan to head on out, and Hana nodded right back at them, stepping through the curtains and into the arena.
Her entrance theme
blasted around her as she stepped out onto the stage atop the ramp, planting her feet firmly against the metal, spreading her arms wide. Despite her anxiousness, she was grinning, and her grin only grew wider as the crowd erupted into cheers and screams for her. Oh yeah. They remembered. They remembered her match against Army, and they remembered what she could do in the ring. It was good to know that they were behind her (at least for now, anyway), and it only made her grow more and more excited, more eager to get the fight started.
Unable to contain her excitement any longer, Hana suddenly burst into a full sprint down the ramp, sliding quickly into the ring and leaping back to her feet. She spun around to face the entrance again, ready and waiting for Domino to appear so that they could get things moving.

Alexandra




Posts

: 10839


Join date

: 2009-06-21


Age

: 34


Location

: Neo Cyber City, 3 A.M.



His second PPV. It wasn't the match he was looking for. No, to be more precise, it wasn't the rematch he was looking for. Instead, his prey is hiding behind her lackeys. Ducking him. Dodging him. Holding his title hostage.

Drake "Domino" Vyril is not a happy camper. His last, straight match was a loss for the title - a cheap, dirty loss. He isn't counting the impromptu tag team. That was a slaughter, and more Julia's thing, in his mind. He got to tell Reira what's coming, but it was far from satisfying. He won't be content until he sets the record straight. That's not going to happen tonight. Tonight, he's going to face a relative newcomer. And either lose more face with the fans who'd supported him this far, or remind them why he deserves the title.

A loud *clang* rattles in the otherwise silent locker room as Domino slams the metal door shut. He's already dressed in his wrestling gear; a pair of black and white traditional-style trunks cover his hips, with a pair of boots and bracers to match. His upper legs and thighs are left bare, but his upper-body remains covered in a white t-shirt featuring an artistic black and white silhouette of his head on the chest, with the word "DOMINO" written above, and "EFFECT" written beneath. His first piece of merchandise, in his history of professional wrestling; a reminder to himself that he's come a long way, and what exactly is at stake tonight. He can't afford to lose here.

As he considers this, he realizes he's tense. He's almost as tense as he was when he took on the "champ." Not only is he tense, but he's in a bad mood. The grappler moves aside to look at himself in the mirror and frowns. This isn't like him. He needs to check his attitude. He doesn't know anything about this opponent other than a name, a general description of "big," and that she's new. He can't afford a loss to another newbie to the roster, especially not now. But while he's going to take this match seriously, he can't treat this girl like she's his enemy. She isn't. She's a step to claiming what's his, but potentially a friend.

Now that he's thinking about it, the "big" description is making him more curious. He wants to meet this chick.

Amethyst eyes shut, and he draws in a deep breath, only to release it in a cleansing whoosh of an exhale.

'Let's do this.'

_________

The announcer calls for the young, athletic star, and his woefully free domain techno begins pumping through the speakers. 'God! I keep forgetting to find a song!' Nevertheless, the audience explodes into cheer as the curtains are thrown back and Domino leaps into view. White pyrotechnics burst at either side of the ramp in sync with an energetic, skyward thrust of his fist. A brilliant, confident smile brightens his smooth features, dark-hued eyes shining with zeal.

Domino trots energetically down the ramp, drifting side to side to slap high-fives, bump fists, and hug the more bombastic female fans. Upon reaching the ring, leaps up onto the apron and grabs the top rope. He leans back to stretch the elasticity and springs up and over to land his feet squarely on the mat with a bounce. The momentum carries him up a turnbuckle, boots balanced between a pair of middle ropes. He grabs onto the collar of his shirt and strips it away in a single flourish, exposing his sleekly-toned abdominals and defined chest. With a quick windup, the garment is pitched out into the roaring audience - a souvenir for a lucky fan.

The teen pats a fist to his left pectoral, then points in a slow, sweeping arc out over the stadium. Despite the cultural and linguistic differences between the American and Tension's predominantly Japanese audience, the gesture of heartfelt appreciation and acknowledgment is universally understood.

At last, Domino drops from his roost and turns to settles into his corner, alternatingly lifting his boots to let the referee inspect him for foreign objects while his focus rests squarely on Hana Fujioka. His expression betrays nothing more than a raised pair of eyebrows. She's taller than him. That's impressive. And she's built, like a sexy gladiator. That's cool. This is going to be an interesting match one way or the other. He hasn't wrestled many powerhouses since coming to Tension.

He's looking forward to this.

Once the referee has determined he's not packing anything in his notably scant attire, Domino leaves his corner to make his way to the center of the ring. He doesn't speak yet. He's deliberately waiting to see how she approaches him, hoping to gauge her personality.
With arms folded over her chest, Hana watched in great interest as Domino made his way to the ring, the Okinawan's eyes tracing over him, taking in every part of his body. She was sizing him up, inspecting him, and as he entered the ring, she gave him a single, slow nod. She was impressed with what she was looking at. He looked like a fighter, and despite his smaller size, Hana could tell that she was going to have a long match ahead of her.

She was looking forward to this, too.

When Domino stepped forward, moving to the center of the ring, Hana made her own way out of the corner, stepping in towards him. She moved in close, until she was standing chest-to-chest with him, and looked down into his eyes, giving him a confident, sure-of-herself smile. She didn't say anything, not yet, wanting instead to see how he would react to her. There wasn't many women in Tension as big as her, and she always found it interesting to see how people reacted to her when they ended up in the ring with her for the first time.

Alexandra




Posts

: 10839


Join date

: 2009-06-21


Age

: 34


Location

: Neo Cyber City, 3 A.M.



The height difference is a little more noticeable at this proximity, Domino realizes. But he doesn't let that register on his face. He's used to fighting bigger people. Certainly not bigger women - that one's new - but in his old federation, assessments of his physique ran the gambit of "skinny" to "scrappy." Neither of these helped him be taken seriously.

While this may have been initially a little intimidating, that thought is bolstering his determination. Sure, anyone from America watching that may carry on about him wrestling a girl, but even a simple glance over her physique would reveal she's anything but a dainty little petal. She'd likely embarrass most of them back home in a straight test of strength. That makes him happy. Screw whether or not they'd admit it, he knows taking her down would be a statement by itself.

Unless she turned out to be kind've a wuss. Heck, that's a possibility. But as his amethyst eyes meet her brown gaze, he finds himself sincerely doubting it.

The referee-girl closes in at their side to ensure they're ready, but not about to interrupt their staredown. She knows she's only a facilitator, and the audience is eating up the building tension.

A sly half-smile tugs at the corner of his lips. He stands his ground at that close proximity, nearly chest-to-chest with her. "You ready for this?"
Hana's smile grew wider, as Domino moved closer towards her, unflinching and unfaltering against her confidence and her greater size. She stared down at him, taking a half-step forward, moving closer towards him, so that their chests just barely pressed into each other's. She gave him a slow nod in response to his question, an eager fire burning in her eyes, the woman ready and anxious to get things started.

A few more seconds went by, Hana refusing to break her gaze from Domino. Then, the bell finally rang, and the big woman went straight into action. She took a step back from her opponent, and lifted her arms up towards Domino, giving him another smile, inviting him to accept a lock-up from her.

Alexandra




Posts

: 10839


Join date

: 2009-06-21


Age

: 34


Location

: Neo Cyber City, 3 A.M.



It's a scintillating bit of contact, the muscled woman's breasts just marginally contacting Domino's toned pectorals. The audience is eating up the staredown, the tension - well, it's in the name, isn't it?

Satisfied, the referee girl motions the bell to start the match.

*DING*

Hana's in motion as quickly, if not quicker, than Domino on the outset. But he doesn't miss a beat. When she offered a lockup with a smile, her younger opponent gave a smirk of his own and eagerly accepted. It's time to see if she earned that physique by training, or if she's nothing more than a "glamazon." His arms lace with hers, his hands grappling at her shoulder and collar. And immediately, he attempts to overpower her. The streamlined muscle of his arms flex, his chest tensing, and his dark gaze burning on hers, anxious to pounce on a moment of weakness.
Hana was satisfied. Domino was breaking down, and he was quick to begin pushing back against her. That was good. She wanted a challenge out of him tonight.

She stared back into his eyes, gripping his shoulder and his collar tightly, and planting her feet firmly into the mat. She wasn't going anywhere, not until she wanted to at least. For now, she wanted to get a feel for his strength, to see just what he was made of.

She pushed back against him, leaning into him, and allowed herself a light smirk. "Heh..." she began to whisper, her gaze piercing as she stared into his eyes. "You're pretty strong..."

Alexandra




Posts

: 10839


Join date

: 2009-06-21


Age

: 34


Location

: Neo Cyber City, 3 A.M.



Domino steadily ramps up the force behind the grapple, not flinching from her gaze. His right foot slides back to anchor his position, heel digging in. His fingers grip onto her toned frame tighter, leaning into her enough to nearly touch brow to brow with her. Each exhale washes his breath against her lips.

At her compliment, a wry grin just touches the corner of his lips. His gaze remains defiantly steady on hers. "Thanks. You, too..." He's pleased that she's as solidly built as she appears; that her body isn't one sculpted purely for show. That'll make tonight more meaningful, and serve as solid training. With a sudden push, the steady increase in pressure becomes an abrupt, concerted effort to try to take her by surprise with a single, forceful push.
There it was. Domino suddenly began to power forward, a sudden effort to force Hana back, and it was working. Step by step, the giant Okinawan began to lose ground, her eyes going wide as the man began to shove her backwards.

"Nn...thanks..." She answered him through gritted teeth. Further back she was forced, but she wasn't worried. She already had a plan for the grappler in mind.

She let him keep pushing her back, easing up her end of the grapple to save her strength. She waited until she had been forced back a few more steps, then Hana would suddenly try to twist to the side, trying to use Domino's own momentum to bring him around herself and towards the ropes, trying to send him towards them.

Alexandra




Posts

: 10839


Join date

: 2009-06-21


Age

: 34


Location

: Neo Cyber City, 3 A.M.



Page 1 of 4 • 1, 2, 3, 4
---
Permissions in this forum:
You
cannot
reply to topics in this forum