Champions & #1 contenders
Poll regarding Kayfabe rules of hentai in non-hentai matches.
Sat Oct 17, 2020 9:03 pm by Old_Man_Tai
So, one of the various different things we are looking to bring to the board soon, is an official list of "In-World Rules", to help with world building and such and just make clear what the in-story rules of the Friction and Tension leagues are.
One thing I've noticed that people seem to handle differently, is the idea of using hentai, as in fucking, groping, stimulation, anything actually involving touching privates and beyond just flirting/kissing/rubbing in non-hentai matches. Some seem to …
[
Full reading
]
Comments: 31
Need Debut matches/Simply looking for more
Tue Sep 08, 2020 11:19 pm by Void Effect
Comments: 7
Looking for a match.
Thu Oct 08, 2020 10:11 pm by Old_Man_Tai
Simply put, looking to get Silver Ace two or three short, quick matches to set up her story for her Avalanche match.
Also if somebody knows how to use photoshop, have a favor to ask.
Contact me on Discord or PM if you are interested.
Would be willing to offer proper matches with other characters in trade if that's acceptable.
Comments: 0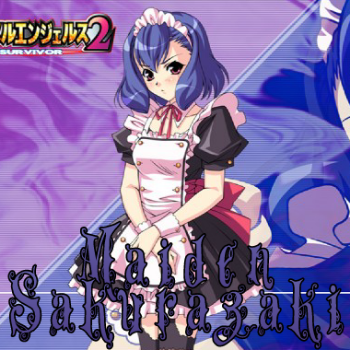 Full Name:
Misaki 'Maiden' Sakurazaki
Nicknames:
The Fighting Maid, the Queen of South High, the Ice Goddess, the Absolute Council President
Age:
30
Eyes:
Black
Hair:
Pink, dyed Blue
Height:
5"4'
Weight:
141 pounds
Home:
Japan, Ehime
Entrance Music:
KARATE
by Baby Metal
Wrestling Information
Strategy:
With over a decade of wrestling experience, Maiden has picked up a rather impressive library of moves to select from. Over the years, she's settled into a 'no-frills' sort of style, valuing submission holds, strikes, and grapples that, while they don't do much to get the crowd on her side, are effective. She's quite efficient in the ring, and prides herself in wasting as little time as necessary.
Style:
Technical Wrestler
Type:
Focused Offense
Preferred Attacks:
Tends to wear her opponent down with strikes - particulary, she's partlal to chops and palm strikes that stun the enemy and leave them open to her DDT variations, or suplexes for the lighter opponents. Once on the ground, she likes to work with submission moves or go for pins when available
Preferred Matches:
Whatever her employer desires. While she doesn't like doing hentai matches or hardcore, she will participate in them if her employer wishes it. This will cause her rates to go up, however.
Physical Statistics
Endurance:
★★★ - Reasonably durable for her size..
Strength:
★★★- Strong for her size.
Speed:
★★★★ - Very quick on her feet, able to maneuver the ring with ease.
Defense:
★★ - Tends to work better when pressing advantages and working offense.
Technique:
★★★★ - Has picked up an impressive, if basic, skillset from her wrestling career.
Wrestling Statistics
Strikes:
★★★★ - A center of her strategy. Prefers chops and knees.
Submissions:
★★★★ - Her other staple. Excels at turning moves into submissions..
Powerhouse:
★★ - She can do some suplexes and grapples, but prefers to save them for the rare opponent she's bigger than..
Aerial:
★- Has no desire to go up top.
Counters:
★★★ - Not her best area, but can surprise you every now and then.
Signature Moves:
Pay Day:
A spinning backfist. Maiden turns around at high speed and gives her enemy this incredibly stiff shot. Always stun, rarely misses, and gets a knockout on rare occasions.
Maid Service:
A codebreaker - when her opponent is just starting to turn around to face her, Maiden rushes at them, jumps up wraps her hands around the back of her neck and presses her knees against the opponent's chest, then falls back and lets gravity do the rest.
Finishing Moves:
Maid to Order:
A package piledriver. WIth her opponent bent over, Maiden shoves their head between her thighs. She then reached down and hugs the victim, pulling her arms together at her sides. From there she lifts up, grabs the back of her opponent's knees, then drops straight onto the canvas, driving her opponent's head into the mat.
Maid In Heaven:
An STF - The victim is on her stomach on the mat and Maiden stands behind her. Stepping between her legs, she isolates one of them and bends it at the knee, then locks it with her legs by lying sideways on her opponent's lower back. Maiden then reaches over and clutches the chin of her victim, pulling back on it. The victim's body is both bent upwards and sideways at the same time.
Personality:
Maiden is a submissive, but not in the way most people think when they heard that term. She doesn't enjoy being beat up and she doesn't have some kinky need to be strapped on a table. She's submissive in the sense that she likes serving people and being their tool - she finds it an easy, pleasing experience, as she does what she's asked without question or pause. Maiden is at her happiest when she's working and doing as she's told, whether it be something as simple as cleaning a shelf or as brutal as breaking someone's back.
She might have moral problems with the things she's paid to do, but you'll never know it unless you ask her. In her mind, when she does for her employer is solely on the person paying her. Desire is taken out of the equation.
She's incredibly pleasant while on the job, regularly ending sentences with 'please' and 'thank you', speaking in the most formal language even when she's breaking her opponent's back in the Maid Service. Off work, however, she's notable colder, and is very difficult to talk with, often using the bare minimum of words needed in order to convey any point. It's also notable that her apartment is a mess, despite the obsessive cleanliness she displays on the job. This is likely because she spends so much time cleaning other people's homes that she neglects her own.
History:
On the outside, Misaki lead a perfect life all the way through high school. She excelled in all her subjects, was a gifted athlete and head of the karate team, and became the student council president by a landslide vote. She was well liked and well respected, but something was missing in her life. She couldn't describe what, but there was hole that needed filling.
She tried a few things after high school, but nothing clicked. Eventually, a friend suggested she try wrestling and apply her skill in karate. She went with it, and while she had some good success, it still didn't quite fulfill her.
That was, until her employer decided she needed to try a maid gimmick.
It was just something to give her character some flavor, make people like her more. But the more time Misaki tried the gimmick, the more she liked it, to the point where she decided she actually liked serving others. She went into training to become a real maid, and carried this with her when she moved on up to Wrestle Angels and joined their ranks.
While she never held a title Misaki (or Maiden, as everyone called her) managed to win some fairly significant bouts and sustain herself. When Wrestle Angels folded, she was one of the few angels who didn't try to find wrestling work elsewhere. Instead, she just became a maid full time.
It's been a few years now, but Maiden never stopped training, despite not being in active competition. Truth told, she does miss the ring just a little bit…
If Kaede were a Pokemon, she'd be…:

MISSINGNO

acuya




Posts

: 17595


Join date

: 2014-02-14


Age

: 34


Location

: Charlotte, North Carolina, WOOOO!



---
Permissions in this forum:
You
cannot
reply to topics in this forum