Champions & #1 contenders
Looking for a match for a debut for new girl
Sat Aug 08, 2020 6:42 am by Void Effect
Like the title said: Looking for a match for Lily, contact me using Discord please or PM
Spoiler:
https://afwrpg.forumotion.com/t20264-lily-harper-the-princess-knight#543965
Comments: 0
Looking For Matches/Long Term Story Threads For New Wrestler
Fri Aug 07, 2020 12:19 pm by HighFly
Hey everyone, I just made JJ and need some threads for her!
https://afwrpg.forumotion.com/t20259-jj-janella-johnson
I am looking for matches, maybe even a long term rivalry as well! If you feel like you want to work with her long term asa sparring partner for friend outside the ring after a match that is fine as well. Really anything that tells a fun story would be awesome! Please PM me if interested, thank you!
Comments: 0
Delay
Thu Aug 06, 2020 2:16 am by ChateauDame
My apologies for the delay on all posts and plans. My workday has a start time dialed back to a 4:00 AM start as of late and I don't end until about 4 or 5 PM so I am utterly tired as of late. I have about the rest of the week at this schedule and then it should lighten up a bit. I am optimistic for a sense of normalcy soon, maybe this weekend or start of next week.
Apologies for the delay!
Comments: 0
Name
: Zachary Fall
Sex
: Male
Age
: 19
Eyes
: Gold
Hair
: Red
Height
: 5'5
Weight
: 158 lbs.
Nationality
: American
Alignment
: Face
Entrance music:
Running by Adam Lambert
Wrestling InformationStrategy
: Zach physically isn't very imposing, which has him focus more on preforming submission holds and counters to keep his opponent from overwhelming him. He's even a bit acrobatic, being able to preform nimble moves required of a counter fighter.
Style
: Submission
Type
: Counter
Preferred Attacks
: leg locks, camel clutch, counters
Preferred Matches
: Any
Endurance
: *****
Strength
:**
Speed
: ****
Defense
:**
Technique
: ****
Strikes
: *
Submissions
: ***
Powerhouse
: **
Aerial
: ***
Counters
: ****
Signatures
:
-Figure Four Leg Lock
: Given his limited experience in wrestling, Zach prefers to take a more simply route with his moves. Although it is just a regular leg lock Zach prides in his ability to set the move up quickly while also finding ways to get out of it.
Finishers
:
-Take it Down
: With his opponent down, Zach will climb the corner to ascend to the top rope. As he sees his opponent begin to rise, he'll make the leap and try to land a double drop kick on them. It's a risky and dangerous move, more likely to fail than to work, but if it lands he knows the damage it could cause.
Characteristics
Visual Appearance: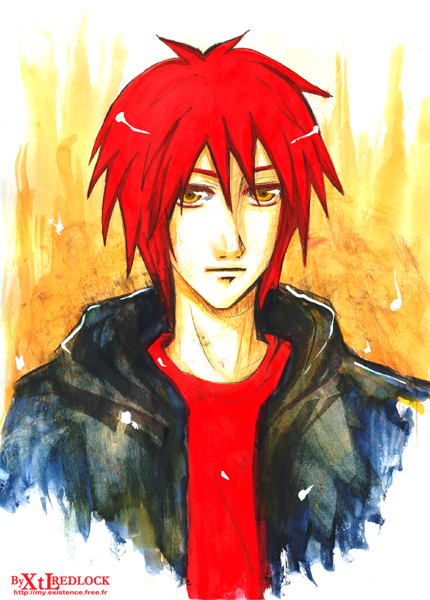 Personality
: Zach is a slightly timid boy, who has trouble in dealing with too many people at once. His nature however is slightly changed when in a match, as he has a semi-competitive side. He wants to make an impact with others, but isn't sure as to how he could. But as he continues to wrestle, he hopes that he'll confidence will boost enough that his anxiety can be handled without being in the middle of a match.
History
: Zach grew up just outside of New York City, in a busy town that had most of the parents heading out to the big city for work. Most of his time was spent either in school or at home alone. He had trouble making friends, which in turn made him the loner within the town. And being the loner had always been a difficult position to be in.
He would be picked on or even hit because of his reclusive nature, something that didn't get missed over his parents. Seeing the injuries he'd come home from one day, the set him up in self-defense classes, hoping that the method's he learned would keep him safe from the town bullies.
And it worked, even giving him a small confidence boost when he was in the midst of one of the fights. He still had trouble making friends, but no one was picking on him, and that was good enough for him. Although he made one good friend, a girl by the name of Aria, who helped him train and even give him pointers on how to deal with more power based wrestlers.
It wasn't long until he felt that he could take his skills further and try to hone them in matches. And so he searched for leagues of wrestling until he came across the AFW. And as the foolish boy he was he signed up without looking at the finer details of the league. But even after he discovered his mistake, he remains dedicated to try his best to move up in the league. No matter how many times he fails miserably.
Wrestling Attire
: Black wrestling shorts with a white stripe
Fun Facts
:
-Zach got into wrestling thanks most to his friend Aria, who he made sure to keep the league he joined a secret from.
-Zach timidness comes and goes when dealing with a single person, usually coming much more when talking to an attractive girl.
-Zach has impressive endurance, able to get back up from moves due to his friend Aria's questionable training.
-During his training, Zach had learned that he had a surprisingly high amount sexual stamina. He doesn't comment on how they learned it, but anyone with a brain could obviously tell why.
Record
:
Wins
:
Losses
:
Draws
:
Championships/Accomplishments
:
Friends
:
Allies
:
Rivals
:
Enemies
:
Crushes
:
Last edited by USLMAN on Thu Aug 16, 2018 2:24 pm; edited 1 time in total (Reason for editing : Added fun fact)

USLMAN




Posts

: 1693


Join date

: 2018-08-13


Location

: Somewhere



---
Permissions in this forum:
You
cannot
reply to topics in this forum