Champions & #1 contenders
I'm back
Wed May 20, 2020 10:48 am by Ragdoll_Jobbers
Hey everyone! I'm back. My grandparents are safe now and I have been able to get some free time again. I look forward to RPing and talking with everyone again.
Comments: 2
Cicilia De'Reignhardt: Looking for a Match
Wed May 20, 2020 4:41 am by Cicilia
Comments: 0
Hoping for some matches
Sat May 09, 2020 3:32 pm by anime_hentaifighter
Comments: 4

Tatyina




Posts

: 27237


Join date

: 2009-04-03


Age

: 99


Location

: VIP Box inside the AFWDome



Light was eager to get into his next battle, after the disaster that almost occurred when he battled Sally the artificial girl. Who reminded him so much of Lunar, the robot girl built to be Light's partner in all things. Now though the magical weapon was fighting a genie, and Light couldn't say he'd ever battled one before.
Granted combat was what he had been created for, and that's what he did best. Aside from DIY. Light fought giant demonic teddy bears, vampires, warlocks that could alter reality, even fallen angels. The supernatural just had so many interesting things that Light was able to test his might against. As much as he believed himself to be a hero alongside Team Starmage, the truth was that Light loved to fight.
And that's what he was doing here, the magical weapon was on board a helicopter. Which was flying at a high speed towards a large and foreboding tower, thunder and lightning crackled all around. The location was visible though.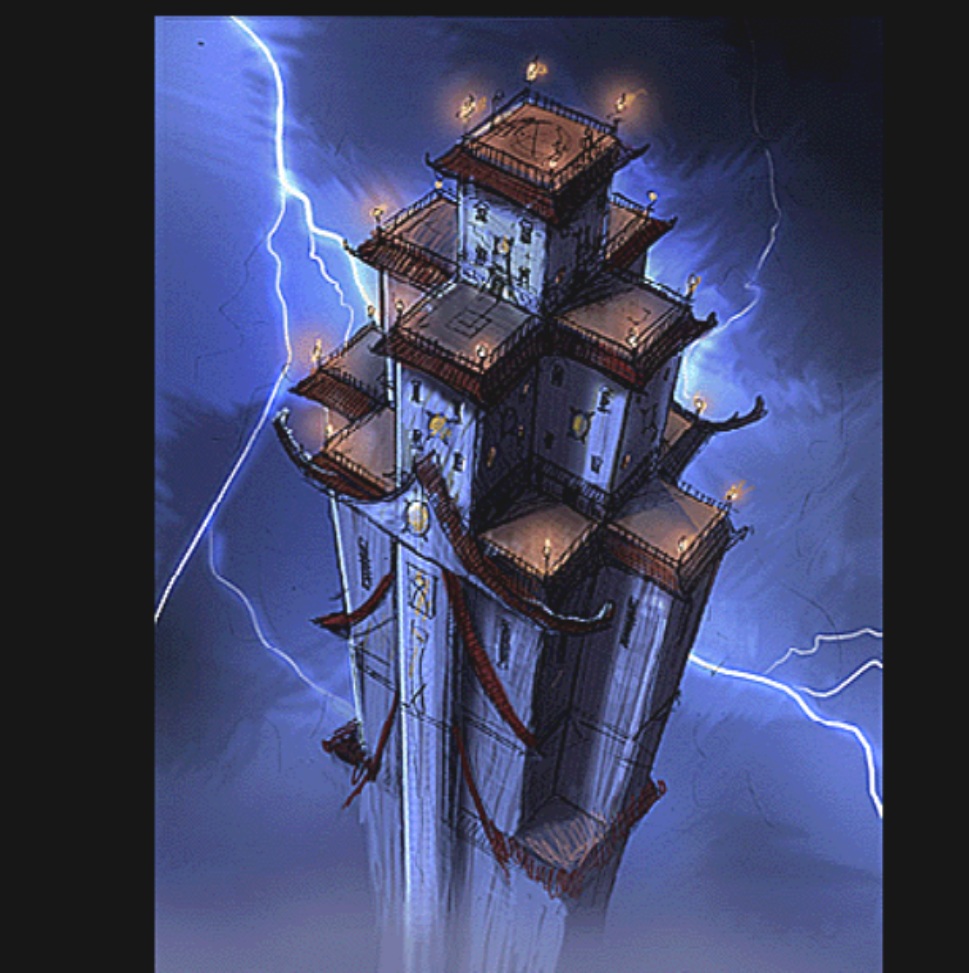 Light wasn't really dressed for combat though, he wore a black leather jacket. Tied at his neck and draped over his shoulders, his bare chest on display with the tattoos that had been inscribed on him during his experiments growing up. His lower body had a pair of blue jeans with black sneakers.
https://2img.net/r/ihimizer/img855/7471/hcra.png
The leader of Team Starmage, a man by the name of Ryan Carlson was briefing Light on his objective for tonight. The magically enchanted katana tied to his hip as per usual, a dossier in his hands.
"Light your target is a genie by the name of Jezebel, information on the subject has been hard to come by. But we suspect she has shapeshifting powers, anything else we're not sure on. Your objective is to incapacitate the target. If we can bring her back to the mainland we can perhaps question her."
Light merely grunted in the affirmative, he was getting ready for this fight. The rear of the helicopter opened up, Light was getting ready to jump out the aircraft as it got near the roof of the tower. "This is like my birthday come early." Light said to his leader, he'd never fought a genie before and was looking forward to what could happen.
Mr Carlson rolled his eyes and said "Just be careful, the helicopter will be moving out this location. The weather's bad enough as it is, once the fight's over we'll come back and pick you up. We're monitoring, good luck and Godspeed John."
The magical weapon nodded and jumped out the aircraft, landing on the roof with a heavy thud. The helicopter flew away, leaving Light on the raining and thundering roof.
Then faint ghosts were beginning to move about, Light groaned slightly. One female ghost neared him, holding a sign that said "Help me find my baby." and a male had a sign saying "I can't leave till I'm forgiven."
Light ignored them, and kept his senses sharp for any indication of his opponent arriving. A shark like grin was on his lips as he waited......

Deus001




Posts

: 5864


Join date

: 2013-04-19


Age

: 25


Location

: In a secret place in Edinburgh.



Jezebel was already inside the tower, waiting under a trapdoor. She would've waited outside, but, y'know... lightning. And even worse, soon to be rain. The genie's arms were folded, and she wore a scowl on her face. "Who the hell thought it would be a good idea to schedule a match on top of a huge tower while there was a thunderstorm? They better pray I don't get my hands on them..." She groused, sourly waiting for the order to get up on the roof and fight.

She had to admit, though, this was awful exciting. In her time at the Fur n Feathers, there had never once been a tournament like this one, and she had gotten an invite! What's more, she lucked out--there had been an odd number of contestants, so she got to skip the first round of fights. That automatically meant she had placed ahead of some people! Not that she considered losing an option, really...

She frowned a little. Was fighting in a high profile tournament like this really a good idea? The ones she had been running away from all these years might catch whiff of her... honestly, they probably didn't care about her anymore, but if one of them decided they wanted another genie to round out their harem, well, Jezebel very much doubted this organizations ability to keep them away from her. She puffed out her cheeks. On the other hand, though, she had been going crazy from boredom. Maybe this was just the cure...?

Before she could muse any longer, a tinny voice over the intercom informed her that her opponent was here. She tossed open the door and walked outside, before wrapping her arms around herself and shivering. "Jeesh, I am not dressed for this..."

TekRobo




Posts

: 1471


Join date

: 2013-02-14


Age

: 25



Truth be told the weather never really bothered Light, his upbringing gave him that. When he escaped his testing facility all those years ago, the magical weapon had nothing but a pair of white trousers to his name. And then he learned to fight animals and eat them, although one time he did get a black leather coat from a biker. The guy sped past Light and got clotheslined right off the motorbike, which started Light's fascination with the coats.

Light wasn't really shivering all that much, he had been used to roughing it out in weather like this. Although the thunder and stuff did give him slight cause for concern, just he case he got shocked and sizzled. But that was at the back of the magical weapon's mind, right now he was waiting for his opponent for this battle.

And sure enough she appeared, her outfit was kinda what Light expected. More fancier than what the magical weapon was wearing though, the colour of the genie's hair reminded Light of the cotton candy colours of Lunar's. All the ghosts that were harassing Light earlier had vanished, likely they could sense the strong powers and didn't want to get involved. Even in the afterlife one could still be hurt after all.

Her little comment made Light smirk slightly, this had to be the opponent that Light was to face tonight. Light had been sitting near one of the corners of the roof, he then stood up to his full 6ft 9inch height. Hands in his pockets as he displayed the tattoos which covered his torso, only somewhat concealed with the worn black jacket.

The magical weapon took a few steps forward, looking up and down at Jezebel as if to size her up.
"Yo, the name's Light Killer. Your Jezebel I take it? Can't say I've ever fought a genie before, this'll be good." Light said in a jovial tone, almost like this was some sort of game.

Deus001




Posts

: 5864


Join date

: 2013-04-19


Age

: 25


Location

: In a secret place in Edinburgh.



Jezebel looked up at Light Killer, hands on her hips. "Well, aren't you a tall one?" She said, quirking an eyebrow. He had a foot and four inches on her--that was quite the difference. The genie wasn't really that worried--this fight was all about the powers you had. What tricks he could pull out were much more worrying to the genie.

"Well, I was a genie." Jezebel said airily, walking around Light Killer, hips swishing left and right as she eyed him. He did look buff. He might be a bit of a hassle. "I guess I still am, technically... but warping the very fabric of the universe itself is a little out of my reach as is. What about you, oh murderer of photons? What are you?"

TekRobo




Posts

: 1471


Join date

: 2013-02-14


Age

: 25



Light had people comment on his height in the past, most likely it had something to do with the tests that were done on him growing up. He certainly was "The big guy" of Team Starmage, both in height and in powers, Light was the shield for his friends. The one who waded into the battle, so they wouldn't have to.

Still Light had learned that just because he was bigger didn't mean he was stronger, although it might help if it came down to hand to hand stuff. Depended on how good Jezebel was with her fists, after all Light had no formal combat experience. Pretty much everything he did was self taught and instinctual, figuring out what worked and what didn't.

Still Jezebel's words gave Light pause, so it was just something you could be and then not? Vampires and werewolves didn't work like that as far as the magical weapon knew, but then again it might be different depending on stuff. After all there was stuff that Light probably hadn't seen yet, he stayed where he was as Jezebel walked around him. It seemed that pulling a sexy walk was part of the shtick, but Light wasn't focusing on that as he was more interested in what Jezebel was saying. He waited till she was done talking, out of common politeness of course. He would then say his own piece.

"What am I? I'm a living battle machine I guess you could say, I was created with magic flowing in my veins. And I just cannot seem to die, no matter the torture I put myself through. So do not make the mistake of assuming me to be a simple human." Light would do this while walking towards the middle of the roof, seemingly without a care in the world as he spoke. The battle would be soon, but still Light didn't mind pre match banter.

Deus001




Posts

: 5864


Join date

: 2013-04-19


Age

: 25


Location

: In a secret place in Edinburgh.



---
Permissions in this forum:
You
cannot
reply to topics in this forum